Back To Top
DeLille Cellars Blog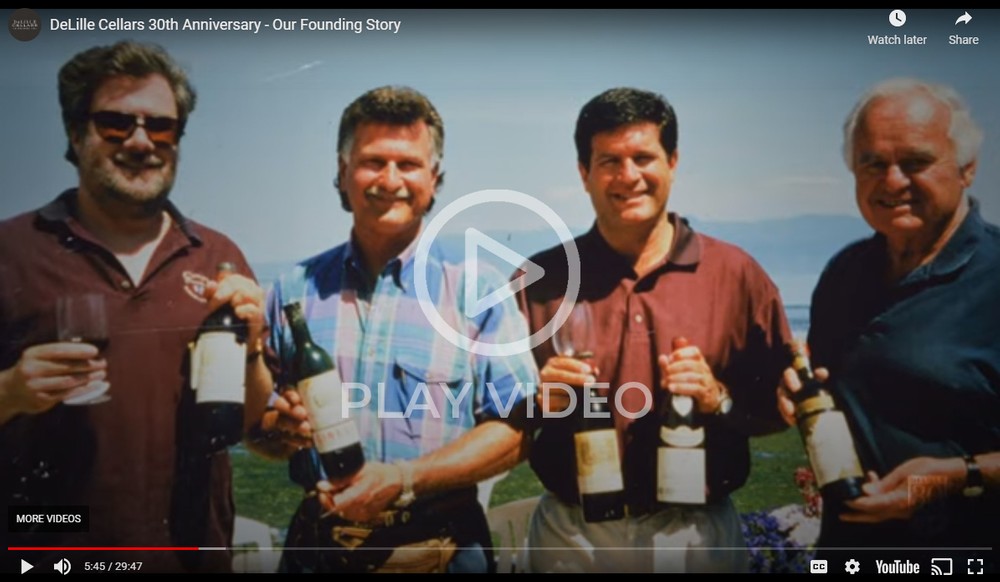 DeLille's Founders: Chris Upchurch, Jay A. Soloff, Greg Lill, and Charles Lill
DeLille Cellars, a pioneering Washington State winery, is celebrating its 30th Anniversary with the release of a short documentary capturing the story of the winery's beginning. Founded in 1992 by Jay Soloff, Chris Upchurch, and Charles and Greg Lill, DeLille was the first winery in the state to focus distinctly on both red and white Bordeaux-style blends.
The video highlights how DeLille's founders met and created the idea to start one of Washington's early wineries, now the third oldest in Woodinville. Through stories of French heritage, home winemaking, trips to Bordeaux and late-night punch-downs, the foundation for excellence and passion to unearth and showcase Washington's world-class wine region is reflected in the interviews of DeLille's founders and present-day team. DeLille Cellars invites you to pour a glass of Washington wine and watch and share the story. Visit DeLille's website to learn more about the winery's history.
DeLille's founders believed blends transcended the sum of their individual parts, and sought to showcase the powerful, concentrated, and structured fruit of Washington State through the European art of blending, whether different varietals or vineyard sites. This founding principle along with the company philosophy of "always seeking" guides the winery's commitment to exceptional wine quality and winery experiences and its dedication to constant improvement and continuous discovery in the cellar.
"Thirty years is short in the overall history of wine, but it's a significant milestone for DeLille and the Washington State wine industry," said CEO Tom Dugan. "Our founders set out to showcase the world-class wine quality of Washington State. Despite the tremendous opportunity that still exists to grow awareness nationally and abroad, we're proud to have helped establish the exceptional quality of wine that can be grown and made here and to have contributed to the remarkable growth of the Washington State wine industry. As we continue to build on the strong foundation of focusing on celebrated vineyard sites, quality in the cellar, and distinctive and memorable wine experiences, we're extremely excited about the next 30 years."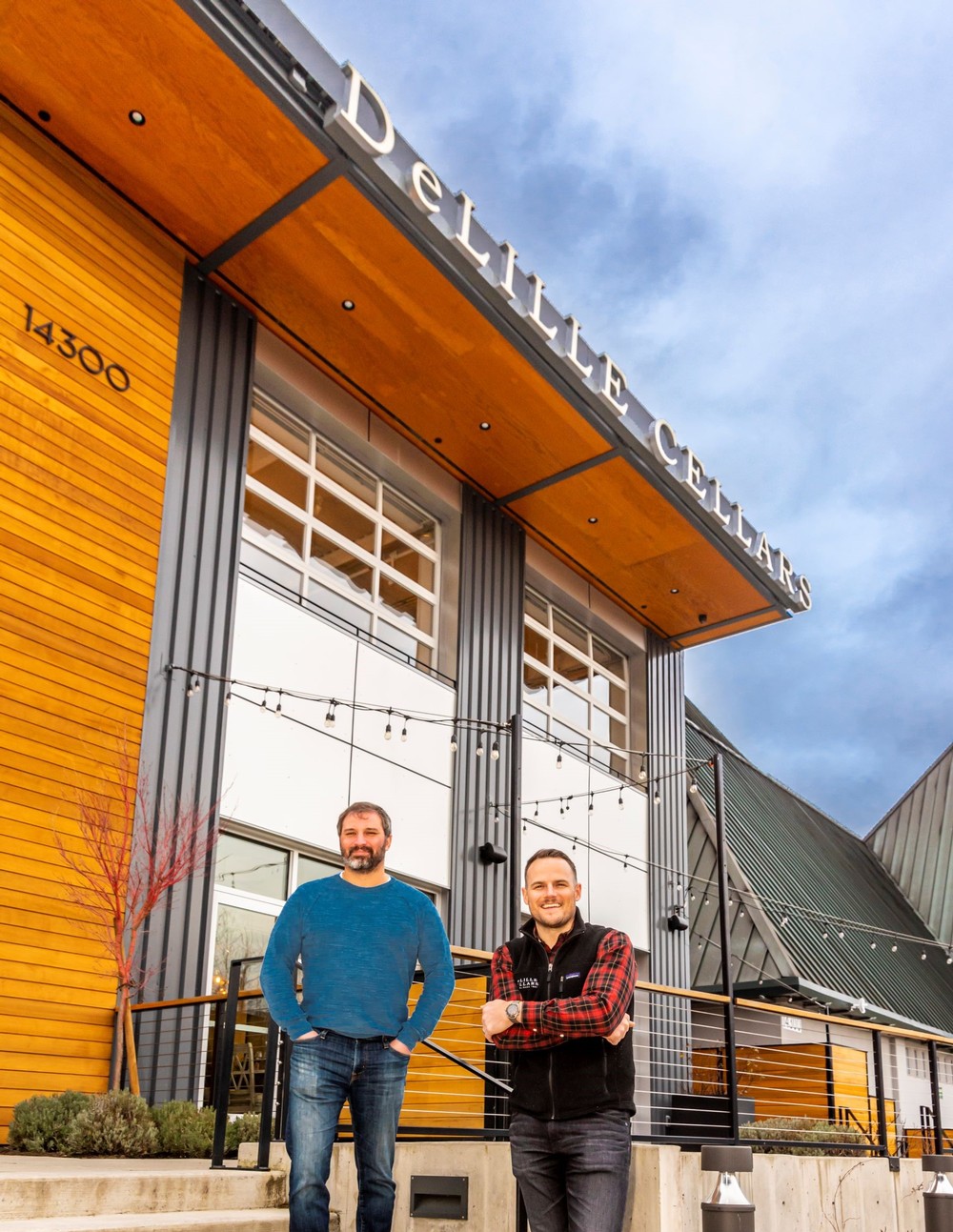 Director of Winemaking Jason Gorski and CEO Tom Dugan in front of DELille's Tasting Room at the Old Redhook Brewery (Credit: Richard Duval)
In 2019, DeLille Cellars moved all winery production and operations to the Old Redhook Brewery in Woodinville, Washington, where it built a tasting room and opened a restaurant, The Lounge at DeLille Cellars. While DeLille started with just two wines, the current portfolio includes over two dozen wines with a focus on Bordeaux and Rhone-inspired blends as well as highly limited Cabernets and single vineyard and varietal expressions. DeLille celebrated its anniversary over the weekend of April 29th at its Woodinville location with a dinner in its Grand Ciel Hall, a new event space above its restaurant, and a Taste & Tour experience throughout its three-story tasting room.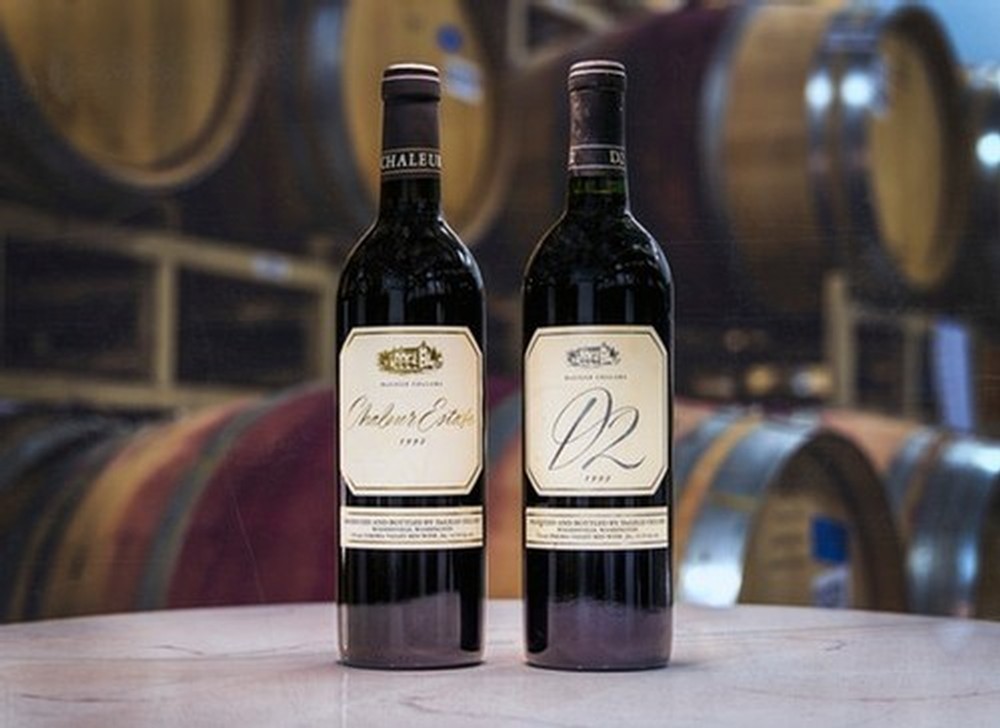 DeLille Cellars founding wines, Chaleur Estate and D2, 1992 vintage
About DeLille Cellars
Bordeaux Inspired – Distinctly Washington – Uniquely DeLille
DeLille Cellars is the third oldest operating winery in Woodinville, WA, founded in 1992. Known for pioneering Bordeaux-style blends from Washington State, the winery has maintained a tradition of quality and excellence with over 700 individual 90+ ratings from leading publications. DeLille Cellars focuses on the Red Mountain AVA and sources grapes from Washington's most acclaimed vineyards. The winery is recognized by notable wine critics and influencers as one of the top producers in the state.
Starting from humble roots in the 1800s, Washington is now the second-largest wine-producing state in the country. Its wines, from robust Cabernet Sauvignon to dry Riesling, are acclaimed worldwide. The state now boasts more than 50,000 acres of grapes and over 1,000 wineries. As the third-oldest operating winery in Woodinville, DeLille Cellars is considered a strong influence in establishing Washington as a premier viticultural region. However, this booming growth didn't happen overnight and it's important to understand the rich history that has shaped Washington wine today.

Sketch of Fort Vancouver 1853. Photo Credit: HBC Heritage
The Beginnings of Washington Wine
In 1825, Washington's first grapes were planted at Fort Vancouver on the north bank of the Columbia River. These grapes were planted by the Hudson's Bay Company and although it is unknown if wine was ever produced from these plantings, the opening of the Oregon Trail brought the next wave of grapes and a newfound interest in winemaking. French, German, and Italian immigrants pioneered Washington's earliest plantings. By 1854, hybrid varieties were seen in nurseries in the Puget Sound region and just 10 years later, the first wine grapes were planted in the Walla Walla Valley (washingtonwine.org).
A Growing Industry
The 1900s brought large-scale irrigation projects harnessing mountain run-off from the Cascades and enabled vineyards in the Yakima and Columbia Valleys to thrive. By 1914, several important vineyards had appeared in the Yakima Valley, most notably the vineyards of William Bridgman, deemed the "Grandfather of Washington Wine". Bridgman planted some of Washington's oldest vines on Harrison Hill and nearby in the Snipes Mountain AVA.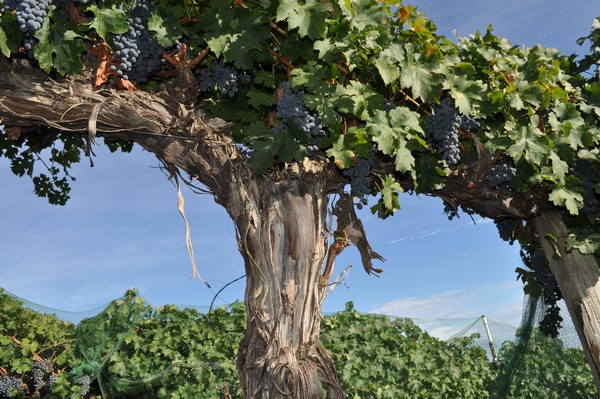 The 1962 Cabernet Sauvignon vines at Harrison Hill.. Credit: DeLille Cellars
Harrison Hill
In 1962, Harrison Hill was nearly forgotten and sold to Associated Vintners (now known as Columbia Winery), who planted Cabernet Sauvignon throughout the area. In the early years at DeLille Cellars, Chris Upchurch was mentored by David Lake, a Master of Wine and head winemaker for Columbia Winery. Lake and Upchurch visited the old vineyard and discovered the mature Cabernet Sauvignon vines between other varieties such as Gewürztraminer, Pinot Noir, and Riesling.
While the vineyard was selling primarily to Chateau Ste. Michelle at the time, the winemakers had no plans to feature Harrison Hill grapes in their wines and agreed to let DeLille take it over. The team removed everything except the acre of 1962 Cabernet Sauvignon and replanted Merlot, Cabernet Franc, and additional Cabernet vines.
Harrison Hill Vineyard is home to the second oldest Cabernet Sauvignon vines in Washington State, used primarily in DeLille's single-vineyard red blend, aptly named Harrison Hill. The blend shows distinctiveness and elegance and is complex, expressive, and exhibits "somewhereness". "At DeLille, we believe terroir is a special thing. To have terroir, you have to stand out. We often call it 'somewhereness' which many of our wines tend to have," remarked Chris Upchurch, Founding Winemaker of DeLille.
Today, owner Steve Newhouse makes certain the yields on the vineyard are some of the lowest in the state. In an interview, Upchurch told Great Northwest Wine, "One thing all good winemakers have in common is we all seek old vines. As far as old vines are concerned, the yields are lower, and it also means they mature and ripen slower, which means the flavors catch up before the sugars get too high."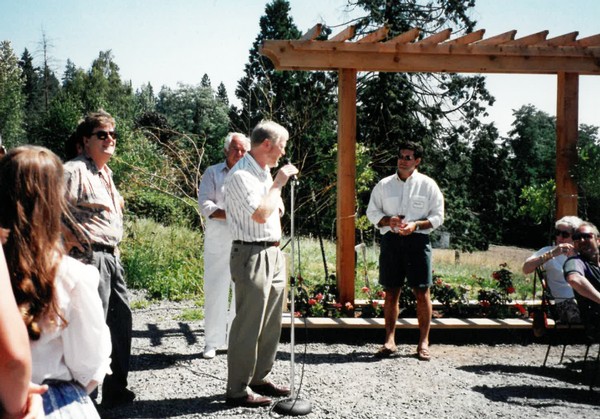 David Lake speaks at a gathering in DeLille's early days. Credit: DeLille Cellars
Commercial Planting
The surge in Washington wineries can largely be credited to the research of Walter J. Clore, commonly referred to as the "Father of Washington Wine". Clore's research around grape growing in Washington state was essential in defining the area as a premier growing region and proving the ability to compete with California wines. In 1969, Washington legislature prohibiting the widespread growing of fine vinifera grapes was repealed, providing access to quality grapes at lower prices.
With a solid foundation, the Washington wine industry exploded in the late 1970s and 1980s. Washington families were planting more vineyards while demand skyrocketed for local Chardonnay and Merlot. A shift in consumer trends brought about the "Merlot Craze" of the 1990s. In 2000, there were approximately 74 wineries in Washington State and by 2010, that number had tripled.
DeLille Cellars
Founded in 1992 by Chris Upchurch, Jay A. Soloff, and father and son Greg and Charles Lill, DeLille Cellars pioneered some of the first Bordeaux-style blends in Washington state. Upchurch and Soloff had met in 1974 and dreamed of entering the wine business together. In May of 1992, Greg and Charles Lill were trying to decide on a use for their 10-acre farm in Woodinville. Soloff met Lill through the Rotary Club and suggested a winery. Although Chateau Lill is no longer used for DeLille Cellars production and the winery is now located at The Old Redhook Brewery just down the road in Woodinville, it remains a fundamental and significant piece in the winery's history.
Noted in The Wine Project, Upchurch insisted "All I want is to make a top-quality wine. I have experience in tasting expensive, great wines. When we tasted our first wines against some of the best wines in Bordeaux, we blew them out of the water. We had, then, a model of wine that we were trying to make. It is a Medoc style of wine, I think reminiscent of St. Julien."
Director of Winemaking and Viticulture Jason Gorski now leads DeLille's winemaking team in blending grapes sourced from Washington's leading Grand Cru vineyards, including Ciel du Cheval, Grand Ciel, Upchurch, Red Willow, Sagemoor, Klipsun, Boushey, and Harrison Hill.
In an interview with Owen Bargreen, Jason Gorski reflects on his first winemaking opportunities in Washington. "It is not only the quality of the wine [as] it is making the connection with the people that drink it. A lot of the people that came there year after year made it like a family experience. I try to translate that at DeLille. The interaction that I have with people is significant and I want them to feel like there is a family experience here."
Today, DeLille has crafted over 200 wines with successive vintage ratings of 90+, totaling over 700 individual 90+ scores from leading critics. DeLille Cellars holds the coveted position in the 'Top 100' Guides of Wine Spectator and Wine Enthusiast for both red and white wine (D2, Signature Syrah, Chaleur Blanc), as well as being honored as a Wine & Spirits Top 100 Winery (2017-2020) and Wine Enthusiast Wine Star - Top Five American Wineries.
DeLille was recently named the 2021 Washington Wine MVP (Most Valuable Producer) by Seattle Wine Awards.
Why Washington?
How is Washington, a state typically known for moody skies and steady drizzle, a leading producer of wine? While this isn't a surprise for locals, those residing outside Washington are surprised to hear the majority of the state (east of the Cascades) receives a mere eight inches of rainfall each year. Irrigation from the Columbia, Yakima, Snake, and Walla Walla rivers combat the lack of moisture, creating an ideal environment for premier wine grapes.
The diurnal shift (fluctuation between day and night temperatures) ensures wine grapes are balanced between ripe sugars and crisp acidity. Washington State is known to have some of the most dramatic fluctuations of any wine region in the world, with up to 40-degree difference between day and night temperatures.
Today, Washington produces 64% red grapes and 34% white. Top varietals include Cabernet Franc, Cabernet Sauvignon, Merlot, and Syrah. The state also produces fine white varietals such as Chardonnay, Riesling, Pinot Gris, and Sauvignon Blanc.
A Tribute to the Past and Future of Washington Wine
In an interview with Paul Zitarelli for Seattle Magazine, DeLille was asked to choose two wines to represent the past and two to represent the future. Although the older wines are not for sale, they reveal a glimpse into Washington's rich history.
The Past: 2001 Chaleur Blanc
"DeLille helped to pioneer not only Bordeaux-style reds in Washington, but also dry Bordeaux-style whites, which are blends of Semillon (in this case, 43 percent) and Sauvignon Blanc (57 percent). This pours into the glass deep gold, befitting its age, and offers a lovely nose of fig, date, and golden plum fruit, complemented by savory maturing notes of hay and straw. Still very much alive, with a bright vein of acidity balancing rich, creamy fruit. Truly an outrageous, eye-opening showing for a white wine 16 years past vintage."
The Past: 1998 Chaleur Estate Estate
"A fine example of DeLille's longtime focus on Red Mountain fruit, which comprises 72 percent of this wine, this Chaleur Estate is a blend of 66 percent Cabernet Sauvignon, 24 percent Merlot and 10 percent Cabernet Franc. It offers a beautiful mature nose: a mix of fresh and dried red fruits, earthy brewed coffee and a savory kick of soy sauce. The texture is rich and supple, any rough edges long ago sanded down by the power of bottle age."
The Future: 2014 D2
"D2 is DeLille's highest production wine and one of its finest. For the 2014, the blend is 58 percent Merlot, 36 percent Cabernet Sauvignon, 5 percent Cabernet Franc and 1 percent Petit Verdot. It comes from more than a dozen vineyards scattered across Washington, including luminaries such as Red Willow, Klipsun, Boushey, Harrison Hill and DeLille's own estate site, Grand Ciel. Deep, intense black fruits (blackberries, black cherries) are complemented by threads of smoke, earth and cedar, all in an openly delicious, pleasurable package. Pairs with: Seared duck breast, medium rare, with a cherry gastrique."
The Future: 2014 Four Flags Cabernet Sauvignon
"Four Flags is a newer wine for DeLille that began its life as a wine-club-only wine. It is 100 percent Cabernet Sauvignon and comes from four vineyards on Red Mountain: Grand Ciel (42 %), Upchurch (31%), Ciel du Cheval (19%) and Klipsun (8%). Aged for 20 months in French oak (75 percent new), this wine shows the open power and toothsome chew of good Red Mountain Cabernet, with robust tannins framing a core of black plum, cassis, and star anise. Pairs with: A garlic-studded standing prime rib roast."
The Future of Washington Wine
Washington's wine industry has grown exponentially in the last several decades and has no plans to stop. Washington wine is naturally sustainable - cold winters and hot, dry summers deter pests and offer ideal growing conditions. A strong commitment to research from the Washington State Wine Commission and partner programs at Washington State University ensures a bright and sustainable future for the industry.
DeLille Cellars is honored to be a founding contributor, alongside Chateau Ste. Michelle and Woodinville Wine Country, to create an endowment (The Woodinville Wine Country Diversity Scholarship) through the Washington State University Viticulture & Enology Program. "This is a small but important step to creating more inclusivity and diversity within our wine community," said Tom Dugan, CEO of DeLille Cellars. "WSU has a world-class viticulture and enology program, and we're honored to partner with Chateau Ste. Michelle and Woodinville Wine Country in creating this scholarship. It reflects the great collaboration and community of Washington wine."
DeLille established its new headquarters at the Old Redhook Brewery in 2019, moving production in January of 2019, and building a three-story tasting room at the site which opened in December of 2019. In June, DeLille opened a wine-centric restaurant, The Lounge at DeLille Cellars, in the old brewery pub location. DeLille will be celebrating its 30th Anniversary in 2022 and is looking forward to a bright future for Washington wine
DeLille Cellars' passion lies in showcasing the powerful, concentrated, and structured fruit of Washington state through the European art of blending. Director of Winemaking and Viticulture Jason Gorski stated, "there's a lot of people that touch the vine and touch the grape long before it gets here in the winery and I want to honor that legacy, passion, and hard work".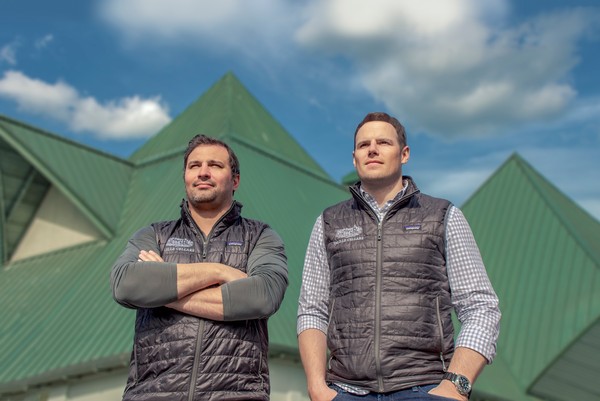 Director of Winemaking and Viticulture Jason Gorski and CEO Tom Dugan in front of the iconic roofline at the Old Redhook Brewery, the new home of DeLille Cellars.
For many years, Chaleur Blanc has been a favorite among wine enthusiasts, connoisseurs, and collectors. The white Bordeaux-style blend is a world-class Washington wine that showcases traditional French blending techniques with the unique terroir of Washington state. Wine critic Stephen Tanzer exclaimed, "it is no exaggeration to compare this Sauvignon Blanc/Sémillon blend to the finest white Bordeaux bottlings made in oak". He described the blend as an "utterly distinctive wine for Washington in terms of its texture, purity, complexity, savory character and ageability".

Since its first vintage in 1995, Chaleur Blanc was served at the White House over three administrations and has become one of DeLille's most beloved and influential blends.
Pioneering Washington State's First White Bordeaux-style Blend
DeLille Cellars was founded in 1992 and pioneered two red Bordeaux-style blends, Chaleur Estate and D2. These wines were produced with a focus on Red Mountain and showcasing the premier fruit of acclaimed vineyards in the Columbia Valley. In 1994, DeLille crafted another Bordeaux blend, Harrison Hill, from a historic vineyard located in the Snipes Mountain AVA, a sub-appellation of Yakima Valley, which itself is a sub-appellation of the larger Columbia Valley.
With three red blends gaining international notoriety from key critics, including Robert Parker Jr., the winery sought its next feat of French inspiration via white wine. California Chardonnay was already saturating the market, and Chris Upchurch, Founding Winemaker at DeLille, knew the winery had a calling to produce the first white Bordeaux-style blend in Washington State.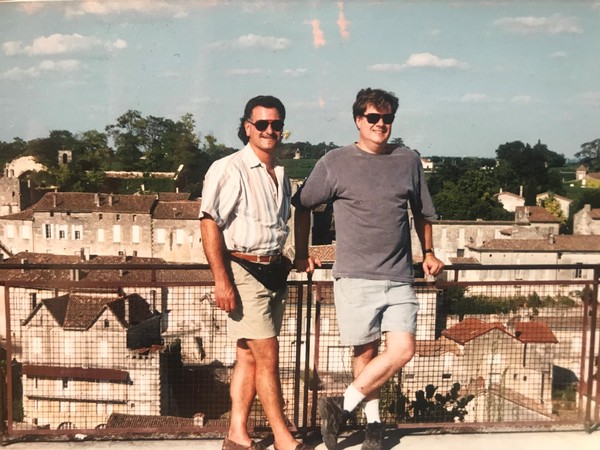 Jay A. Soloff and Chris Upchurch in Bordeaux
Seeking Inspiration from the Source: A Journey to Bordeaux
Chris Upchurch had previously interned with David Lake, Master of Wine at Columbia Winery in Woodinville, Washington. Lake served as DeLille's consultant in the winery's formative years and made remarkable connections at some of Washington's most renowned vineyards, including Ciel du Cheval, Red Willow, and Harrison Hill.
In 1995, Lake contacted prominent old-world wineries Château Haut-Brion and Château Margaux for Chris Upchurch and Founding Partner Jay A. Soloff to visit, creating a foundation for one of DeLille's most esteemed wines to come to fruition. Jay also had many relationships in Bordeaux from his prior years as a wine broker.
With a notepad and a list of contacts in France, Chris and Jay set off on a pilgrimage to find DeLille Cellar's next wine: the first white Bordeaux-style blend to be produced in Washington State.
Château Bellegrave
First, Chris and Jay visited Château Bellegrave in Pauillac. They sought the expertise of a small Entre-deux-Mers wine producer who revealed the basics of crafting white Bordeauxs. The founders of DeLille were told, "cold soak, don't ferment on the solids." Here they learned a secret to the Bordeaux-Blanc recipe which this small winemaker called interfacing. The only way to perfectly interface is to cold soak the grapes and then ferment them in a barrel. After racking off solids into barrels, the wine barrel ferments, allowing for a creamy, refined wine.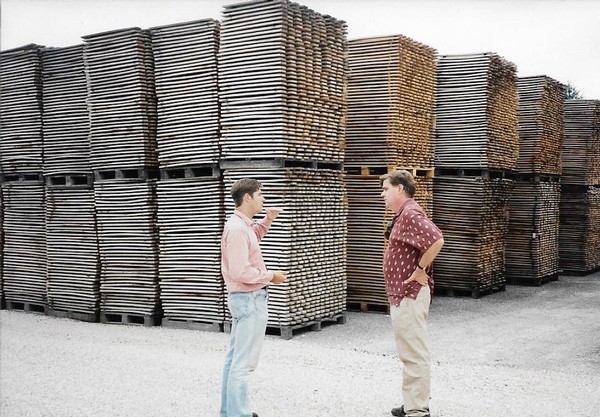 Chris Upchurch with a Bordeaux Barrel Maker
Château Haut-Brion
The following days were filled with adventures that most winemakers can only dream of. Chris and Jay spent the day with Jean Philippe Delmas at Château Haut-Brion, one of the most famous wineries in the world. It is the only Bordeaux winery with Grand Cru classification for a white blend, crafted before 1855 when the classification was established.
Delmas confirmed everything Chris and Jay had learned so far on their journey. The renowned Bordeaux winemaker walked the DeLille founders through winemaking techniques of Bordeaux whites and explained how the conditions of climates such as Bordeaux, France, and the Columbia Valley in Washington State favor Sauvignon and Sémillon grapes. Cooler, dry vintages tend to pick up characteristics from gravelly clay soils, while still maintaining crisp "nectarine-like" qualities of the Sauvignon and honeysuckle and creme brulée of Sémillon.
Château Margaux
Chris and Jay then traveled to Château Margaux where they met with Paul Pontellier, a prominent winemaker in the region. Here, they also learned of Bordeaux white techniques and tasted reds that were in the process of barrel aging.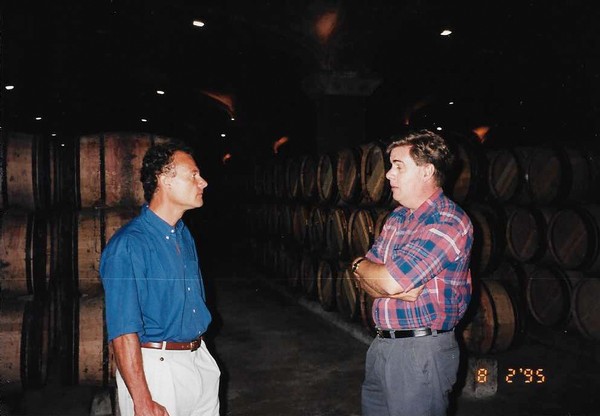 Chris Upchurch with Paul Pontallier at Château Margaux
While visiting the chateau, the winemakers tasted Château Margaux Pavillon Blanc, a blend that received the winery's "deuxieme," or second wine classification, because production began after the 1855 classification. They also visited Domaine de Chevalier and Chateau Oliver.
Creating DeLille's Fourth Wine: Chaleur Blanc
Upon returning to Washington State, Jay and Chris immediately ordered a proper winemaking tank. Lake helped them source an old milk tank, and then the winemakers began the process of "interfacing", with cold soaking followed by barrel fermentation. Jay told Chris, "If it's good enough for Château Haut-Brion, it's good enough for DeLille." Jay A. Soloff recalls, "We were that innocent to believe that we could make a world-class white Bordeaux-style blend in Washington".
Chaleur Estate Blanc, now renamed Chaleur Blanc, is a product of the time Delmas and Pontellier spent with two young winemakers from Washington State. The esteemed wine lends its name from the shortened version of "chaleureux," meaning warm and hearty, which is how co-founder Greg Lill described the grounds that would soon become DeLille Cellars' winery and offices. In 2019, DeLille Cellars moved to the Old Redhook Brewery in the Hollywood District of Woodinville.
Crafting a white Bordeaux-style blend was unheard of in Washington State until 1995 when the first vintage of Chaleur Blanc was released. The wine is fermented sur-lie on the spent lees and also battonage, imparting a memorable "crème brulee" finish". The lees are also stirred in the barrel each week. Chaleur Blanc is both a remarkable accomplishment to new world Bordeaux-style blends and Washington State wine, the second-largest wine-producing state in the US.
Sign Up For Our Newsletter
Keep up to date on the latest wine releases, events, and promotions.