Back To Top
DeLille Cellars Blog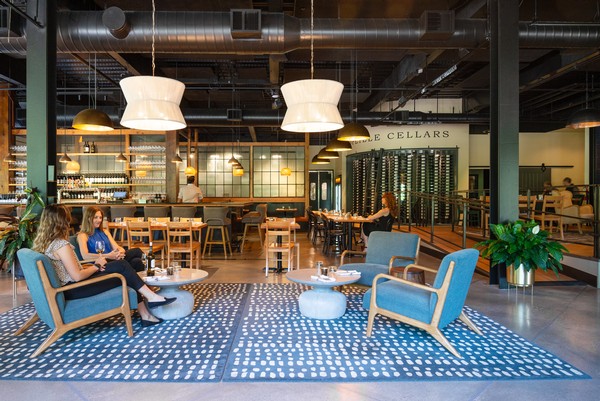 Located next door to the Tasting Room, The Lounge at DeLille Cellars is Woodinville's new wine-centric restaurant. The Lounge offers glass pours, comparative tastings, and a unique food menu crafted by Executive Chef Michael C. Toni.
The Lounge Experience
The Lounge restaurant is located in the former Redhook Forecaster's Public House, which has a long history in Woodinville as a gathering spot since 1994 when the Redhook facility first opened. DeLille Cellars looks forward to continuing the legacy of the Old Redhook Brewery as a hub of great food, libations, and memories for the community.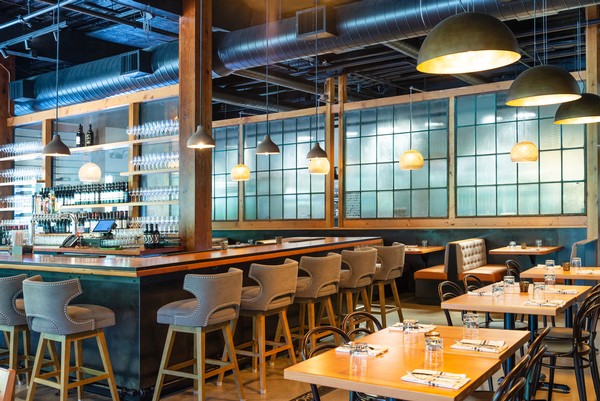 The Lounge offers an array of seating, including booths, stools by the fireplace, tables, a bartop, and lounge chairs for casual dining and sharing small plates.
The Deck is a seasonal patio experience that is available depending on the weather. The Deck offers a more casual dining experience with a separate menu. In the summer, live music is held on the outdoor patio.
Happy Hour at The Lounge
Visit us for Happy Hour 3-5 pm Wednesday - Friday for $5 pints and $10 select wine by the glass including D2.
Live at The Lounge: Thursday Evening Music
The Lounge will feature live music every Thursday. Please see our events calendar for more information on featured artists. Reservations are strongly encouraged for live music events.
Explore the Menu
The Lounge is a full-service restaurant with a house-crafted menu ranging from light bites for sharing to salads, sandwiches, and entrées. The Menu is directed by Executive Chef Michael C. Toni, who led the Woodinville winery's "Date Night" meals throughout the COVID-related closures of 2020.
Beginning with the wine menu, discover what makes the wines of DeLille Cellars so unique by exploring wines from the places in France that give us inspiration and wines from around the world that display the same level of regional distinction that DeLille does for Washington State.
Enjoy select wines by the glass or try a comparative, side-by-side tasting of wines to further explore the nuances of place, growing region, and terroir.
Our Woodinville restaurant also offers a wide selection of beer and seltzer on tap, including local favorites such as Black Raven, Sumerian Brewing, and San Juan Seltzer.
A few favorite items at The Lounge include Duck Conift Poutine, Grilled Tuna Nicoise Salad, and Roasted Mushroom Toast. Whether you are looking for a complete entree or shareables to accompany your wine tasting, The Lounge at DeLille Cellars has something for everyone.
"We're excited to offer our customers some different and unique wine and food experiences," said DeLille Cellars CEO Tom Dugan. "As someone who took the Burke-Gilman and Sammamish River Trails out to Redhook years ago, we're especially excited to launch an outdoor space when the weather cooperates, even more so with the slated Eastrail project that will bring more people by foot and bike to Woodinville," added Dugan.
"The focus of our tasting room has always been about education and showcasing the world-class quality of Washington wine. The Lounge allows us to offer more casual experiences, both by-the-glass and into the evening, that our wonderful customers have been looking for," added Deb Stadelman, DeLille's Director of Retail Operations.
Order Food to Go
Order food and wine to go from The Lounge wine list and the house-crafted restaurant menu.
Visit our Woodinville Restaurant
We accept reservations for indoor dining and also have limited walk-in seating available at The Lounge. The Deck is a seasonal experience with walk-in availability only, weather permitting.
Looking for a traditional seated wine tasting experience? Visit our Tasting Room next door for a 45-minute tasting of our Bordeaux-style wines.
About DeLille Cellars
DeLille Cellars is the third oldest operating winery in Woodinville, WA, founded in 1992. Known for pioneering Bordeaux-style blends from Washington State, the winery has maintained a tradition of quality and excellence with over 700 individual 90+ ratings from leading publications. DeLille Cellars focuses on the Red Mountain AVA and sources grapes from Washington's most acclaimed vineyards. The winery is recognized by notable wine critics and influencers, including Robert Parker, as one of the top producers in the state. To learn more about DeLille Cellars, visit our website.
One of DeLille Cellars' long-term goals since the winery's founding in 1992 was to plant and develop our own vineyard so that our winemakers had complete control of the fruit in order to make a highly specialized wine.
The team at our Woodinville winery believes that the quantum leap in quality for artisan Washington State wine lies within the vineyard. In 1999, DeLille Cellars purchased a plot of land in the Red Mountain AVA to achieve this goal of creating a fine-tuned, extraordinary wine. With a focus on concentration of fruit, even ripening and authenticity, we considered everything from clones to trellis systems with the paramount commitment of enhancing our Grand Ciel Vineyard.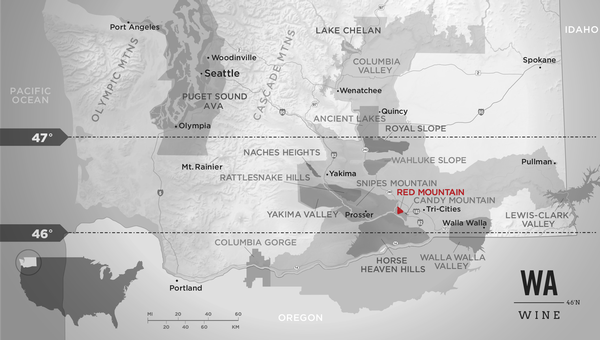 Grand Ciel, meaning big sky, has been carefully designed to produce the highest quality fruit from the unique climate and soil of Red Mountain. Our rigorous selection process only permits a small portion of grapes to become part of the Grand Ciel wines. The results are wines of deep concentration with beautiful proportion and extended complexity.
Grand Ciel Vineyard
Grand Ciel Vineyard, located in the Red Mountain AVA, is a "state-of-the-art", no expense spared vineyard. It was meticulously designed to produce great vintages with a focus on both concentration and hang time complexity. Using GPS coordinates to track the Red Mountain sun, the vineyard was carefully planted at a specific Southwest to Northeast diagonal to achieve even ripening.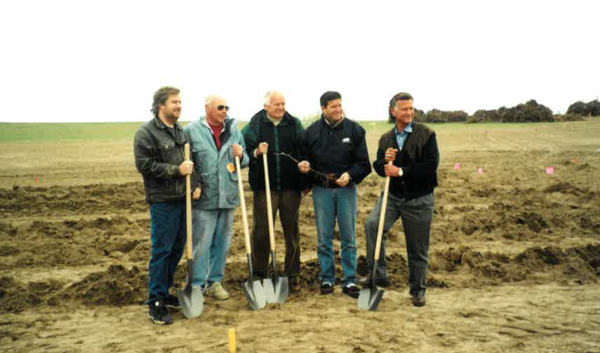 Planting Grand Ciel Vineyard. Left to right: Founding Winemaker Chris Upchurch, Richard Holmes of Ciel du Cheval, Charles Lill, Greg Lill, Jay A. Soloff
High-density planting of French grape clones combined with traditional Guyot trellising slows down the growth of these vines. DeLille Cellars Founding Winemaker Chris Upchurch noted, "after achieving perfection in the vineyard, we then hand pick, hand sort, and barrel select for each vintage to bring you the best wine we can possibly make - true to our methods and to the terroir of Red Mountain".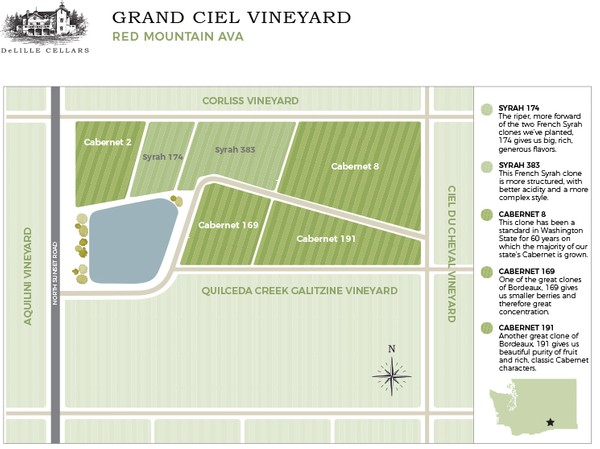 Located between Aquilini Vineyard, Ciel Du Cheval Vineyard, Corliss Vineyard and Quilceda Creek's Galitzine Vineyard, our Grand Ciel Vineyard is home to several types of Syrah and Cabernet clones.
Syrah 174
The riper, more forward of the two French Syrah clones we've planted. 174 gives us big, rich generous flavors.
Syrah 383
This French Syrah clone is more structured, with better acidity and a more complex style.
Cabernet 8
This clone has been a standard in Washington State Cabernet for 60 years.
Cabernet 169
One of the great clones of Bordeaux, Cabernet 169 gives us smaller berries and therefore great concentration.
Cabernet 191
Another great clone of Bordeaux, Cabernet 191 gives us beautiful purity of fruit and rich, classic Cabernet characters.
Grand Ciel Cabernet Sauvignon
Grand Ciel Cabernet is a single vineyard, single varietal & single clone Cabernet from our estate vineyard on Red Mountain. Every detail of our vineyard has been designed to produce the highest quality fruit from the unique climate and soil of this prestigious AVA known for its ripe and structured Cabernet. Our rigorous selection process only permits a small portion of grapes to become part of Grand Ciel. The first vintage was produced in 2004.
Jason Gorski, Director of Viticulture and Winemaking at DeLille Cellars, explained Grand Ciel Cabernet Sauvignon is a "unique wine in that it's 100% from our estate vineyard and 100% from one block. The flavors are always in balance and always in front of sugar."
Grand Ciel Cabernet Sauvignon Profile
Grapes produced exclusively from our Grand Ciel Estate Vineyard

Made

from single vineyard, single varietal, and single clone grapes
Grapes originate from Clone 191 - the original French clone
Aroma: blueberry, cassis, sweet chocolate and oak toast
Oak: Aged 20 months in 100% new French oak
Palate: concentrated yet restrained on the palate, balanced throughout
Aging: 10-15+ years
Grand Ciel Syrah
At Grand Ciel, Syrah has taken on a whole new dimension. Time-honored traditional methods and modern French clones are combined with the unique climate and the unique terroir of Red Mountain: sandy loam and volcanic-ash soils. The resulting wine is one of great concentration in both fruit and terroir, yet our efforts have still managed to find the meaty, floral and focused characteristics of "old-world" Syrah.
Grand Ciel Syrah is 100% Clone 383. "Clone 383 for me is a little bit more of the meatier, cracked black pepper and savory style of Syrah," said Jason Gorski. "One of the things I love about this clone is that there is a little bit of something citrus. The way we farm at Grand Ciel slows everything down with moderating crop loads, allowing for great complexity and flavor development, but also low potential alcohol. Lower potential alcohol means that you're going to have lower perceived sweetness [that] allows those savory characters of the grape to shine through. I think that's one of the things that really sets this block apart: lower potential alcohol and better-developed flavor."
Grand Ciel Syrah Profile
Grapes originate from Clone 383

Aroma: Charcuterie, marionberry and blackberry with a subtle whiff of blood orange

Oak: Aged 20 months in 30% New French Oak

Palate: Blackberry, tapenade, beautifully integrated tannins, acidity and fruit

Aging: 10+ years
Shop our Grand Ciel wines in our wine shop.

Sign Up For Our Newsletter
Keep up to date on the latest wine releases, events, and promotions.