Back To Top
DeLille Cellars Blog
DeLille Cellars is honored to be named the 2021 MVP (Most Valuable Producer) by Seattle Wine Awards. D2, Minuit, and Four Flags earned Double Gold medals in this year's competition.
Red Mountain
The Red Mountain pedigree of the 2018 Four Flags is immediately evident on the nose, with savory herb notes of thyme and marjoram intermixing with fruit aromas of cassis and blueberry. Concentrated and serious on the palate, this wine nevertheless offers beautiful symmetry, with ample energy and a lingering delicate floral impression. Oak influence is well integrated despite its youth, with mocha and espresso contributing to a plush, long finish.
Columbia Valley
Mocha and milk chocolate notes from French oak integrate with beautiful cassis, dried cranberry, and cedar aromas on this 2018 D2. This wine is instantly delicious on the palate with an inviting warm, soft entry. It rapidly builds in intensity of fruit mid-palate, offering remarkable length on the finish, with Red Mountain Cabernet (16% of the blend) apparent in the texture.
Yakima Valley
In the lead on this 2018 Minuit, Malbec delivers an extraordinarily dark color and aromas of blackberry, black peppercorn and cocoa, with Cabernet Sauvignon providing intriguing cedar and graphite notes. Slightly more tightly wound then the prior vintage, substantial fruit begins to emerge as the wine opens. Classic Malbec fruit purity dominates on the palate, with enticing cracked pepper carried on a long finish supported by Cabernet tannin. Well-balanced throughout, with welcome freshness and energy on a moderate to full-bodied structure, this wine should continue to deliver and improve for a decade or more.
The October 2021 Wine Enthusiast Buying Guide highlighted Washington's finest wines and increasing Syrah production. Critics praised DeLille Cellars' Bordeaux and Rhône-style blends sourced from Red Mountain, Yakima Valley, and the Columbia Valley AVA.
The pillars of this wine are top sites Ciel du Cheval (39%), Grand Ciel (30%), Upchurch (21%) and Klipsun (10%). Aromas of black currant, licorice, cocoa and spice are followed by action-packed dark-fruit flavors. This appellation's intensity, structure and freshness are there in abundance. Yum. Editors' Choice. —S.S. abv: 14.4% Price: $75
The vineyard-designated wine is always a unique expression of the appellation. Aromas of red raspberry rise from the glass, along with notes of cocoa, dried herb and whiffs of tangerine peel. There's a lot of restraint to the red fruit flavors, which ramp up in intensity over time. The acidity of the vintage enlivens it, with the appellation's structure in abundance. Best after 2030. Cellar Selection. —S.S. abv: 14.2% Price: $160
This is the first vintage of this wine, which saw 18 months in cigar-shaped barrels. With fruit coming from Sagemoor Block 5, it was aged sur lie. Appealing aromas of beeswax, tropical fruit, herbs and pink grapefruit are followed by a rounded palate, full of kiwi and pine-apple flavors. It's ripe, but with well-balanced acidity, with the texture only adding to the appeal. The finish is endless. —S.S. abv: 14% Price: $75
Blue fruit aromas erupt from the glass, followed by notes of huckleberry, spice, coffee and herb. It saturates the palate, covering it from end to end with blue and purple fruit flavors that sail on the finish. It has a big-time yum factor, nearly irresistible, with fruit and barrel both playing big parts in the show. Editors' Choice. —S.S. abv: 14.9% Price: $56
An homage to Merlot, which makes up 88% of the blend. Cabernet Sauvignon follows with the rest equal parts Cabernet Franc and Petit Verdot. With DuBrul (24%) and Ciel du Cheval (24%) comprising nearly half the wine, the aromas are brooding, with notes of red fruit, spice and dried herbs. The flavors are soft and sumptuous, showing the brightness of the vintage, with plentiful structure around it all. Editors' Choice - S.S abv: 14.6% Price: $60
A blend of 67% Merlot, 28% Cabernet Sauvignon, 3% Cabernet Franc and 2% Petit Verdot, this wine is full of polish and class. The aromas are charming, with notes of black cherry, dark raspberry, flowers and bittersweet chocolate. There's impressive structure and balance to the red and black fruit flavors. Editors' Choice. —S.S. abv: 14.5% Price: $45
Grenache makes up 42% of this wine, with the rest Mourvèdre (36%), Syrah (20%) and a pinch of Cinsault. The aromas rise up from the glass, with notes of blueberry, huckleberry, fresh herbs, raspberry, black pepper and moist earth. The palate is light on its feet, showing elegance and dexterity. —S.S. abv: 14.6% Price: $45
Cabernet Sauvignon comprises 61% of this wine, with the balance Merlot (27%), Cabernet Franc (10%) and Petit Verdot (2%). Locked up aromas of black cherry, scorched earth, coffee and spice are followed by sophisticated coffee and chocolate flavors. It shows surprising restraint given the warmth of the vintage and appellation. Best after 2026. Cellar Selection. —S.S. abv: 14.8% Price: $90
Syrah makes up 61% of this wine, with the rest Cabernet Sauvignon. Aromas of coffee, cherry, berry and spice are followed by creamy feeling coffee flavors. Fruit and barrel play equal parts. —S.S. abv: 14.7% Price: $45
Aromas of coffee bean, spice and dark chocolate are followed by light fruit flavors. On the one hand, the fruit seems quite ripe. On the other, the concentration light. Grainy tannins back it up. —S.S. abv: 14.6% Price: $75
Hailing from one of the state's oldest and most highly regarded sites, this wine is a blend of Cabernet Franc (57%), Merlot (26%) and Cabernet Sauvignon (17%). Aromas of tea leaves, herbs, tar, sweet spice and raspberry are followed by elegant fruit flavors. It doesn't seem to have emerged from its shell, though the sophistication intrigues. —S.S. abv: 14.4% Price: $75
90 DeLille 2020 Roussanne (Red Mountain). This wine is still settling into the bottle, with notes of seashell and wet rock. The palate brings texture, balance and persistence. There are lots of interesting things happening, though they all haven't come together yet. Give it additional time in the bottle to see it at its best. —S.S. abv: 14% Price: $35
Starting from humble roots in the 1800s, Washington is now the second-largest wine-producing state in the country. Its wines, from robust Cabernet Sauvignon to dry Riesling, are acclaimed worldwide. The state now boasts more than 50,000 acres of grapes and over 1,000 wineries. As the third-oldest operating winery in Woodinville, DeLille Cellars is considered a strong influence in establishing Washington as a premier viticultural region. However, this booming growth didn't happen overnight and it's important to understand the rich history that has shaped Washington wine today.

Sketch of Fort Vancouver 1853. Photo Credit: HBC Heritage
The Beginnings of Washington Wine
In 1825, Washington's first grapes were planted at Fort Vancouver on the north bank of the Columbia River. These grapes were planted by the Hudson's Bay Company and although it is unknown if wine was ever produced from these plantings, the opening of the Oregon Trail brought the next wave of grapes and a newfound interest in winemaking. French, German, and Italian immigrants pioneered Washington's earliest plantings. By 1854, hybrid varieties were seen in nurseries in the Puget Sound region and just 10 years later, the first wine grapes were planted in the Walla Walla Valley (washingtonwine.org).
A Growing Industry
The 1900s brought large-scale irrigation projects harnessing mountain run-off from the Cascades and enabled vineyards in the Yakima and Columbia Valleys to thrive. By 1914, several important vineyards had appeared in the Yakima Valley, most notably the vineyards of William Bridgman, deemed the "Grandfather of Washington Wine". Bridgman planted some of Washington's oldest vines on Harrison Hill and nearby in the Snipes Mountain AVA.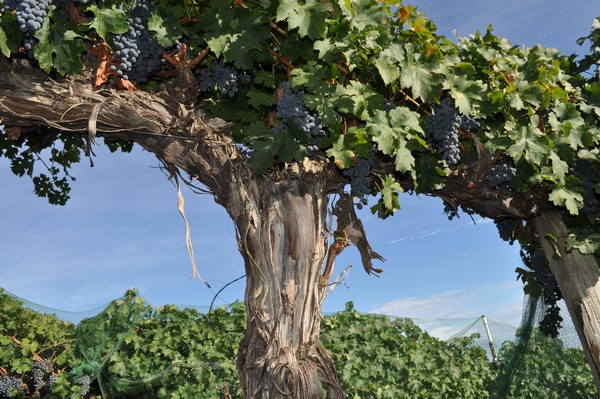 The 1962 Cabernet Sauvignon vines at Harrison Hill.. Credit: DeLille Cellars
Harrison Hill
In 1962, Harrison Hill was nearly forgotten and sold to Associated Vintners (now known as Columbia Winery), who planted Cabernet Sauvignon throughout the area. In the early years at DeLille Cellars, Chris Upchurch was mentored by David Lake, a Master of Wine and head winemaker for Columbia Winery. Lake and Upchurch visited the old vineyard and discovered the mature Cabernet Sauvignon vines between other varieties such as Gewürztraminer, Pinot Noir, and Riesling.
While the vineyard was selling primarily to Chateau Ste. Michelle at the time, the winemakers had no plans to feature Harrison Hill grapes in their wines and agreed to let DeLille take it over. The team removed everything except the acre of 1962 Cabernet Sauvignon and replanted Merlot, Cabernet Franc, and additional Cabernet vines.
Harrison Hill Vineyard is home to the second oldest Cabernet Sauvignon vines in Washington State, used primarily in DeLille's single-vineyard red blend, aptly named Harrison Hill. The blend shows distinctiveness and elegance and is complex, expressive, and exhibits "somewhereness". "At DeLille, we believe terroir is a special thing. To have terroir, you have to stand out. We often call it 'somewhereness' which many of our wines tend to have," remarked Chris Upchurch, Founding Winemaker of DeLille.
Today, owner Steve Newhouse makes certain the yields on the vineyard are some of the lowest in the state. In an interview, Upchurch told Great Northwest Wine, "One thing all good winemakers have in common is we all seek old vines. As far as old vines are concerned, the yields are lower, and it also means they mature and ripen slower, which means the flavors catch up before the sugars get too high."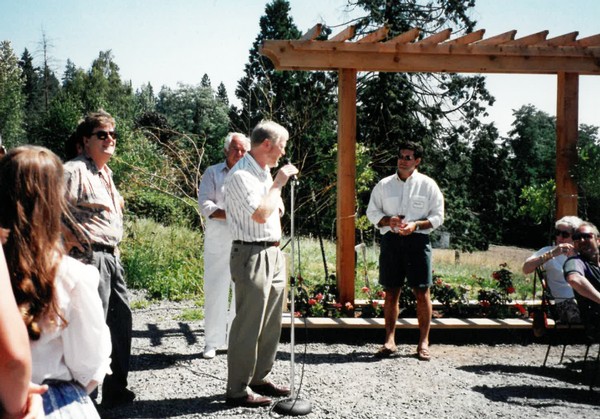 David Lake speaks at a gathering in DeLille's early days. Credit: DeLille Cellars
Commercial Planting
The surge in Washington wineries can largely be credited to the research of Walter J. Clore, commonly referred to as the "Father of Washington Wine". Clore's research around grape growing in Washington state was essential in defining the area as a premier growing region and proving the ability to compete with California wines. In 1969, Washington legislature prohibiting the widespread growing of fine vinifera grapes was repealed, providing access to quality grapes at lower prices.
With a solid foundation, the Washington wine industry exploded in the late 1970s and 1980s. Washington families were planting more vineyards while demand skyrocketed for local Chardonnay and Merlot. A shift in consumer trends brought about the "Merlot Craze" of the 1990s. In 2000, there were approximately 74 wineries in Washington State and by 2010, that number had tripled.
DeLille Cellars
Founded in 1992 by Chris Upchurch, Jay A. Soloff, and father and son Greg and Charles Lill, DeLille Cellars pioneered some of the first Bordeaux-style blends in Washington state. Upchurch and Soloff had met in 1974 and dreamed of entering the wine business together. In May of 1992, Greg and Charles Lill were trying to decide on a use for their 10-acre farm in Woodinville. Soloff met Lill through the Rotary Club and suggested a winery. Although Chateau Lill is no longer used for DeLille Cellars production and the winery is now located at The Old Redhook Brewery just down the road in Woodinville, it remains a fundamental and significant piece in the winery's history.
Noted in The Wine Project, Upchurch insisted "All I want is to make a top-quality wine. I have experience in tasting expensive, great wines. When we tasted our first wines against some of the best wines in Bordeaux, we blew them out of the water. We had, then, a model of wine that we were trying to make. It is a Medoc style of wine, I think reminiscent of St. Julien."
Director of Winemaking and Viticulture Jason Gorski now leads DeLille's winemaking team in blending grapes sourced from Washington's leading Grand Cru vineyards, including Ciel du Cheval, Grand Ciel, Upchurch, Red Willow, Sagemoor, Klipsun, Boushey, and Harrison Hill.
In an interview with Owen Bargreen, Jason Gorski reflects on his first winemaking opportunities in Washington. "It is not only the quality of the wine [as] it is making the connection with the people that drink it. A lot of the people that came there year after year made it like a family experience. I try to translate that at DeLille. The interaction that I have with people is significant and I want them to feel like there is a family experience here."
Today, DeLille has crafted over 200 wines with successive vintage ratings of 90+, totaling over 700 individual 90+ scores from leading critics. DeLille Cellars holds the coveted position in the 'Top 100' Guides of Wine Spectator and Wine Enthusiast for both red and white wine (D2, Signature Syrah, Chaleur Blanc), as well as being honored as a Wine & Spirits Top 100 Winery (2017-2020) and Wine Enthusiast Wine Star - Top Five American Wineries.
DeLille was recently named the 2021 Washington Wine MVP (Most Valuable Producer) by Seattle Wine Awards.
Why Washington?
How is Washington, a state typically known for moody skies and steady drizzle, a leading producer of wine? While this isn't a surprise for locals, those residing outside Washington are surprised to hear the majority of the state (east of the Cascades) receives a mere eight inches of rainfall each year. Irrigation from the Columbia, Yakima, Snake, and Walla Walla rivers combat the lack of moisture, creating an ideal environment for premier wine grapes.
The diurnal shift (fluctuation between day and night temperatures) ensures wine grapes are balanced between ripe sugars and crisp acidity. Washington State is known to have some of the most dramatic fluctuations of any wine region in the world, with up to 40-degree difference between day and night temperatures.
Today, Washington produces 64% red grapes and 34% white. Top varietals include Cabernet Franc, Cabernet Sauvignon, Merlot, and Syrah. The state also produces fine white varietals such as Chardonnay, Riesling, Pinot Gris, and Sauvignon Blanc.
A Tribute to the Past and Future of Washington Wine
In an interview with Paul Zitarelli for Seattle Magazine, DeLille was asked to choose two wines to represent the past and two to represent the future. Although the older wines are not for sale, they reveal a glimpse into Washington's rich history.
The Past: 2001 Chaleur Blanc
"DeLille helped to pioneer not only Bordeaux-style reds in Washington, but also dry Bordeaux-style whites, which are blends of Semillon (in this case, 43 percent) and Sauvignon Blanc (57 percent). This pours into the glass deep gold, befitting its age, and offers a lovely nose of fig, date, and golden plum fruit, complemented by savory maturing notes of hay and straw. Still very much alive, with a bright vein of acidity balancing rich, creamy fruit. Truly an outrageous, eye-opening showing for a white wine 16 years past vintage."
The Past: 1998 Chaleur Estate Estate
"A fine example of DeLille's longtime focus on Red Mountain fruit, which comprises 72 percent of this wine, this Chaleur Estate is a blend of 66 percent Cabernet Sauvignon, 24 percent Merlot and 10 percent Cabernet Franc. It offers a beautiful mature nose: a mix of fresh and dried red fruits, earthy brewed coffee and a savory kick of soy sauce. The texture is rich and supple, any rough edges long ago sanded down by the power of bottle age."
The Future: 2014 D2
"D2 is DeLille's highest production wine and one of its finest. For the 2014, the blend is 58 percent Merlot, 36 percent Cabernet Sauvignon, 5 percent Cabernet Franc and 1 percent Petit Verdot. It comes from more than a dozen vineyards scattered across Washington, including luminaries such as Red Willow, Klipsun, Boushey, Harrison Hill and DeLille's own estate site, Grand Ciel. Deep, intense black fruits (blackberries, black cherries) are complemented by threads of smoke, earth and cedar, all in an openly delicious, pleasurable package. Pairs with: Seared duck breast, medium rare, with a cherry gastrique."
The Future: 2014 Four Flags Cabernet Sauvignon
"Four Flags is a newer wine for DeLille that began its life as a wine-club-only wine. It is 100 percent Cabernet Sauvignon and comes from four vineyards on Red Mountain: Grand Ciel (42 %), Upchurch (31%), Ciel du Cheval (19%) and Klipsun (8%). Aged for 20 months in French oak (75 percent new), this wine shows the open power and toothsome chew of good Red Mountain Cabernet, with robust tannins framing a core of black plum, cassis, and star anise. Pairs with: A garlic-studded standing prime rib roast."
The Future of Washington Wine
Washington's wine industry has grown exponentially in the last several decades and has no plans to stop. Washington wine is naturally sustainable - cold winters and hot, dry summers deter pests and offer ideal growing conditions. A strong commitment to research from the Washington State Wine Commission and partner programs at Washington State University ensures a bright and sustainable future for the industry.
DeLille Cellars is honored to be a founding contributor, alongside Chateau Ste. Michelle and Woodinville Wine Country, to create an endowment (The Woodinville Wine Country Diversity Scholarship) through the Washington State University Viticulture & Enology Program. "This is a small but important step to creating more inclusivity and diversity within our wine community," said Tom Dugan, CEO of DeLille Cellars. "WSU has a world-class viticulture and enology program, and we're honored to partner with Chateau Ste. Michelle and Woodinville Wine Country in creating this scholarship. It reflects the great collaboration and community of Washington wine."
DeLille established its new headquarters at the Old Redhook Brewery in 2019, moving production in January of 2019, and building a three-story tasting room at the site which opened in December of 2019. In June, DeLille opened a wine-centric restaurant, The Lounge at DeLille Cellars, in the old brewery pub location. DeLille will be celebrating its 30th Anniversary in 2022 and is looking forward to a bright future for Washington wine
DeLille Cellars' passion lies in showcasing the powerful, concentrated, and structured fruit of Washington state through the European art of blending. Director of Winemaking and Viticulture Jason Gorski stated, "there's a lot of people that touch the vine and touch the grape long before it gets here in the winery and I want to honor that legacy, passion, and hard work".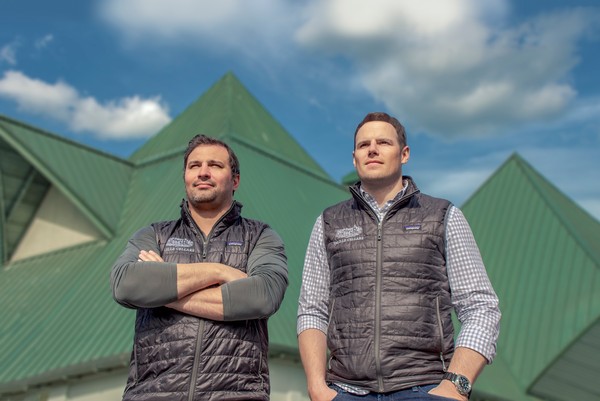 Director of Winemaking and Viticulture Jason Gorski and CEO Tom Dugan in front of the iconic roofline at the Old Redhook Brewery, the new home of DeLille Cellars.
Sign Up For Our Newsletter
Keep up to date on the latest wine releases, events, and promotions.