Back To Top
DeLille Cellars Blog

Celebrate Pride Month at The Lounge Restaurant
Available Thursday, June 23rd - Sunday, June 26th
We're celebrating Pride Month at The Lounge with a special cocktail: the Honey Lavender Lemonade. This cocktail is made with Empress 1908 Gin, Lavender Honey Syrup, and Lemonde. $5 from every cocktail sold will be donated to The Trevor Project, an organization dedicated to ending suicide among LGBTQ+ youth through crisis services, peer support, research, public education, and advocacy to build a safer, more inclusive world. Make a reservation at The Lounge today.

Honey Lavender Lemonade Cocktail Recipe
2oz Empress 1908 Gin
1oz Lavender Honey Syrup
2oz Lemonade
Combine Lemonade and Lavender Honey Syrup in cocktail shaker and shake over ice. Double strain into rocks glass filled with crushed ice. Using the back of a bar spoon, layer the Empress Gin on top and fill glass with crushed ice. Garnish with a lavender sprig.
Lavender Honey Syrup:
Combine equal parts water and honey in a small sauce pan and heat until honey is dissolved. Add 2 Tbsp of dried lavender buds and let steep for one hour, stirring every 15 minutes. Strain the syrup and store in an air-tight container for up to two weeks in the refrigerator.
Visit The Lounge Restaurant in Woodinville
Visit us in Woodinville! Located conveniently off the Sammamish River Trail and next door to our Tasting Room, The Lounge is the perfect stop for dinner on your adventure through Woodinville wine country. Walk-ins are welcome, however, we do recommend making a reservation. We offer indoor and weather-dependent reservations for outdoor patio seating on The Deck. Looking for a traditional wine tasting experience? Visit our Tasting Room next door for a 45-minute tasting of our acclaimed Bordeaux and Rhone-style wines.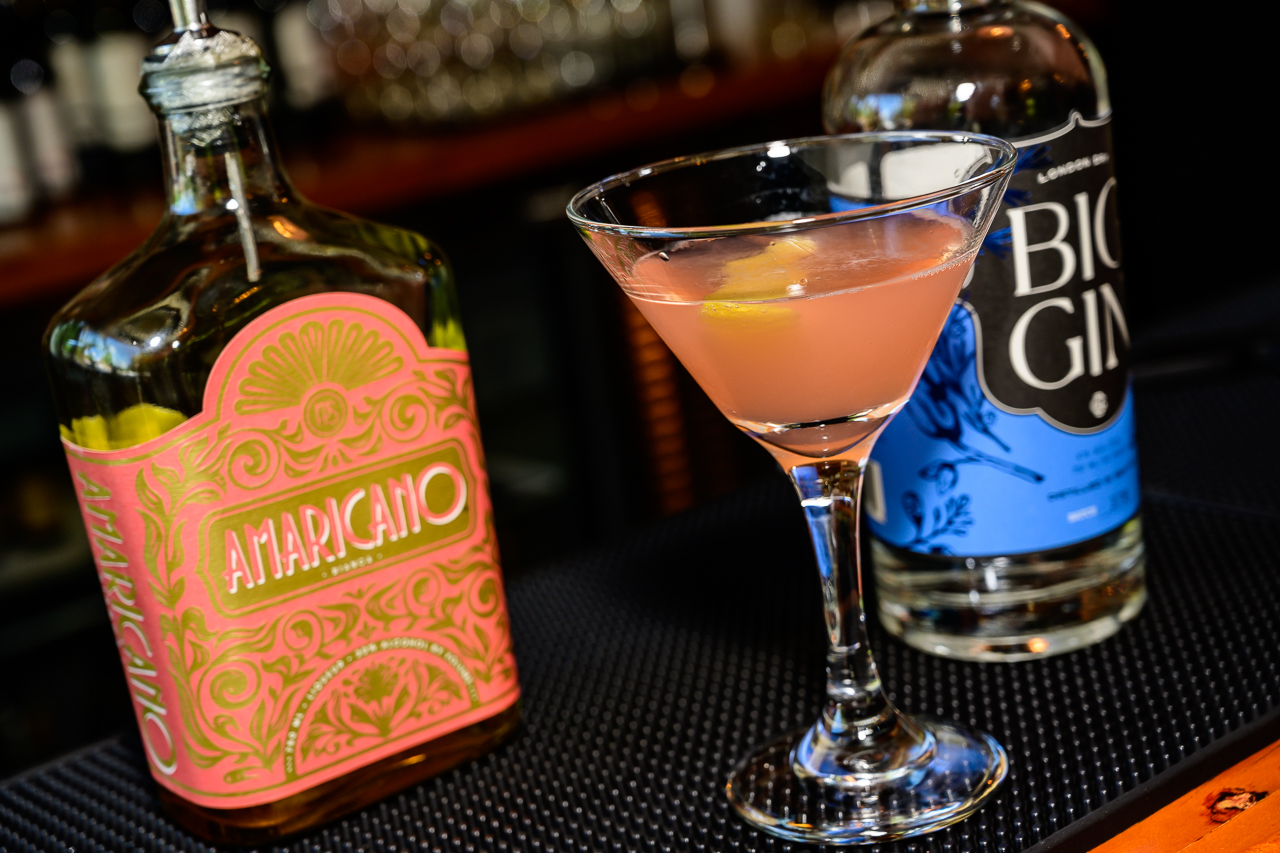 The Amarosé is the perfect summer cocktail. Crafted with DeLille Cellars Rosé and Fast Penny Spirits Amaricano Bianca, this cocktail is sure to delight. Enjoy inside The Lounge or on The Deck this summer, or in the comfort of your own home.
Amarosé Cocktail Recipe - by Adam Fream
1oz London Dry Gin

1oz Amaricano Bianca

3/4 oz Rosé Simple Syrup (recipe below)

3/4oz Fresh Lemon Juice

2 Dashes Peychaud's Aromatic Bitters

1 Dash Scrappy's Celery Bitters
​Combine all ingredients in a cocktail shaker and shake with ice.
Double Strain into a chilled cocktail glass.
Express the oil of a lemon peel over the glass and serve. Garnish with a lemon twist.
Rosé Simple Syrup
Combine equal parts granulated sugar and Rosé Wine in a small saucepan and warm over medium heat.

Stir until sugar is dissolved. Let cool and then pour into an airtight container (Jar or bottle)

Syrup will keep, refrigerated, for about a month

Try the Amarosé Cocktail at The Lounge at DeLille Cellars
The Lounge at DeLille Cellars is a wine-centric dining experience featuring hand-crafted cuisine from Executive Chef Michael C. Toni. Along with an extensive wine list, The Lounge now offers select craft cocktails. Enjoy inside dining or outside on The Deck. Make an indoor or weather-dependent outdoor reservation today.
BUTTERNUT SQUASH RISOTTO WITH BLACK TRUFFLES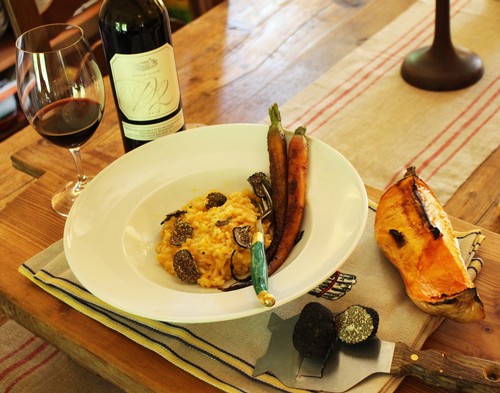 By Founding Winemaker Chris Upchurch
Wine Pairing:
DeLille Cellars D2
This is a very cool dish because it is vegetarian, yet the cheese and truffles bump it up to a red wine pairing. It is perfect with the DeLille Cellars Merlot-dominant D2. For the carnivorous, add a short rib on top. Vegetarian or not, everyone is happy. Do not fear the truffle. As with many things, they are available on the internet for most of year. I like to shave them at the table to add to the experience.
Ingredients
½ cup extra-virgin olive oil
1 cup finely chopped onion
1 tbsp. chopped garlic
2 cups Arborio rice
1 cup dry white wine
Approx. 6 cups of hot vegetable stock
1 butternut squash, halved and baked in the oven with butter, then mashed like mashed potatoes
½ cup grated parmesan
4 tbsp. unsalted butter, cut into small pieces
Medium to large black truffle
Instructions
In a heavy saucepan, or wok, heat the olive oil over medium-high heat. Add the onion and garlic, and sauté, stirring continuously until just softened for 3 to 4 minutes. Add rice and continue to stir, using a wooden spoon, to coat the rice with the oil.
Add white wine and continue cooking, stirring often until it has been absorbed by the rice. Pour in enough vegetable stock to cover the rice completely (approx. 3 cups), and continue to cook, stirring often until all the liquid has been absorbed.
Pour in 1 cup of additional vegetable stock, and stir/cook until it has been absorbed. Repeat 2 more times. With the last cup, stir until the rice is al dente, tender but still a little chewy (and most of the liquid has been absorbed).
Stir in the mashed squash, and reduce the heat to very low so that the risotto stops simmering. Stir in the parmesan and butter to give the risotto a nice, creamy finish.
Spoon it immediately into heated shallow serving bowls. Sprinkle a little more Parmesan over it and shave the truffle on top.
Sign Up For Our Newsletter
Keep up to date on the latest wine releases, events, and promotions.