Back To Top
February 25, 2018 | Recipes | DeLille Cellars
Butternut Squash Risotto with Black Truffles and D2
BUTTERNUT SQUASH RISOTTO WITH BLACK TRUFFLES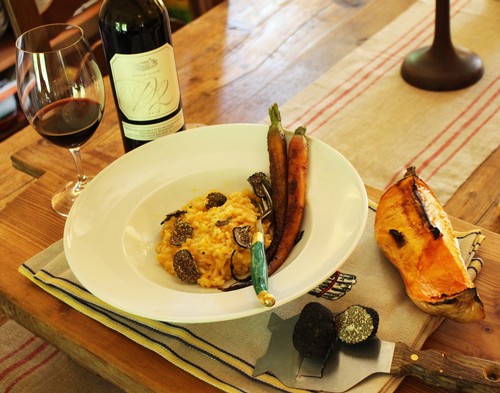 By Founding Winemaker Chris Upchurch
Wine Pairing:
DeLille Cellars D2
This is a very cool dish because it is vegetarian, yet the cheese and truffles bump it up to a red wine pairing. It is perfect with the DeLille Cellars Merlot-dominant D2. For the carnivorous, add a short rib on top. Vegetarian or not, everyone is happy. Do not fear the truffle. As with many things, they are available on the internet for most of year. I like to shave them at the table to add to the experience.
Ingredients
½ cup extra-virgin olive oil
1 cup finely chopped onion
1 tbsp. chopped garlic
2 cups Arborio rice
1 cup dry white wine
Approx. 6 cups of hot vegetable stock
1 butternut squash, halved and baked in the oven with butter, then mashed like mashed potatoes
½ cup grated parmesan
4 tbsp. unsalted butter, cut into small pieces
Medium to large black truffle
Instructions
In a heavy saucepan, or wok, heat the olive oil over medium-high heat. Add the onion and garlic, and sauté, stirring continuously until just softened for 3 to 4 minutes. Add rice and continue to stir, using a wooden spoon, to coat the rice with the oil.
Add white wine and continue cooking, stirring often until it has been absorbed by the rice. Pour in enough vegetable stock to cover the rice completely (approx. 3 cups), and continue to cook, stirring often until all the liquid has been absorbed.
Pour in 1 cup of additional vegetable stock, and stir/cook until it has been absorbed. Repeat 2 more times. With the last cup, stir until the rice is al dente, tender but still a little chewy (and most of the liquid has been absorbed).
Stir in the mashed squash, and reduce the heat to very low so that the risotto stops simmering. Stir in the parmesan and butter to give the risotto a nice, creamy finish.
Spoon it immediately into heated shallow serving bowls. Sprinkle a little more Parmesan over it and shave the truffle on top.
Comments
Commenting has been turned off.
Sign Up For Our Newsletter
Keep up to date on the latest wine releases, events, and promotions.