Back To Top
DeLille Cellars Blog
D2 takes its name from the grand route du vin, or great wine road that travels through the historic chateau region of Bordeaux, France. Always leading with Merlot, D2 is a traditional Bordeaux-style blend sourced from over a dozen of Washington's most prestigious vineyards.
Since 1992, D2 has become a beloved blend for wine enthusiasts across the nation. In 2020, D2 captured national attention when named a Wine Spectator Top 100 Wine.
In December, Director of Winemaking Jason Gorski and Wine Critic Owen Bargreen sat down for a D2 vertical tasting in hopes to evaluate a decade of this acclaimed wine.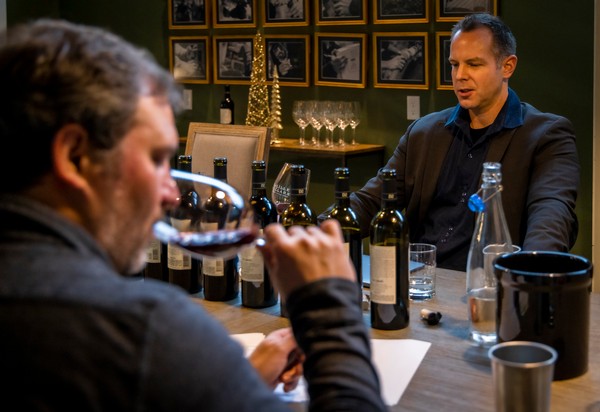 2009 D2 - 92 pts
"This 2009 'D2' blends 55% Merlot with 34% Cabernet Sauvignon and the remainder Cabernet Franc and Petit Verdot. Nutty undertones combine with macerated red cherry and tobacco leaf on the nose. The palate is very fresh and lithe with a polished texture and a light dusting of salinity. This reveals plenty of mouth-watering acidity with pretty red fruits. Considering the warmth of the vintage this has aged really well, as this has at least another five years to go."
Drink 2021 - 2027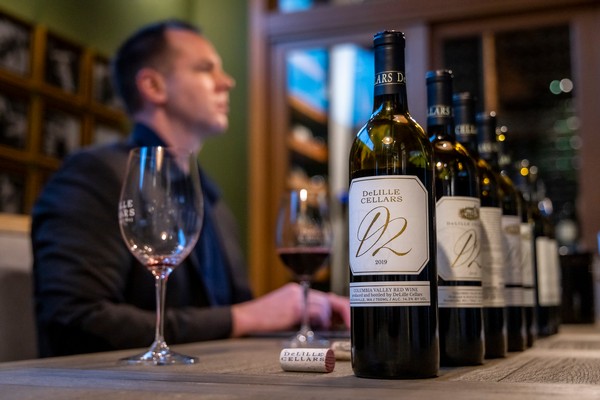 2010 D2 - 90 pts
"The 2010 'D2' is a beautiful blend that exactly mirrors the 2009 version with 55% Merlot with 34% Cabernet Sauvignon with the remainder Cabernet Franc and Petit Verdot. Herbal undertones dominate the nose with fresh sage and thyme tones alongside black raspberry compote. The mouthfeel is soft and approachable with medium-bodied red cherry and red raspberry flavors alongside copious herbs and firm tannins on the palate. This is best consumed over the next few years."
Drink 2021 - 2024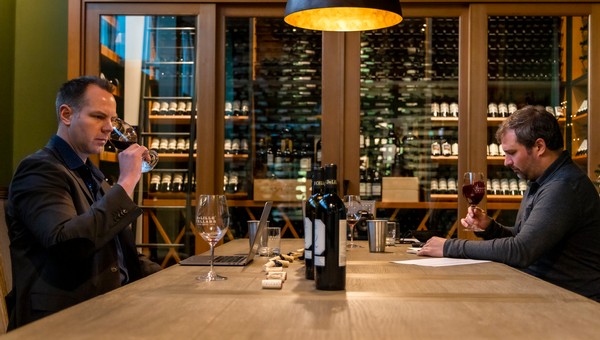 2011 D2 - 91 pts
"A blend of 56% Merlot with the remainder 35% Cabernet Sauvignon and small parts Cabernet Franc and Petit Verdot, this is the first vintage utilizing Upchurch Vineyard fruit in this wine. The sense of balance here is really good with pretty red fruits that combine with salty loam soils, wild mushroom and sagebrush tones on the palate. Firm tannins hold things brilliantly in place. While great to consume now, this easily has another five years to go."
Drink 2021 - 2028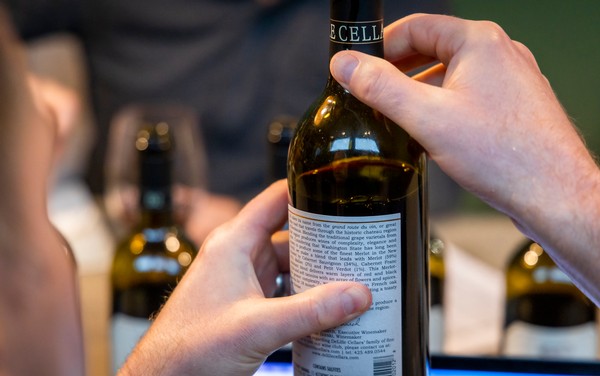 2012 D2 - 93 pts
"The 2012 DeLille Cellars 'D2' blends 50% Merlot with 42% Cabernet Sauvignon with smaller parts Cabernet Franc and Petit Verdot. This is the first vintage utilizing Discovery Vineyard fruit. Ripe red cherry notes alongside underbrush and scorched earthy tones all fill the nose. There are many moving pieces aromatically. This is very seamless upon entry, finishing very long. The fruit quality here is considerably more pretty than the 2009-2011 wines, as this is extremely stable wine that has at least another decade to go."
Drink 2021 - 2031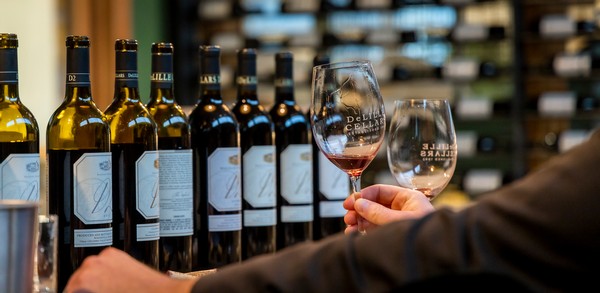 2013 D2 - 93 pts
"The 2013 'D2' Red Wine is a compelling blend of 57% Merlot with 33% Cabernet Sauvignon, 8% Cabernet Franc and 2% Petit Verdot. This shows considerably more non-fruit aromas with tar and tobacco leaf, as well as mocha tones that combine with rich dark fruit tones. Dense and heady with good viscosity and tension, this dark-fruit driven wine is showing beautifully right now and has another decade of life in front of it. This is the most hedonistic of the tasting from 2009-2013."
Drink 2021 - 2031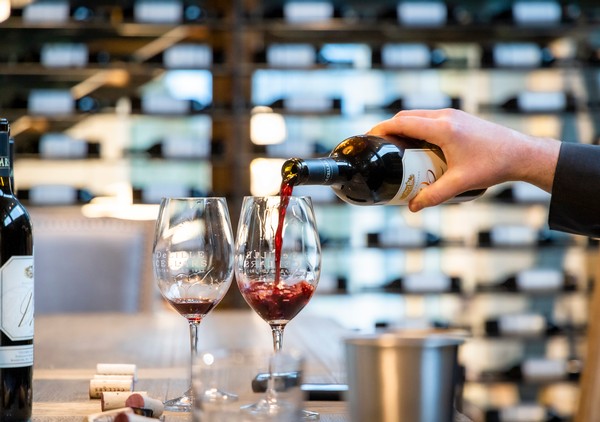 2014 D2 - 93 pts
"The 2014 blends 58% Merlot with 36% Cabernet Sauvignon with the remainder Cabernet Franc and Petit Verdot. This shows a gorgeous bouquet with dried herbs alongside tar, blackberry compote and shades of espresso bean. The palate is fresh and viscous with a good combination of black fruits and herbal undertones with freshly tilled soils and dark chocolate shavings. Finishing long, this is very youthful now and has at least another decade to go in the cellar."
Drink 2021 - 2033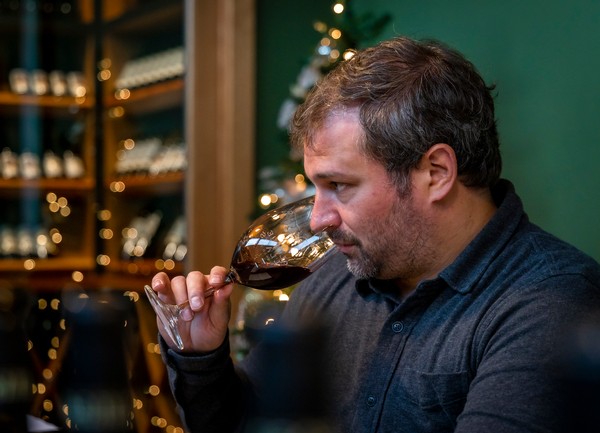 2015 D2 - 91 pts
"A blend of 58% Merlot with 35% Cabernet Sauvignon with 6% Cabernet Franc and a splash of Petit Verdot. This was the last vintage they utilized Stillwater Creek Merlot. This is a touch leaner and more linear than vintages 2012-14. Herbal undertones combine with bright Bing cherry, salty soils and shades of scorched earth on the palate. Enjoy over the next five years."
Drink 2021 - 2026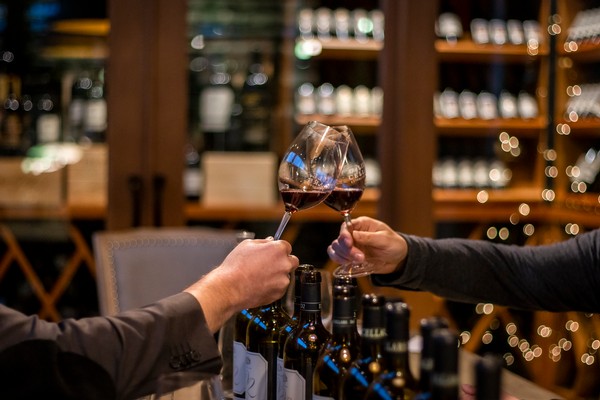 2016 D2 - 93 pts
"This 2016 vintage utilizes 59% Merlot with 34% Cabernet Sauvignon and small parts Cabernet Franc and Petit Verdot. This shows heady aromatics of espresso bean, tilled soils and black currants that all take shape in the glass. The palate is plush with a soft mouthfeel and great feeling of length. Very black fruit driven, shades of creosote and coffee grounds with sagebrush all come together seamlessly with velvety tannins holding things in place. Gorgeous to consume now, this is really nicely balance stuff that has at least another twelve years in front of it."
Drink 2021 - 2033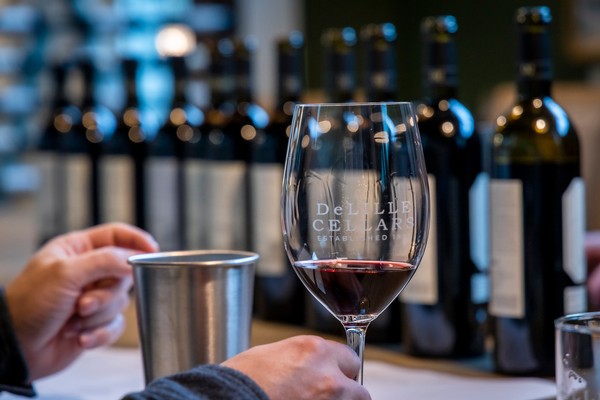 2017 D2 - 92 pts
"Really good already, the 2017 'D2' red wine shows the highest percentage of Merlot that they have done to this point (66%). The nose shows very pretty high tones from the Merlot with red florals with cocoa powder and bright red fruits. The palate shows similarly to the nose with similar notes alongside brisk acidity and a soft mouthfeel with lighter refined tannins. The earthy components work well, as this beautiful wine still has a long way to go in the cellar."
Drink 2021 - 2033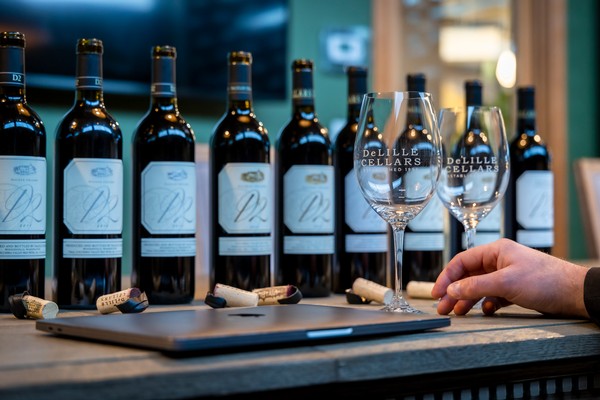 2018 D2 - 93 pts
"The highest percentage of Merlot in this tasting (67%), the 2018 'D2' is showing beautifully now at the three year mark. This is gorgeous wine even to consume right now with its gorgeous core of dark fruits with bitter chocolate and espresso grounds notes. Herbal undertones add to the enjoyment, as this shows beautiful length, verve and weight. This will easily cellar for twelve years."
Drink 2021 - 2033
2019 D2 - 91 pts
"The 2019 'D2' is a blend of 60% Merlot with smaller portions Cabernet Sauvignon (34%), Cabernet Franc (4%) and Petit Verdot (2%). Sagebrush with milk chocolate and wild blackberry tones all fill the nose. This is done in the fresher style with medium-bodied red currant and red cherry flavors alongside tobacco leaf, and leather on the palate.The sense of balance here is really good. Enjoy this beautiful wine over the next decade."
Drink 2021 - 2031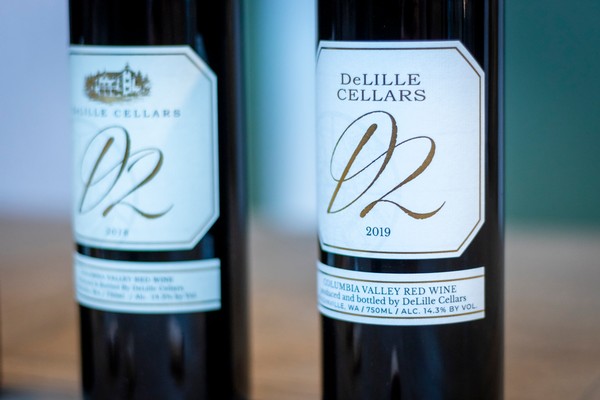 Shop DeLille Cellars D2
Looking to sip and savor your own bottle of D2? Visit our Woodinville winery, tasting room, and Lounge restaurant in Woodinville, Washington or shop our wine online. Read the full review of the D2 vertical tasting on Owen Bargreen's blog here.
"DeLille sent two vintages of Grand Ciel for us to taste this year. Both were gorgeous wines, but the 2016 showed us where these wines go…slowly. This five-year-old was wildly dark, a deep violet color with even darker inky shades on the rim. It smells of violets and plums, with plenty of extracted fruit scents, and flavors to match. The texture though, while plainly Red Mountain–big, is suede-like, with a dustiness that hints at a long life in the cellar." —P.J.C. (300 cases)
"De-Lille's monopole from Snipes Mountain, a north-facing vineyard set on a gravelly slope, produced a blend that's slightly floral, the violet scents filling out with air along with a core of dark berry fruit. The texture succulent and satisfying, for carne asada." —P.J.C. (375 cases)
2018 D2 - 93 Points
"Scents of licorice and black fig take on a cinnamon tone in this merlot-dominant blend. Cinnamon scents appear with air, bright, ripe and lifted as it develops in the glass. It offers sleek cherry and warm plum flavors in a succulent combination, a satisfying accompaniment to duck breast." —P.J.C.
"One variety, one clone, one vineyard is how DeLille describes this wine. A driving force of dark fruit and evergreen savor, it leads with aromas of pint frond and a whiff of menthol, woodsy and fresh. The flavors are dark, the texture massive but with polish, and with a succulence for steak." —P.J.C. (300 cases)
"This is sourced from mostly old-vine lots at Klipsun Vineyard—one of the warmest sites on Red Mountain. Klipsun typically yields a wine with massive dimensions and this one is inky and dark, with plum and cassis notes, a hint of vanilla from the oak, and a suede-like savor. The flavors are concentrated, the texture dense and broad shouldered, needing years in the cellar to come together." —P.J.C. (200 cases)
"DeLille likes to blend at Red Willow, employing cabernet franc in the main, with merlot and cabernet sauvignon taking up a little over 40 percent of the blend. It's a good move for a site as cool as this, keeping the wine bright and peppery without being at all green. The tarry purple-plum core deepens to cassis on day two, with depth and tension in equal measure, woodsy and intense, very ageable." —P.J.C. (550 cases)
"This Cabernet leads with a darkly floral scent, burly, rich, full of swagger, with scents of cherry tobacco and cedar. The flavors go deep and black in their fruit expression—black plum, fig laced with violets. It needs taming in the cellar." —P.J.C. (400 cases)
"Smoke and violet scents give this cool syrah a savory feel. It's briny and concentrated, with a pleasing herbal tinge and fine, youthful tannins." —P.J.C. (705 cases)
"Full of Mourvedre character (which makes up half the blend with grenache, syrah, and a dollop of Cinsault), this wine imparts flavors of dried strawberries and dark red cherries with a mild florality. There's plenty of dry extract and grippy, meaty savor, with a delightful peppery finish for lamb." —P.J.C. (890 cases)
2018 Le Colosse - 91 Points
"Le Colosse is a new wine for DeLille, a blend placing emphasis on merlot (88 percent). The wine is dense and concentrated, powerfully built with scents of cocoa and carob, its blackberry flavors held in suspension by firm but velvety tannins. It's got the stuffing for a New York strip." —P.J.C. (800 cases)
International Wine Report is an independent media source dedicated to providing in-depth wine reviews and tasting notes. We're honored to share the 2021 scores of our wines.

Red Mountain
"A phenomenal example of a 100% Cabernet Sauvignon from Red Mountain fruit, coming from 4 of the best vineyards in the area, this wine rests 20 months in 75% new French oak barrels. I could pick Red Mountain cab in a blind with this wine 10 out of 10 times - it just screams characteristics of dried blackberry, blueberry, violet petal, dusty road, graphite, wild mountain sage and old leather. It's chocolatey and plush on the palate bringing medium plus acidity and sweet chewy tannins to the finish. The energy and structure of this wine will give it another decade or two of ageing potential in your cellar with beautiful results. Highly recommended."
2023-2027; 96 Points

Columbia Valley
"The wine that put white Bordeaux-style wines of Washington on the map, this is a perennial favorite among novices and collectors alike. Whole cluster pressed and fermented in 90% French oak barrels, with 60% being new, and 10% stainless steel, it rests for 7 months on the lees which gives it that luxurious mouthfeel. It is acombination of 72% Sauvignon Blanc and 28% Sémillon so that gooseberry nose is absolutely prominent, maybe more so with the 2020 than any other vintages I've tasted. Aspects of ripe pear, dried pineapple, green apple, fresh mint, green herbs, grapefruit zest and crushed clove. The balance of this wine is quite extraordinary as is the racy acidity and lengthy finish. I don't necessarily gravitate towards Sauvignon Blanc but I'll drink a bottle of Chaleur Blanc any day. It's a bright, exuberant wine and one that should cellar well for the next decade or longer. Highly recommended."
2021-2031; 95 Points

Yakima Valley
"I truly believe that Syrah is the most delicious grape grown in Washington state. It develops so well in the Washington climate and tends to over-deliver on the wine quality. This Signature wine is a blend of 98% Syrah and 2% Viognier, which gives the wine a bit of white potpourri aromas, is aged for 20 months in 35% new French oak barrels. Notes of blueberry, huckleberry, black plum, crushed black peppercorn, smoked beef brisket and black olives are all present and what you would expect from a Red Mountain Syrah from Washington. You also get a touch of that wild mountain sage that grows within all the vineyards of the area and is the telltale sign when blind tasting Washington wines. Tannins are still a tad sharp but be patient with this wine. In a couple of years, you are going to be blown away with how good this wine develops to become. Highly recommended."
2021-2031; 94 Points
Columbia Valley
"The D2 is another Delille wine that helped put it on the map. A right-bank Bordeaux style blend of 67% Merlot, 28% Cabernet Sauvignon, 3% Cabernet Franc and 2% Petit Verdot and aged for 18 months in 55% new French oak barrels. The nose is rich and meaty - think aromas of blackberry, black currant liqueur, ripe blue plum, tobacco leaf, dried herbs and pencil shavings. There is also this melted dark chocolate component that comes through that gives this wine some lovely character. Acidity is high, tannins are medium to high and the body is full while the fruit flavors stand up to the 14.5% alcohol and balance the wine in a lovely way. Give it another year in the bottle to meld together and then enjoy over the next 8 years or so."
2022-2030; 93 Points
Yakima Valley
"This fun Rhone-styled blend of 42% Grenache, 36% Mourvedre, 20% Syrah, and 2% Cinsault is aged for 15 months in French oak barrels. The fruit comes from the Ciel du Cheval and Boushey Vineyards and comes in at 14.6% alcohol. Medium ruby in the glass with aromas of red raspberry, thimbleberry, black peppered salami, dusty crushed gravel, and candied purple rose petals. It's one of my favorite Delille wines in the glass partially because it has simplicity but complexity all at the same time if that makes any sense at all. Acidity, tannins and body all fall in the medium plus range and the balance is wonderful with the delicious fruit and savory flavors. Enjoy now or over the next 7 years."
2021-20219; 92 Points
Yakima Valley
"A blend of 70% Malbec and 30% Cabernet Sauvignon that is aged for 18 months in 60% new French oak barrels, with grapes coming about 50/50 from the Quintessence and Red Willow vineyards. Wild huckleberry jumps from this dark ruby core, reminding me of being in the mountains of Idaho picking berries as a kid. Secondary notes of mocha, black pepper and crushed black gravel. The palate is a bit spicy, with the fruit taking second fiddle and the secondary characteristics of herbs and spice playing first chair. It has ample acidity, but is just a touch out of balance, however this is still a seriously good wine."
2021-2027; 90 Points
Global Fine Wine Challenge Scores
In addition to the International Wine Report scores, DeLille Cellars also received several medals from the Global Fine Wine Challenge, formerly known as the Six Nations Challenge. This challenge is accessible by invitation only and is restricted to the top 120 wines of each country.
Sign Up For Our Newsletter
Keep up to date on the latest wine releases, events, and promotions.