Back To Top
DeLille Cellars Blog
We are honored to share the latest scores from Owen Bargreen, the new Washington Wine editor at Vinous. Wine Critic Owen Bargreen is a certified sommelier and has reviewed thousands of wines from around the world. He has traveled extensively throughout the wine regions of Washington, Oregon, and California, as well as Bordeaux and the Rhône Valley in France, Spain, Italy and Germany.
"The utterly fabulous 2020 Blanc Chaleur Estate white wine is a sensational blend of 73% Sauvignon Blanc with the remainder Sémillon. The Sémillon really seems to be showing a lot here, contributing banana and melon alongside wet stone and lemon blossom that all mingle in the glass. The palate shows good freshness and weight as well as a great sense of elegance and minerality. The length adds to the enjoyment. This is up there with the best editions of this wine that I have tasted over the past 20 years." (Owen Bargreen, 94)
"The 2020 Roussanne is a beautiful new wine by the talented DeLille winemaking team and director of winemaking Jason Gorski. The nose evokes fantastic range, from banana and honeydew melon to starfruit and damp earth underpinnings. The palate is fresh, vibrant and beautifully textured. The weight really entices as layers of melon and Yakima cherry mingle with minerals and earthy tones on the palate. Gorgeous now, this has a long way to go." (Owen Bargreen, 93)
"The 2020 Rosé from DeLille Cellars blends 52% Mourvèdre and 43% Grenache with a splash of Cinsault. The nose is wonderfully earthy and rounded out with melon, citrus blossom and watermelon tones, and the mouthfeel of the wine is seriously good. This is refreshing rosé with bright red fruits that shows a great sense of weight and length. Gratifying to drink now, it also has some cellaring potential." (Owen Bargreen, 93)
"Sourced from an old block in the Bacchus vineyard that has since been removed, the 2020 Riesling Sagemoor Dionysus is a one-of-a-kind, Trocken-style wine that shows petrol and yellow florals on the nose along with shades of Japanese pear. The palate has great tension, a wonderful sense of minerality and just a kiss of sweetness." (Owen Bargreen, 92)
"The 2019 Métier is a gorgeous blend of 42% Grenache and Mourvèdre (36%) with smaller parts Syrah and Cinsault. The garrigue notes are gorgeous, and bright red cherry and cigar box tones mingle with black olive on the nose. The palate shows good freshness, a soft mouthfeel and a light dusting of salinity. Layers of ripe red and dark fruits parade with stony and earthy tones, sagebrush and creosote. This just fantastic Rhône-inspired wine for the price." (Owen Bargreen, 93)
"Sourced from one of the great sites in the Dundee Hills, the 2019 Pinot Noir De Ponte Vineyard exudes class with its soft mouthfeel and layers of pretty red fruits, red rose petals and citrus rind accents. Medium-bodied, showing good length, this is best enjoyed over the next 8-10 years." (Owen Bargreen, 92)
"Presenting a pretty guava and red fruit profile, the 2019 Pinot Noir Lonesome Rock Ranch shows lighter viscosity and a silky mouthfeel once on the palate. Minerals and light damp earthy tones add to the enjoyment. This excellent cool-vintage effort is best consumed over the next eight years." (Owen Bargreen, 92)

"The 2018 Shaw Vineyard is beautifully evolved even at the three-year mark. Aromatically quite complex, it displays really good range, from sagebrush and sandalwood tones to blackberry and huckleberry tones. The soft texture grabs your attention as the wine effortlessly glides across the midpalate, delivering plenty of espresso bean, blueberry compote, tar and black licorice flavors. Complex and delicious to savor now, this has another 20 years ahead of it." (Owen Bargreen, 96)
"Silky, elegant and very well-balanced, the 2018 Lot 3 is a sensational Cabernet Sauvignon that is only starting to hit its stride. On the nose, it takes on layers of iodine alongside blackberry, tar, mocha and baking spices that all evolve in the glass. The palate is silky, plush and seamless with gratifying freshness and viscosity. Black and blue fruits collide with minerals and scorched earth tones on the palate. Enjoy this scintillating bottling over the next 15 years." (Owen Bargreen, 96)
"The classy 2018 Cabernet Sauvignon Grand Ciel is a deep, hedonistic bottling by DeLille Cellars. Creosote and baking spices mingle with a rich core of dark fruits and salty undertones on the palate. The veil of tension, the rich mouthfeel and the impressive length all make this beautiful wine sing. Try to give it an hour of air if consuming in its vibrant youth." (Owen Bargreen, 95)
"The 2018 Harrison Hill is a gorgeous effort by Jason Gorski and his DeLille Cellars winemaking team. Black florals combine with red cherry, black berry cobbler and suggestions of Asian spices on the nose. The palate is rich, viscous and elegant, with refined tannins holding everything in place. Enjoy this outstanding new wine over the next 15-plus years." (Owen Bargreen, 95)
"Showing more tar and scorched earth tones than the Harrison Hill, the 2018 Chaleur Estate presents an exotic bouquet of Arabica bean mingled with blue and black fruits and loamy soil undertones. The palate is elegant and silky, as refined tannins caress the layers of boysenberry, black cherry cordial and spice box. Gorgeous now, but this has a long way to go." (Owen Bargreen, 95)
DeLille Cellars Four Flags, 2018 - 94 pts
Sold out! View the 2019 vintage here
"Already quite nicely evolved, the 2018 Four Flags evokes black tea, exotic spice and chocolate aromas alongside a great wall of dark fruits. Full-bodied and intense, with sagebrush and scorched earth undertones, this is drinking beautifully right now and will continue to cellar well for another 15 years - or more!" (Owen Bargreen, 94)
"Fresh and vibrant, the 2018 Marguerite is a special barrel-selection Sauvignon Blanc sourced from Block 5 in the Sagemoor vineyard, with vines dating back to 1972, and crafted from wine stored in cigar barrels. It's quite rich and intense, providing smoky and stony undertones alongside a silky texture, wonderful orchard fruits and serious viscosity." (Owen Bargreen, 94)
"The 2018 Red Wine Red Willow is a silky, elegant wine that blends 57% Cabernet Franc, 26% Merlot and 17% Cabernet Sauvignon. On the nose, it offers florals combined with sagebrush, blackberry compote and black licorice underpinnings. Fresh, vibrant and silky-smooth on the attack, this seamlessly glides throughout the drinking experience. Highly refined yet showing good weight, this outstanding Left Bank-inspired red blend will satisfy for at least another decade to come." (Owen Bargreen, 94)

"The 2018 Syrah Grand Ciel is a beautifully textured wine that is already wonderfully evolved. Rich anise, espresso bean, blueberry pie and smoky minerals all combine on the palate, along with shades of smoked brisket. Fantastic now in its fresh, rich youth, this has another decade of life in front of it." (Owen Bargreen, 94)
DeLille Cellars Signature Syrah, 2018 - 94 pts
Sold out! View the 2019 vintage
"The beautiful 2018 Syrah Signature includes a touch of Viognier (2%). It's very fresh and somewhat hedonistic with its massive dark fruit profile, and layers of dark chocolate shavings, black tea and exotic spices all add to the intrigue. This has the stuffing and finesse to last at least another decade." (Owen Bargreen, 94)
"The Merlot-dominant (88%) 2018 Le Colosse is an outstanding Yakima Valley bottling. Sagebrush, black cherry compote and shades of Earl Grey tea all dominate the nose. Fresh and beautifully textured, the wine delivers a great core of dark fruits with coffee ground and menthol undertones." (Owen Bargreen, 93)
"The 2018 Minuit blends 70% Malbec with the reminder Cabernet Sauvignon. It exudes class, offering blackberry and black tea tones that meld with the serious combination of tension and weight, and finishes exceedingly long. While highly gratifying to enjoy now, this has at least a decade of life ahead of it." (Owen Bargreen, 93)
Sold out! View the 2019 vintage here
"The 2018 D2 exudes class with dense layers of toasty oak that connect with black cherry cough syrup, blackberry compote, mocha and tar, all marching in unison in the glass. The palate is dense, chewy and full of life. Downright delicious flavors of black tea and blackberry pie and shades of menthol and coffee grounds combine with a great sense of tension and light tannins. Enjoy this fantastic new wine over the next decade or more." (Owen Bargreen, 93)
DeLille Cellars Doyenne, 2018 - 93 pts
"The 2018 Doyenne is already beautifully evolved at the three-year-mark. A Provençale-style blend of 61% Syrah and 39% Cabernet Sauvignon, it delivers plenty of viscosity and weight on the palate. Fresh and beautifully textured, with black cherry, black olive tapenade, boysenberry and loamy soil notes, this is an outstanding effort that will continue to impress over the next decade." (Owen Bargreen, 93)
March 8th is International Women's Day, and we're raising a glass to all the women in the wine industry who are making their mark and shaping the field for future generations.
This year's theme is 'Break the Bias' - a call for gender equity and challenging biases, stereotypes, and discrimination. Like many other industries, women face multiple barriers to gender equality. However, despite these challenges, the number of women in the wine industry is growing. This year, we interviewed DeLille's winemaking women about their experience and how we can uplift future women in the industry.

Mari Rossi, Assistant Winemaker
How did you get into the wine industry?
My love for math and science initially drew me to enology & viticulture, but the combination of science, creativity, and physically handcrafting a product that brings people joy is what keeps me loving my job.
What are some of your goals?
It is important to honor and acknowledge many of the traditions set before us in this industry; however, there is always room to improve, and as an industry, we need to evolve and start uplifting and including more voices in the wine conversation. I want to be a part of that change, and it is a priority to continue to actively make space for new voices. It is time to change the landscape.
What would you say to women considering a career in wine?
Come work harvest with us! I would say don't be afraid to reach out to women already in the industry for guidance, support, and advice. We have a strong community within the industry, and it is important to feel heard and seen in whatever space you are entering. It is the best job in the world!
How do you think women can uplift each other in the winemaking community?
Women are great at building community, so continuing to bring everyone together is important. Seeking out new resources, stepping outside of the box, and making more room for other women…when you get a seat at the table, bring someone up with you!
Who are three inspirational women you look up to and why?
Erica Orr is definitely holding it down for the women here in Woodinville and in the industry as a whole. She is not only an incredible winemaker and owner of her own lab, but she also brings together the other women winemakers in Woodinville, creating a community and support system for us all.
Ikimi Dubose and Tahiirah Habibi both helped found The Roots Fund, which was created to empower communities of color by providing resources and financial support through educational scholarships, wine education, mentorship, and job placement. They are constantly working towards making a much-needed change in the wine industry.
Of course, the women who raised me to be who I am today: my mother, my sister, and my two grandmas. They are the strongest women I know, and they constantly make me want to be the best version of myself.
What is your favorite DeLille Cellars wine?
Harrison Hill and Chaleur Blanc are probably my two favorite DeLille wines to make.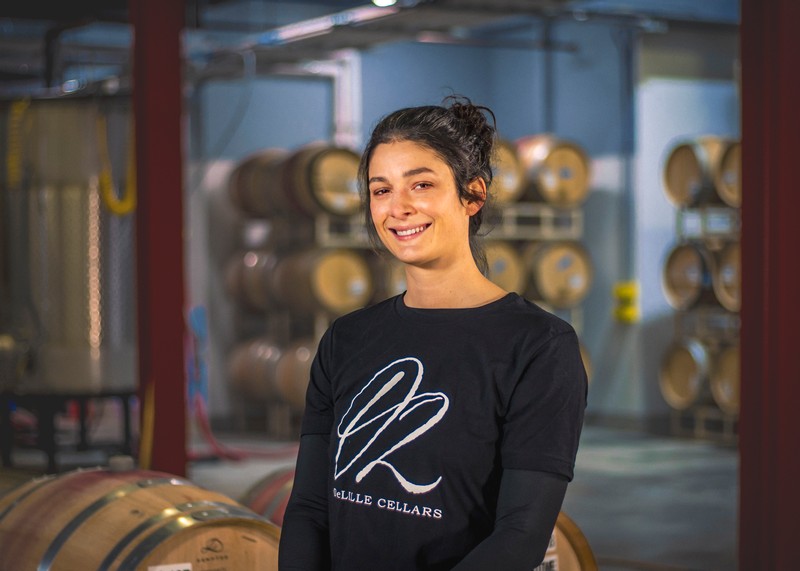 Sarah Jackson, Cellar Lead
How did you get into the wine industry?
Like so many before me, I completely stumbled into the industry. My husband landed an internship with DeLille and started coming home from work happy and excited about his job, something I had never experienced before. Immediately jealous, I asked to tag along and luckily DeLille still needed help and hired me for the 2019 vintage. I haven't looked back since.
What are some of your goals?
The industry is so expansive and full of opportunity. Right now, my goal is to learn and try new things every day, so that one day I could be as good of a mentor to others as the winemaking team at DeLille has been for me.
What would you say to women considering a career in wine?
Absolutely go for it. I'm blessed to work with several incredible, tough, smart women who inspire me every day. Women belong in this industry and have so much to offer both in and out of the cellar. Girls rock.
How do you think women can uplift each other in the winemaking community?
Sharing knowledge is everything. I'm lucky to call Mari Rossi, our assistant winemaker, a mentor. As more of us make it into positions of influence in the industry, it's important to not just be visible representation, but also actively bring the next generation of women into the cellar and empower them to follow their winemaking dreams.
Who are three inspirational women you look up to and why?
Only three? I work with three women in the cellar at DeLille, Mari Rossi who has always advocated for me and is a well of knowledge, as well as Page Kafonek and Sophie Louallier who both impress me and give me strength daily through their grit, knowledge, and humor. But I can't name women I look up to without mentioning my mother, a self-described "laborer" who worked in environmental education for young children and was the first person who made me realize that women are just as tough and capable as our male counterparts.
What is your favorite DeLille Cellars wine?
Only one?? The 2019 Riesling rocked my world. The bouquet on that beauty is intoxicating. I'm also a huge fan of our Métier.
Do you have a favorite memory at DeLille you would like to share?
Anyone who has worked a harvest will tell you it's less the romantic ideal of sweeping vineyard vistas and thoughtful swirls and sips of wine, and longer, intense days spent scrubbing tanks, punching down caps, and getting generally filthy. However, for me, that first harvest I worked alongside my husband was as romantic as it gets. Tackling such an intense undertaking together was one of the greatest experiences I've ever had and showed me our strength both as individuals and a couple. I will forever be grateful that I got to share that transformative first harvest with my best friend.

Page Kafonek, Cellar Lead
How did you get into the wine industry?
I was establishing myself in the hospitality industry and what makes every situation more hospitable? Wine! I began my studies as a Sommelier and my mentor suggested I try a harvest. It was such a great experience that I shifted my course to production.
What are some of your goals?
I'm still trying to find my footing. There are a few gaps between the wine industry and the hospitality industry that I'm filling in. For now, I'm just trying to learn as much from the winemakers at Delille as I can, there's a lot of great talent here and I'm excited to see where both myself and the business go.
What would you say to women considering a career in wine?
Try a harvest! One of the best parts of harvest is working with a diverse team of career backgrounds, goals, personal interests, and skillsets. There is no "right" way to get into this career.
How do you think women can uplift each other in the winemaking community?
Continue to help create a sense of community. Promote outreach programs, hold events, and get your name out there. The more exposure we can shine on the women in wine the better!
Who are three inspirational women you look up to and why?
Prior to Delille, I had only worked with two other female interns. They were both so headstrong and with a little ingenuity, never let a task outweigh them. Seeing them continue to thrive in this industry has given me confidence in my own abilities.
What is your favorite DeLille Cellars wine?
Chaleur Blanc is the most hands-on white I've worked with. Tasting that wine reminds me of stirring the lees in every barrel once a week and that's what I love about being in production. I love being able to taste the effort everyone puts into a great product.
Do you have a favorite memory at DeLille you would like to share?
The first day we used the new crush equipment this past harvest - Everyone was learning the equipment that day and it really showed where different experiences and backgrounds can come into play in the cellar. There is no "right" way to get there.

Sophie Louaillier, Cellar Hand
How did you get into the wine industry?
I first got into the wine industry when I worked Harvest 2020 here at DeLille! Prior to that, I didn't even know the wine industry was even an option for me, or that I would love it so much that I wanted to return. My second harvest was where things really cemented for me; not only did I feel more knowledgeable and at ease, but also I liked that I was consistently learning new things every day.
What are some of your goals?
I think one of the amazing things about working in wine is that there are so many different ways to grow and move around the industry. As I enter my first year of officially being in the wine world, my goals right now are focused on learning as much as I can, and really understanding DeLille's winemaking process throughout the year (not just during harvest).
What would you say to women considering a career in wine?
As someone who is still fresh on the scene, I would say the best way to consider a career in wine is to try a harvest! Harvest is really where you decide if you love making wine or not because it is so intense, fast-paced, and physical. You learn so much about the winemaking process during harvest, and it's a great opportunity to see if you can envision yourself in the industry more long-term.
How do you think women can uplift each other in the winemaking community?
I feel there are so many ways women can support other women in the wine community! I think for women who are more established in wine, education and collaboration can be a great way to include and uplift women who want a future in wine. It is amazing to be working on a team that is majority women, and I think that is a direct result of intentional hiring - really allowing women to show up and prove that there needs to be more women in wine. It is also why I find myself looking up to Mari, our assistant winemaker, and oenologist. Her dedication to diversity both in and out of the wine community and her commitment to holding space for other women to join her in her successes is incredible.
Although she is not in the industry, I also look up immensely to my older sister Chloe. Her compassion, caring nature, and generosity challenges me to be a better person on the daily, and also makes her one of my favorite people. She is fun, adventurous, and fiercely loving. It makes me proud to be her sister and friend!
What is your favorite DeLille Cellars wine?
As we move into spring and summer, one of my favorite DeLille wines to drink is our Riesling! It's been on my mind as of late and I can't wait to catch those summer vibes.
Do you have a favorite memory at DeLille you would like to share?
I've had so many great memories over my short time here it's hard to pick one! One from harvest '21: we were adjusting to using all new crush equipment this year, as well as working in a new space, which also had new electrical wiring... We were in for quite a shock when we plugged in the crush line, dumped a bin of grapes, and realized the sorting table had the audacity to start shooting grapes backwards! Very intense and concerning in the moment, but kind of funny looking back on it!
Looking Forward: Women in Washington Wine
Although the percentage of women in winemaking is still relatively small, organizations such as The Alliance of Women in Washington Wine advocate for and inspire women in wine. DeLille Cellars is honored to be a founding donor of the Woodinville Wine Country Scholarship, supporting minority and under-represented students within the program who demonstrate a passion for and dedication to the wine-growing and winemaking craft, as well as a love of higher learning and continued wine education.
Whether you are traveling from out of state or from nearby Seattle, Woodinville offers some of the best restaurants, wineries, distilleries, and breweries in the region. With a myriad of restaurants to try, it can be difficult to make a decision where to dine after a day of wine tasting and meandering around Woodinville Wine Country. If you're looking to combine fine Washington wine alongside local cuisine, head to The Lounge at DeLille Cellars, DeLille's wine-centric Woodinville restaurant.
The Lounge at DeLille Cellars specializes in New American cuisine, crafted by Executive Chef Michael C. Toni. Chef Toni has partnered with DeLille Cellars for over 20 years and possesses both the experience and knowledge to craft spectacular pairings.
"Over 25 years ago, I started my career in California restaurants at a time that 'New American Cuisine' was thriving," said Executive Chef Toni. "I am excited to come full circle after building relationships and friendships in this amazing community through A Platinum Event Catering. I look forward to continuing the legacy of this space with DeLille Cellars, who has been by my side from day one, by providing the same style of food that I began my career with, but also incorporating all that working in Woodinville Wine Country has taught me."
"Great wine belongs with great food, and we're excited to partner with our long-time friend and chef, Michael Toni. After nearly 20 years working together perfecting pairings for wine dinners and release events, we're thrilled to open a restaurant to offer our customers some magical food and wine experiences and create a hub at the Old Redhook Brewery," said CEO Tom Dugan.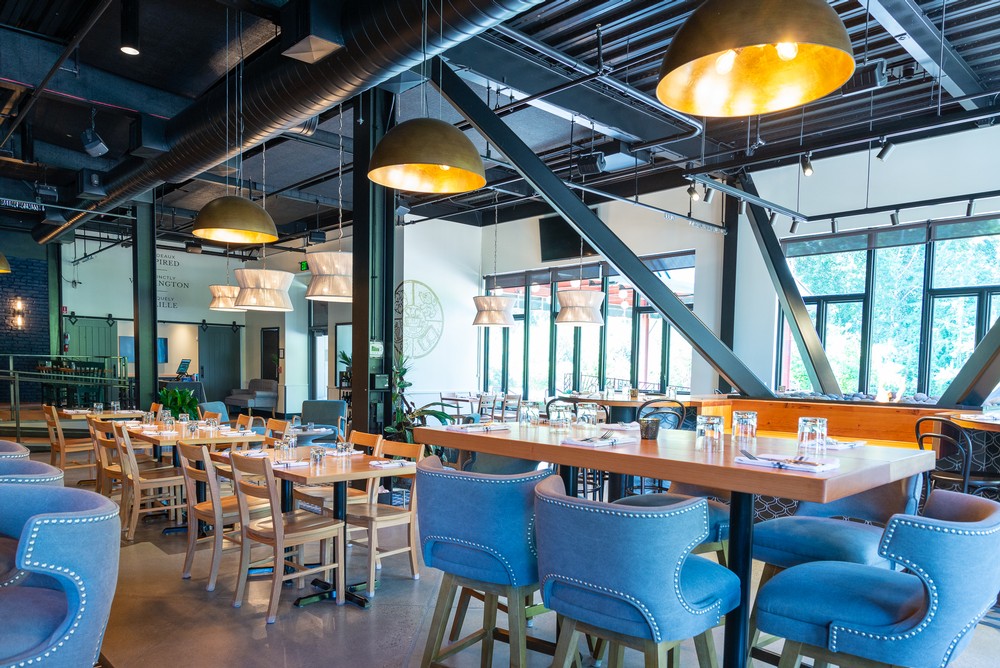 In addition to standard table seating, The Lounge restaurant also functions as a wine bar, where guests can relax in comfortable chairs and enjoy wine. Guests can be seated by the fireplace for a more intimate gathering in a comfortable sofa setting; in the middle of the action of our Main Dining Room at one of our Lounge Chair tables; or fireside on our raised platform in large wing-backed chairs. Two private dining rooms are also available for private events at The Lounge - the Alchemy Room and D2 Room.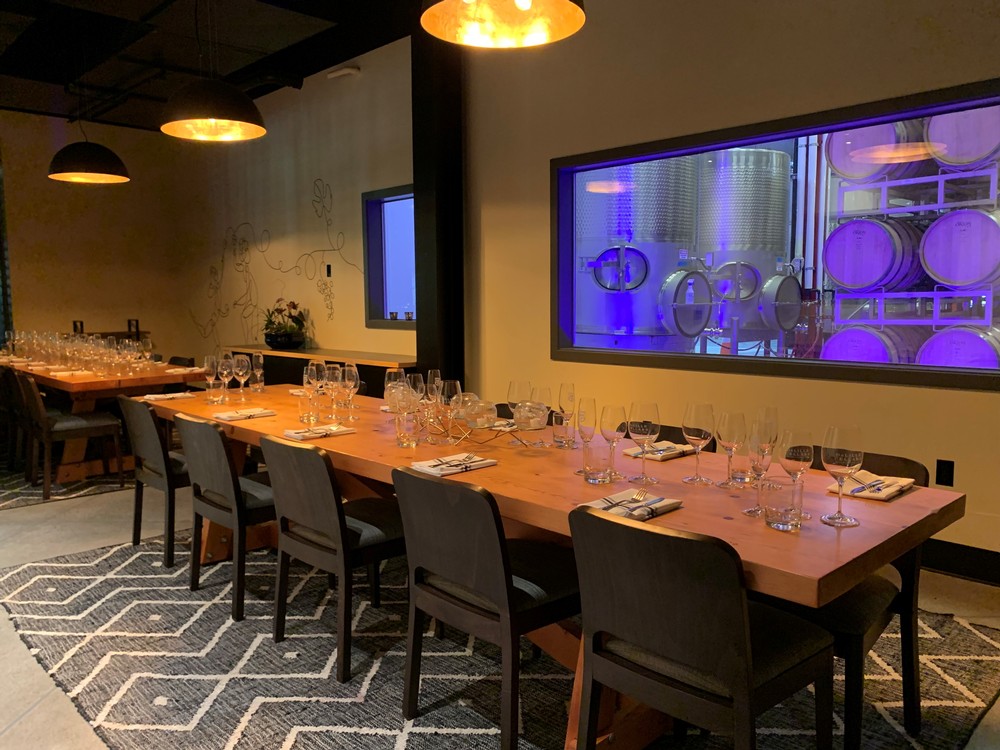 The Alchemy Room at The Lounge
Our Woodinville restaurant is open Wednesday through Sunday and offers specials and events throughout the week. Check out our weekly offers such as Happy Hour, a special Date Night menu on Wednesdays, and live music from local musicians on Thursdays. The Lounge at DeLille Cellars will also feature special prix-fixe pairing menus in March to celebrate Taste Washington Wine Month
Select Dates in March: Taste WA Wine Month Prix-Fixe Menus
Throughout March, The Lounge restaurant will feature prix-fixe pairing menus every Thursday through Sunday to celebrate Taste Washington Wine Month. These menus feature DeLille wines poured alongside other celebrated Washington wines that have a legacy tie to DeLille's history, where winemakers have worked at DeLille in their early years and then went on to other wineries or to start their own. The Prix-Fixe menus are available on select days, along with the standard menu offerings.
Calendar of Events
March 10-13: Avennia and DeLille Prix-Fixe Menu
March 17-20: Mark Ryan and DeLille Prix-Fixe Menu
March 24-27: Baer and DeLille Prix-Fixe Menu
March 31-April 3: Betz and DeLille Prix-Fixe Menu
Wednesday: Date Night Menu
A take on DeLille Cellar's Date Night pick-up meals throughout the course of 2020, Wednesday night Date Nights at The Lounge are the perfect opportunity to enjoy local cuisine paired with DeLille Cellars wine. The date night menu changes weekly, and New American style dishes are crafted by Executive Chef Michael C. Toni. Main courses can range from Pan-Seared Black Cod to Grilled Pork Tenderloin to Fresh Gnochetti Sardi Pasta.
The Date Night menu includes a three-course dinner for two (starter, entree, and dessert) and a bottle of wine. Choose from four bottle choices including Chaleur Blanc, D2, Panther Creek Pinot Noir, and Panther Creek Chardonnay. Follow our Facebook page for menu updates and Date Night information at The Lounge.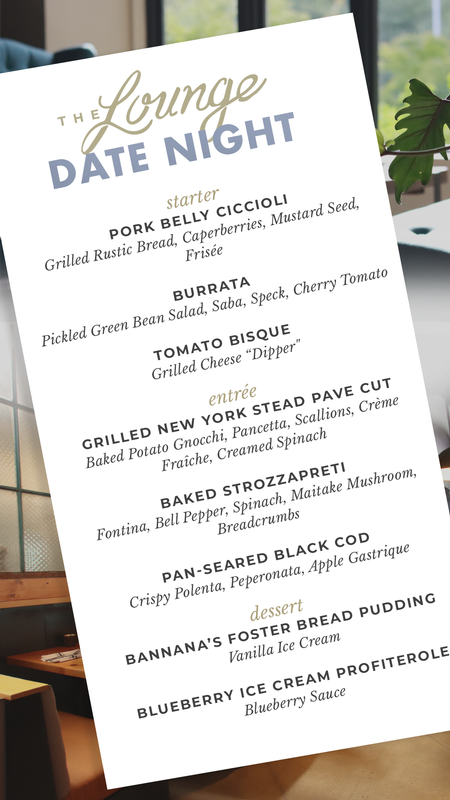 The Lounge Date Night Menu, March 2nd
Thursdays: Live Music
Join The Lounge at DeLille Cellars Thursday evenings from 5:30 pm - 8:30 pm for live music at our Woodinville restaurant. We feature local artists whose styles range from acoustic folk and indie to soft rock and pop. Check out who's playing at The Lounge here and their details below.
Jessie Siren
Seattle-based singer Jessie Siren has been writing music since she was nine years old. She focuses on acoustic, folk-pop tunes.
Tyler Edwards
Beginning his career in 2008, Tyler Edwards wrote songs and fronted South Carolina rock band, I Anthem. After releasing two EPs and an LP, the band had multiple songs breaking the Top 10 on Billboard's Rock Charts and music featured on MTV and NASCAR. In 2017, Edwards independently released his first solo LP, A Few Good Hearts. The album was completely crowd funded and showcased a collection of songs about traveling, love, and faith. Since releasing his record, Tyler has sold out multiple Seattle venues and shared the stage with national acts such as Will Hoge, Nicki Bluhm, and The Steel Wheels.
Alex Britton
Alex Britton is a lead guitarist and singer from the UK. He performs a wide range of covers from old to new including the likes of The Beatles, The Rolling Stones, Lynyrd Skynyrd through to Mumford & Sons, The Lumineers, and Ed Sheeran.
Gina Belliveau
Originally from Baltimore, Gina Belliveau plays one-man-band, looped, percussive, acoustic soul-folk with an Achilles heel for ridiculous pop cover tunes in an ever-expanding repertoire running the gamut from Billie Holiday to Billie Jean, in addition to an arsenal of original songs.
Jaeden Luke
Seattle singer-songwriter Jaeden Luke writes acoustic pop music with hook-driven melodies and lyrics that guarantee to resonate with every listener. Thanks to his admiration of The Beatles, he learned guitar at age 9 and has pursued music ever since; now he is often vocally and musically compared to Ed Sheeran and John Mayer.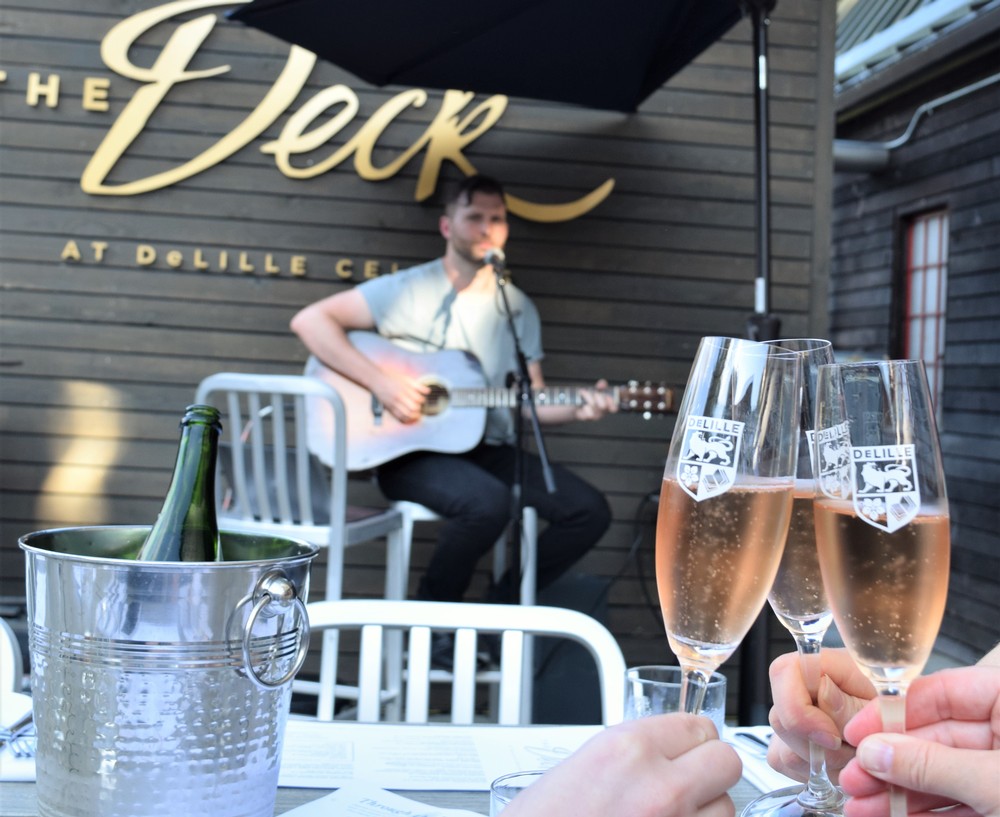 Live Music on The Deck
Currently, live music is held inside The Lounge. In the summer (weather permitting), live music will be held on The Deck, where guests can enjoy a glass of wine alongside bites and a lighter-fare deck menu.
Wednesday - Friday: Happy Hour at The Lounge
Enjoy Happy Hour specials at The Lounge Wednesday through Friday from 3 pm to 5 pm. Guests can enjoy $10 glass pours on select wine including D2, Triennes Rose, Panther Creek Chardonnay, Jean Baptiste Roussanne, and Panther Creek Pinot Noir. Looking for a different beverage? No problem! Our Woodinville restaurant features a wide selection of beer and cider on tap, including ales from Fair Isle Brewing, Black Raven, and Sumerian Brewing.
Please note: menu is subject to availability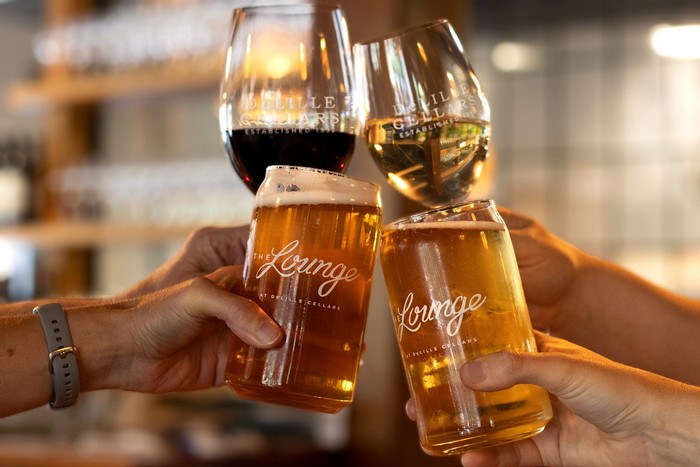 In addition to specials on beer and wine, the Happy Hour menu also features small bites and shareables such as Smoked Brisket Sliders (Red Cabbage Slaw, House Made Sweet BBQ Sauce, Horseradish Crema) and Truffle Parmesan Pomme Frites. Please note: Menus are subject to seasonality and availability.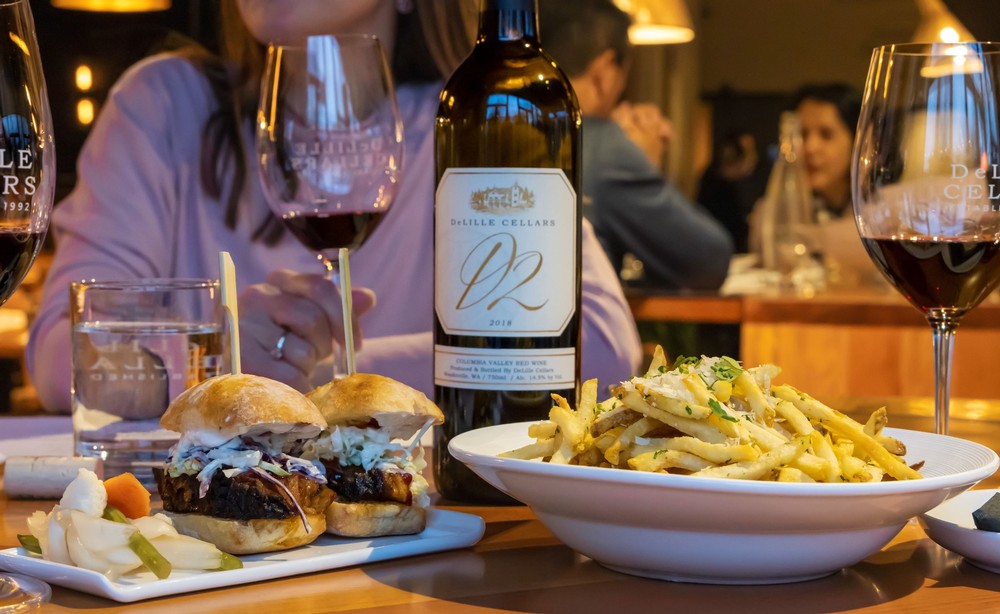 Happy Hour at The Lounge: D2, Smoked Brisket Sliders, and Truffle Pomme Frites
About DeLille Cellars
DeLille Cellars is the third oldest operating winery in Woodinville, WA, founded in 1992. Known for pioneering Bordeaux-style blends from Washington State, the winery has maintained a tradition of quality and excellence with over 700 individual 90+ ratings from leading publications. DeLille Cellars focuses on the Red Mountain AVA and sources grapes from Washington's most acclaimed vineyards. The winery is recognized by notable wine critics and influencers, including Robert Parker, as one of the top producers in the state.
Sign Up For Our Newsletter
Keep up to date on the latest wine releases, events, and promotions.