Back To Top
June 17, 2022 | DeLille Cellars
An Interview with Woodinville Wine Country Scholarship Recipient Andrea Hernandez
In 2021, DeLille Cellars partnered with Woodinville Wine Country and Chateau Ste. Michelle to create the Woodinville Wine Country Diversity Scholarship supporting Washington State University School of Viticulture and Enology. The scholarship supports minority and under-represented students within the program who demonstrate passion and dedication to the winemaking craft.
"This is a small but important step to creating more inclusivity and diversity within our wine community," said Tom Dugan, CEO of DeLille Cellars. "WSU has a world-class viticulture and enology program, and we're honored to partner with Chateau Ste. Michelle and Woodinville Wine Country in creating this scholarship. It reflects the great collaboration and community of Washington wine."
We interviewed 2021 scholarship recipient Andrea Hernandez about her experience and future goals within the wine industry.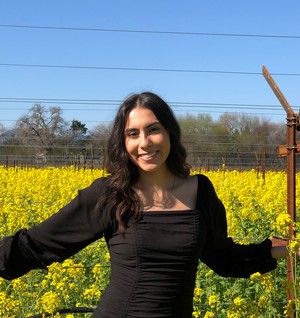 Can you tell us about your background and how you first became interested in wine?
I am a first-generation student from Saint Helena, California, attending Washington State University. I knew from the start that I wanted to do something that required me to be outside. So, when I was in high school, I joined FFA and was able to take viticulture classes, which ignited my interest in wine.
What aspects of your wine education so far have you found most interesting?
I've developed a passion for chemistry, which has piqued my curiosity in the fermentation process, but I'm also fascinated by the entomology side of vineyard management.
What do you find the most challenging?
The most difficult aspect for me was remembering. I didn't realize how important internships were until I worked for Wilbur Ellis. I was then able to connect with my lectures and retain the information when I had more hands-on experience
What advice would you give others interested in pursuing an education in enology & viticulture?
Go to class, and make sure you master the fundamentals from the start. Over the summer, go out and hunt for internships to build your network.
What are your goals after graduating from the program?
After interning with vineyard management companies the past two summers, I hope to intern with a winery and learn more from the winemakers once I graduate.
Do you have a favorite wine memory?
My favorite memory is seeing the movie Bottle Shock for the first time, which was a significant inspiration for me to start making wine. I recall wanting to know what it's like to make such a flawless wine.
What advice/insight would you tell an incoming student about the wine program?
Don't be scared to reach out and because we are such a small group, making friends with my classmates has been quite beneficial, as has talking with the students on the tri-cities campus during field trips.
Support the Woodinville Wine Country Diversity Scholarship
The Woodinville Wine Country Diversity Scholarship supports minority and under-represented students in the Enology & Viticultural program, with the goal of fostering diversity and inclusion within the wine industry. Community members who would like to make a donation to grow the endowment fund for the Woodinville Wine Country Diversity Fund can donate here.
About Woodinville Wine Country Association
Woodinville Wine Country Association is a group of vintners and affiliates who represents the growing presence of the Washington state wine industry in the Greater Woodinville area. The association's mission is to create a world-class wine destination and a supportive and profitable environment for Washington vintners and affiliates.
About Chateau Ste. Michelle
Founded in 1934, Chateau Ste. Michelle pioneered vinifera grape growing in Washington State and has been producing classic European varietal wines under the Ste. Michelle label since 1967. The winery combines an ongoing dedication to research with a commitment to classic winemaking traditions. The winery owns 3,900 acres of vineyards in the Columbia Valley of Eastern Washington, including Canoe Ridge Estate and Cold Creek, which are LIVE and Salmon Safe certified. Chateau Ste. Michelle enjoys winemaking partnerships with some of the world's most distinguished vintners. Col Solare is an alliance with Tuscany's Piero Antinori, Eroica Riesling is a partnership with the Mosel's Ernst Loosen and Tenet is a collaboration with Michel Gassier and Philippe Cambie of France.
About DeLille Cellars
DeLille Cellars is the third oldest operating winery in Woodinville, WA, founded in 1992. Known for pioneering Bordeaux-style blends from Washington State, the winery has maintained a tradition of quality and excellence with over 700 individual 90+ ratings from leading international critics. DeLille Cellars focuses on the Red Mountain AVA and sources grapes from Washington's most acclaimed vineyards. The winery is recognized by notable wine critics and influencers, including Robert Parker, as one of the top producers in the state. In 2019, DeLille Cellars moved all operations to the old Redhook Brewery in Woodinville.
Comments
Commenting has been turned off.
Sign Up For Our Newsletter
Keep up to date on the latest wine releases, events, and promotions.