Back To Top
September 29, 2021 | The Lounge | DeLille Cellars
The Lounge at DeLille Cellars - Woodinville's New Restaurant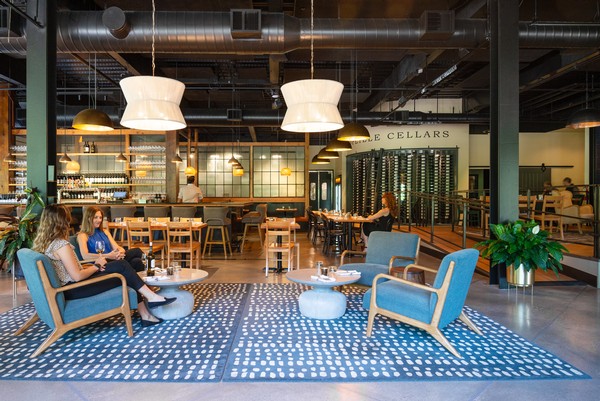 Located next door to the Tasting Room, The Lounge at DeLille Cellars is Woodinville's new wine-centric restaurant. The Lounge offers glass pours, comparative tastings, and a unique food menu crafted by Executive Chef Michael C. Toni.
The Lounge Experience
The Lounge restaurant is located in the former Redhook Forecaster's Public House, which has a long history in Woodinville as a gathering spot since 1994 when the Redhook facility first opened. DeLille Cellars looks forward to continuing the legacy of the Old Redhook Brewery as a hub of great food, libations, and memories for the community.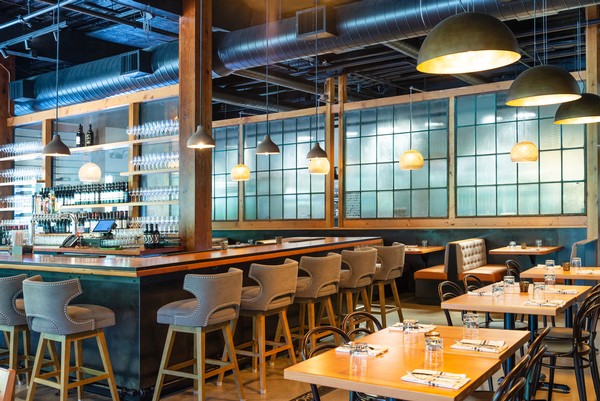 The Lounge offers an array of seating, including booths, stools by the fireplace, tables, a bartop, and lounge chairs for casual dining and sharing small plates.
The Deck is a seasonal patio experience that is available depending on the weather. The Deck offers a more casual dining experience with a separate menu. In the summer, live music is held on the outdoor patio.
Happy Hour at The Lounge
Visit us for Happy Hour 3-5 pm Wednesday - Friday for $5 pints and $10 select wine by the glass including D2.
Live at The Lounge: Thursday Evening Music
The Lounge will feature live music every Thursday. Please see our events calendar for more information on featured artists. Reservations are strongly encouraged for live music events.
Explore the Menu
The Lounge is a full-service restaurant with a house-crafted menu ranging from light bites for sharing to salads, sandwiches, and entrées. The Menu is directed by Executive Chef Michael C. Toni, who led the Woodinville winery's "Date Night" meals throughout the COVID-related closures of 2020.
Beginning with the wine menu, discover what makes the wines of DeLille Cellars so unique by exploring wines from the places in France that give us inspiration and wines from around the world that display the same level of regional distinction that DeLille does for Washington State.
Enjoy select wines by the glass or try a comparative, side-by-side tasting of wines to further explore the nuances of place, growing region, and terroir.
Our Woodinville restaurant also offers a wide selection of beer and seltzer on tap, including local favorites such as Black Raven, Sumerian Brewing, and San Juan Seltzer.
A few favorite items at The Lounge include Duck Conift Poutine, Grilled Tuna Nicoise Salad, and Roasted Mushroom Toast. Whether you are looking for a complete entree or shareables to accompany your wine tasting, The Lounge at DeLille Cellars has something for everyone.
Photogallery rendered here.
"We're excited to offer our customers some different and unique wine and food experiences," said DeLille Cellars CEO Tom Dugan. "As someone who took the Burke-Gilman and Sammamish River Trails out to Redhook years ago, we're especially excited to launch an outdoor space when the weather cooperates, even more so with the slated Eastrail project that will bring more people by foot and bike to Woodinville," added Dugan.
"The focus of our tasting room has always been about education and showcasing the world-class quality of Washington wine. The Lounge allows us to offer more casual experiences, both by-the-glass and into the evening, that our wonderful customers have been looking for," added Deb Stadelman, DeLille's Director of Retail Operations.
Order Food to Go
Order food and wine to go from The Lounge wine list and the house-crafted restaurant menu.
Visit our Woodinville Restaurant
We accept reservations for indoor dining and also have limited walk-in seating available at The Lounge. The Deck is a seasonal experience with walk-in availability only, weather permitting.
Looking for a traditional seated wine tasting experience? Visit our Tasting Room next door for a 45-minute tasting of our Bordeaux-style wines.
About DeLille Cellars
DeLille Cellars is the third oldest operating winery in Woodinville, WA, founded in 1992. Known for pioneering Bordeaux-style blends from Washington State, the winery has maintained a tradition of quality and excellence with over 700 individual 90+ ratings from leading publications. DeLille Cellars focuses on the Red Mountain AVA and sources grapes from Washington's most acclaimed vineyards. The winery is recognized by notable wine critics and influencers, including Robert Parker, as one of the top producers in the state. To learn more about DeLille Cellars, visit our website.
Comments
Commenting has been turned off.
Sign Up For Our Newsletter
Keep up to date on the latest wine releases, events, and promotions.