Back To Top
Red Mountain Wine
Red Mountain is a premier growing region in Washington State and is known for growing dense, tannic fruit that reward careful winemaking with powerful, yet balanced wines that can age for decades. The unique position of Red Mountain within the Columbia Valley offers one of the state's best areas to grow wine grapes, especially Cabernet Sauvignon. The elevation gain of the hillside itself, combined with the airflow generated by the Yakima River, which surrounds the entire southwest-facing slope, offers additional sunlight and cool breezes. Red Mountain is also one of the warmest AVA's in Washington State and is home to some of the best vineyards.
What Makes Red Mountain Wine Unique?
While the Red Mountain AVA is neither red nor mountainous, its vineyards produce high-quality fruit that embodies flavors and mineral notes unique to Washington State. Red Mountain is located in the Yakima Valey AVA, which is part of the larger Columbia AVA that spans Central and Southern Washington. The climate, geography, and unique terroir of the region contribute to the intensity, power, and elegance of Red Mountain wine.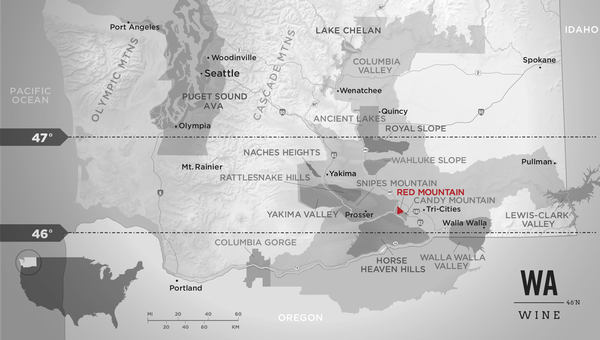 Climate
Red Mountain is typically Washington's warmest growing region with broad, southwest-facing slopes. The area receives more sunlight hours than any other part of the Columbia Valley AVA. Daytime growing temperatures often exceed 90°F (32°C) while evening temperatures drop below 50°F (10°C). Low evening temperatures help preserve the acid levels of the grape. Red Mountain vineyards rely on irrigation for water supply, since the area receives only five inches of rainfall a year on average.
Geography
Red Mountain, spanning approximately 4,500 acres, was formed by the Missoula floods over 10,000 years ago at the end of the last ice age. Floodwaters created powerful back-eddies that deposited sediment in an irregular manner, resulting in heterogeneous soil.
Soil
The Red Mountain AVA is known for sandy loam and gravel with high alkalinity (high pH) and a rich calcium carbonate content. This combination results in significantly smaller berry sizes and higher tannin levels compared to other growing regions in Washington State.
Distinctly Washington: Red Mountain Grapes
Red Mountain is known for producing powerful and tannic wines and has achieved worldwide acclaim in recent years. Due to warm temperatures, red grapes dominate in the Red Mountain AVA. These varietals include Cabernet Sauvignon, Sangiovese, Cabernet Franc, Merlot, and Syrah.
Red Varietals
Red Mountain wines often have a distinct minerality. Cabernet Sauvignons tend to be full-bodied, dark, and dense with cherry aromas and flavors. Merlots exhibit strong tannic elements - sometimes more so than Cabernet. Red Mountain Syrahs are typically bold and full-bodied, with abundant dark fruit flavors and mineral notes.
White Varietals
Although very few white wines are sourced from Red Mountain, there are limited plantings of white grape varietals. These include Sauvignon Blanc, Chenin Blanc, and Chardonnay.
Red Mountain History
Although Red Mountain is relatively new to Washington State's wine scene, its reputation grew quickly. The first vineyards were planted in 1975 and spanned a total of 10 acres. Red Mountain achieved its AVA status in 2001 and now hosts 50+ vineyards spanning more than 4,000 acres.
DeLille Cellars & Red Mountain
Since the winery's founding in 1992, DeLille Cellars has looked to Red Mountain as a significant source for fruit, especially Cabernet Sauvignon. The backbone of DeLille's founding wine, Chaleur Estate, is sourced from Ciel du Cheval's 1982 planting of Cabernet Sauvignon.
DeLille Cellars planted its own vineyard on Red Mountain in 2000, Grand Ciel Vineyard, where the winery grows Cabernet Sauvignon and Syrah. These grapes were added to both the Grand Ciel estate label and also contribute to many of our acclaimed blends.
In 2010, DeLille Cellars created a small lot for club members consisting of Cabernet Sauvignon from four vineyard sites in Red Mountain. A blend from Grand Ciel, Ciel du Cheval, Klipsun, and Upchurch Vineyards, Four Flags Cabernet Sauvignon is a harmonious and complex representation of the incomparable terroir of Red Mountain and a tribute to our steadfast commitment to this respected viticultural area. DeLille sources from a variety of Red Mountain vineyard sites, not only for our blends but also for small lot, barrel-selected single varietal, and single vineyard site wines.
Sourcing from Red Mountain

Grand Ciel
Grand Ciel is DeLille Cellars' estate vineyard in the prestigious Red Mountain AVA. This site utilizes modern, high-density planting and "guyot" training to produce great vintages with a focus on concentration and hang-time complexity. The first harvest from Grand Ciel Vineyard was the 2004 vintage.
Grapes sourced: Cabernet Sauvignon, Syrah
Bordeaux-style wines produced: Grand Ciel Cabernet Sauvignon, Four Flags, D2
Rhone-style wines produced: Grand Ciel Syrah, Doyenne, Signature Syrah

Ciel Du Cheval Vineyard
Ciel du Cheval was established in 1975 and provides grapes to some of the state's finest wineries. The vineyard has a simple mission: grow grapes that are the best reflection of the unique terroir and give a sense of place. Ciel has been divided into thirty-six separate blocks. Each block is custom farmed to achieve the best results possible. Ciel has a reputation for growing red wine grapes that have intense character and dense but supple tannins.
Grapes sourced: Cabernet Sauvignon, Merlot, Cabernet Franc, Grenache, Petite Verdot, Roussanne, Syrah, Viognier
Bordeaux-style wines produced: Chaleur Estate, Four Flags, D2
Rhone-style wines produced: Roussanne, Viognier (for Signature Syrah)
Klipsun Vineyard
Located on the southwest slope of Red Mountain, Klipsun Vineyard was founded in 1982 by Patricia and David Gelles and grows some of Washington's highest quality wine grapes. Named as one of the Top 25 Vineyards in the World by Wine & Spirits Magazine, Klipsun grapes are used in many of Washington's premium wines. Cabernet Sauvignon, Malbec, Merlot are among the varieties grown on this 120-acre estate.
Grapes sourced: Cabernet Sauvignon, Merlot, Sauvignon Blanc, Semillon
Bordeaux-style wines produced: 100% Klipsun Vineyard Cabernet Sauvignon, Chaleur Estate, Four Flags, D2, Chaleur Blanc
Upchurch Vineyard
Upchurch Vineyard is owned and operated by DeLille Founder and former Director of Winemaking Chris Upchurch and his wife, Thea Upchurch. They are an 18.5-acre site uniquely situated on a small plateau at the southern tip of Red Mountain. From its inception in 2007, it has been sustainably farmed and certified by L.I.V.E. It has also been certified "Salmon Safe", important for protecting our watersheds in Washington State.
Grapes sourced: Cabernet Sauvignon
Bordeaux-style wines produced: D2, Four Flags
Rhone-style wines produced: Doyenne
Shaw Vineyard
With a history of integrity, sustainability, and excellence spanning nearly four decades Shaw produces award-winning wine grapes from 100% estate-grown vineyards spanning over 3,000 acres. They grow the highest quality wine grapes and deliver pristine fruit at peak ripeness to winery owners.
Grapes sourced: Cabernet Sauvignon
Bordeaux-style wines produced: Shaw Vineyard Cabernet Sauvignon, D2

Quintessence Vineyard
Quintessence Vineyard began planting in 2010 and have continued to expand the vineyard, currently totaling 410 acres. Despite its young age, the wines coming from Quintessence Vineyard have big, balanced structure resulting in high praises from the press.
Grapes sourced: Cabernet Sauvignon, Merlot, Malbec
Bordeaux-style wines produced: D2, Minuit, Wine Club Exclusives
Rhone-style wines produced: Doyenne
Shop Washington Wine from Red Mountain
DeLille Cellars is a boutique artisan winery that has been producing Red Mountain wines since 2000. The winery is known for pioneering Bordeaux-style blends from Washington State and has maintained a tradition of quality and excellence with over 200 wines rated 90+ from leading publications. Visit our Woodinville winery or shop Washington wines online.
Sign Up For Our Newsletter
Keep up to date on the latest wine releases, events, and promotions.