Back To Top
September 27, 2021 | DeLille Cellars
Grand Ciel Estate Vineyard, Red Mountain AVA
One of DeLille Cellars' long-term goals since the winery's founding in 1992 was to plant and develop our own vineyard so that our winemakers had complete control of the fruit in order to make a highly specialized wine.
The team at our Woodinville winery believes that the quantum leap in quality for artisan Washington State wine lies within the vineyard. In 1999, DeLille Cellars purchased a plot of land in the Red Mountain AVA to achieve this goal of creating a fine-tuned, extraordinary wine. With a focus on concentration of fruit, even ripening and authenticity, we considered everything from clones to trellis systems with the paramount commitment of enhancing our Grand Ciel Vineyard.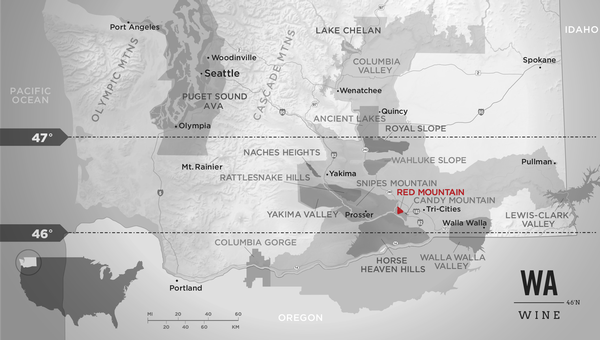 Grand Ciel, meaning big sky, has been carefully designed to produce the highest quality fruit from the unique climate and soil of Red Mountain. Our rigorous selection process only permits a small portion of grapes to become part of the Grand Ciel wines. The results are wines of deep concentration with beautiful proportion and extended complexity.
Grand Ciel Vineyard
Grand Ciel Vineyard, located in the Red Mountain AVA, is a "state-of-the-art", no expense spared vineyard. It was meticulously designed to produce great vintages with a focus on both concentration and hang time complexity. Using GPS coordinates to track the Red Mountain sun, the vineyard was carefully planted at a specific Southwest to Northeast diagonal to achieve even ripening.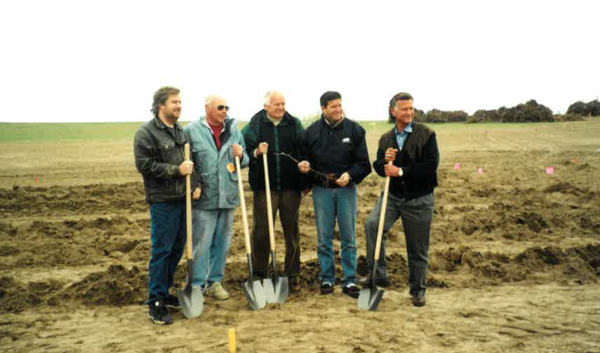 Planting Grand Ciel Vineyard. Left to right: Founding Winemaker Chris Upchurch, Richard Holmes of Ciel du Cheval, Charles Lill, Greg Lill, Jay A. Soloff
High-density planting of French grape clones combined with traditional Guyot trellising slows down the growth of these vines. DeLille Cellars Founding Winemaker Chris Upchurch noted, "after achieving perfection in the vineyard, we then hand pick, hand sort, and barrel select for each vintage to bring you the best wine we can possibly make - true to our methods and to the terroir of Red Mountain".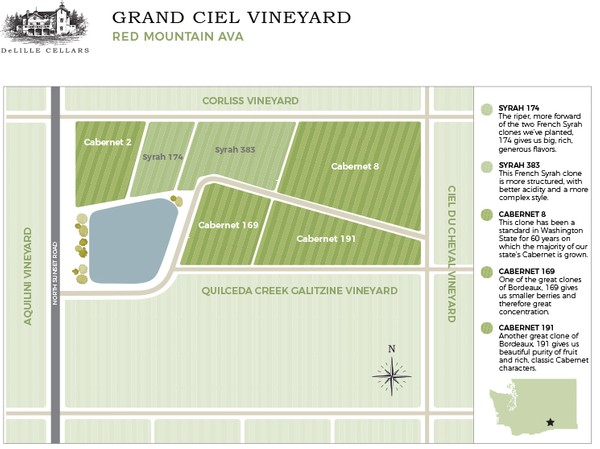 Located between Aquilini Vineyard, Ciel Du Cheval Vineyard, Corliss Vineyard and Quilceda Creek's Galitzine Vineyard, our Grand Ciel Vineyard is home to several types of Syrah and Cabernet clones.
Syrah 174
The riper, more forward of the two French Syrah clones we've planted. 174 gives us big, rich generous flavors.
Syrah 383
This French Syrah clone is more structured, with better acidity and a more complex style.
Cabernet 8
This clone has been a standard in Washington State Cabernet for 60 years.
Cabernet 169
One of the great clones of Bordeaux, Cabernet 169 gives us smaller berries and therefore great concentration.
Cabernet 191
Another great clone of Bordeaux, Cabernet 191 gives us beautiful purity of fruit and rich, classic Cabernet characters.
Grand Ciel Cabernet Sauvignon
Grand Ciel Cabernet is a single vineyard, single varietal & single clone Cabernet from our estate vineyard on Red Mountain. Every detail of our vineyard has been designed to produce the highest quality fruit from the unique climate and soil of this prestigious AVA known for its ripe and structured Cabernet. Our rigorous selection process only permits a small portion of grapes to become part of Grand Ciel. The first vintage was produced in 2004.
Jason Gorski, Director of Viticulture and Winemaking at DeLille Cellars, explained Grand Ciel Cabernet Sauvignon is a "unique wine in that it's 100% from our estate vineyard and 100% from one block. The flavors are always in balance and always in front of sugar."
Grand Ciel Cabernet Sauvignon Profile
Grapes produced exclusively from our Grand Ciel Estate Vineyard

Made

from single vineyard, single varietal, and single clone grapes
Grapes originate from Clone 191 - the original French clone
Aroma: blueberry, cassis, sweet chocolate and oak toast
Oak: Aged 20 months in 100% new French oak
Palate: concentrated yet restrained on the palate, balanced throughout
Aging: 10-15+ years
Grand Ciel Syrah
At Grand Ciel, Syrah has taken on a whole new dimension. Time-honored traditional methods and modern French clones are combined with the unique climate and the unique terroir of Red Mountain: sandy loam and volcanic-ash soils. The resulting wine is one of great concentration in both fruit and terroir, yet our efforts have still managed to find the meaty, floral and focused characteristics of "old-world" Syrah.
Grand Ciel Syrah is 100% Clone 383. "Clone 383 for me is a little bit more of the meatier, cracked black pepper and savory style of Syrah," said Jason Gorski. "One of the things I love about this clone is that there is a little bit of something citrus. The way we farm at Grand Ciel slows everything down with moderating crop loads, allowing for great complexity and flavor development, but also low potential alcohol. Lower potential alcohol means that you're going to have lower perceived sweetness [that] allows those savory characters of the grape to shine through. I think that's one of the things that really sets this block apart: lower potential alcohol and better-developed flavor."
Grand Ciel Syrah Profile
Grapes originate from Clone 383

Aroma: Charcuterie, marionberry and blackberry with a subtle whiff of blood orange

Oak: Aged 20 months in 30% New French Oak

Palate: Blackberry, tapenade, beautifully integrated tannins, acidity and fruit

Aging: 10+ years
Shop our Grand Ciel wines in our wine shop.

Comments
Commenting has been turned off.
Sign Up For Our Newsletter
Keep up to date on the latest wine releases, events, and promotions.