Back To Top
July 20, 2021 | History, Our Wine, Winemaking | DeLille Cellars
From Two Grand Crus to Washington State – Crafting the Most Acclaimed White Bordeaux-Style Blend in America
For many years, Chaleur Blanc has been a favorite among wine enthusiasts, connoisseurs, and collectors. The white Bordeaux-style blend is a world-class Washington wine that showcases traditional French blending techniques with the unique terroir of Washington state. Wine critic Stephen Tanzer exclaimed, "it is no exaggeration to compare this Sauvignon Blanc/Sémillon blend to the finest white Bordeaux bottlings made in oak". He described the blend as an "utterly distinctive wine for Washington in terms of its texture, purity, complexity, savory character and ageability".

Since its first vintage in 1995, Chaleur Blanc was served at the White House over three administrations and has become one of DeLille's most beloved and influential blends.
Pioneering Washington State's First White Bordeaux-style Blend
DeLille Cellars was founded in 1992 and pioneered two red Bordeaux-style blends, Chaleur Estate and D2. These wines were produced with a focus on Red Mountain and showcasing the premier fruit of acclaimed vineyards in the Columbia Valley. In 1994, DeLille crafted another Bordeaux blend, Harrison Hill, from a historic vineyard located in the Snipes Mountain AVA, a sub-appellation of Yakima Valley, which itself is a sub-appellation of the larger Columbia Valley.
With three red blends gaining international notoriety from key critics, including Robert Parker Jr., the winery sought its next feat of French inspiration via white wine. California Chardonnay was already saturating the market, and Chris Upchurch, Founding Winemaker at DeLille, knew the winery had a calling to produce the first white Bordeaux-style blend in Washington State.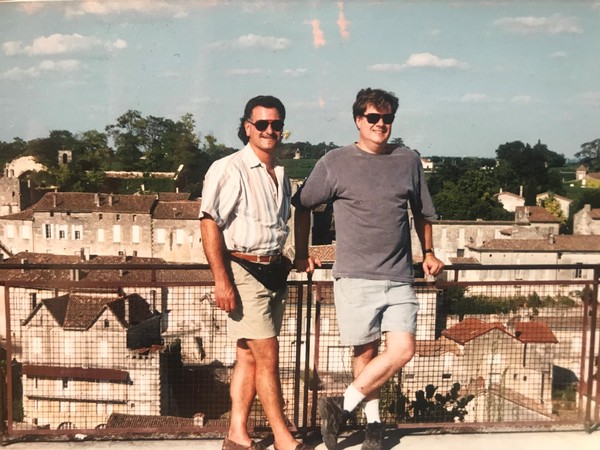 Jay A. Soloff and Chris Upchurch in Bordeaux
Seeking Inspiration from the Source: A Journey to Bordeaux
Chris Upchurch had previously interned with David Lake, Master of Wine at Columbia Winery in Woodinville, Washington. Lake served as DeLille's consultant in the winery's formative years and made remarkable connections at some of Washington's most renowned vineyards, including Ciel du Cheval, Red Willow, and Harrison Hill.
In 1995, Lake contacted prominent old-world wineries Château Haut-Brion and Château Margaux for Chris Upchurch and Founding Partner Jay A. Soloff to visit, creating a foundation for one of DeLille's most esteemed wines to come to fruition. Jay also had many relationships in Bordeaux from his prior years as a wine broker.
With a notepad and a list of contacts in France, Chris and Jay set off on a pilgrimage to find DeLille Cellar's next wine: the first white Bordeaux-style blend to be produced in Washington State.
Château Bellegrave
First, Chris and Jay visited Château Bellegrave in Pauillac. They sought the expertise of a small Entre-deux-Mers wine producer who revealed the basics of crafting white Bordeauxs. The founders of DeLille were told, "cold soak, don't ferment on the solids." Here they learned a secret to the Bordeaux-Blanc recipe which this small winemaker called interfacing. The only way to perfectly interface is to cold soak the grapes and then ferment them in a barrel. After racking off solids into barrels, the wine barrel ferments, allowing for a creamy, refined wine.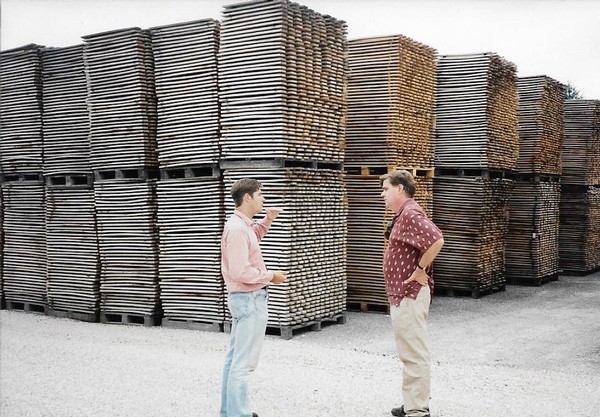 Chris Upchurch with a Bordeaux Barrel Maker
Château Haut-Brion
The following days were filled with adventures that most winemakers can only dream of. Chris and Jay spent the day with Jean Philippe Delmas at Château Haut-Brion, one of the most famous wineries in the world. It is the only Bordeaux winery with Grand Cru classification for a white blend, crafted before 1855 when the classification was established.
Delmas confirmed everything Chris and Jay had learned so far on their journey. The renowned Bordeaux winemaker walked the DeLille founders through winemaking techniques of Bordeaux whites and explained how the conditions of climates such as Bordeaux, France, and the Columbia Valley in Washington State favor Sauvignon and Sémillon grapes. Cooler, dry vintages tend to pick up characteristics from gravelly clay soils, while still maintaining crisp "nectarine-like" qualities of the Sauvignon and honeysuckle and creme brulée of Sémillon.
Château Margaux
Chris and Jay then traveled to Château Margaux where they met with Paul Pontellier, a prominent winemaker in the region. Here, they also learned of Bordeaux white techniques and tasted reds that were in the process of barrel aging.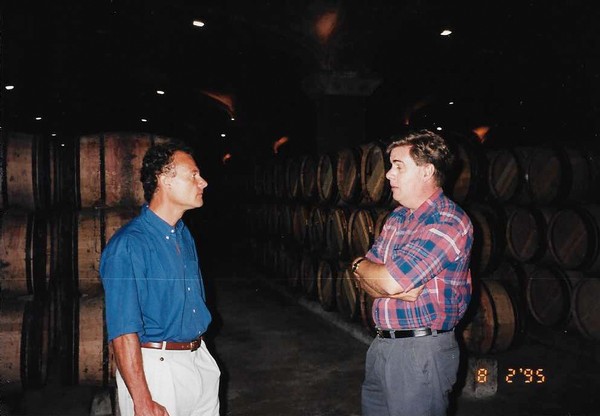 Chris Upchurch with Paul Pontallier at Château Margaux
While visiting the chateau, the winemakers tasted Château Margaux Pavillon Blanc, a blend that received the winery's "deuxieme," or second wine classification, because production began after the 1855 classification. They also visited Domaine de Chevalier and Chateau Oliver.
Creating DeLille's Fourth Wine: Chaleur Blanc
Upon returning to Washington State, Jay and Chris immediately ordered a proper winemaking tank. Lake helped them source an old milk tank, and then the winemakers began the process of "interfacing", with cold soaking followed by barrel fermentation. Jay told Chris, "If it's good enough for Château Haut-Brion, it's good enough for DeLille." Jay A. Soloff recalls, "We were that innocent to believe that we could make a world-class white Bordeaux-style blend in Washington".
Chaleur Estate Blanc, now renamed Chaleur Blanc, is a product of the time Delmas and Pontellier spent with two young winemakers from Washington State. The esteemed wine lends its name from the shortened version of "chaleureux," meaning warm and hearty, which is how co-founder Greg Lill described the grounds that would soon become DeLille Cellars' winery and offices. In 2019, DeLille Cellars moved to the Old Redhook Brewery in the Hollywood District of Woodinville.
Crafting a white Bordeaux-style blend was unheard of in Washington State until 1995 when the first vintage of Chaleur Blanc was released. The wine is fermented sur-lie on the spent lees and also battonage, imparting a memorable "crème brulee" finish". The lees are also stirred in the barrel each week. Chaleur Blanc is both a remarkable accomplishment to new world Bordeaux-style blends and Washington State wine, the second-largest wine-producing state in the US.
Comments
Commenting has been turned off.
Sign Up For Our Newsletter
Keep up to date on the latest wine releases, events, and promotions.