Back To Top
May 17, 2022 | History | DeLille Cellars
DeLille Cellars Celebrates 30 Years of Winemaking in Washington State & Releases Mini Documentary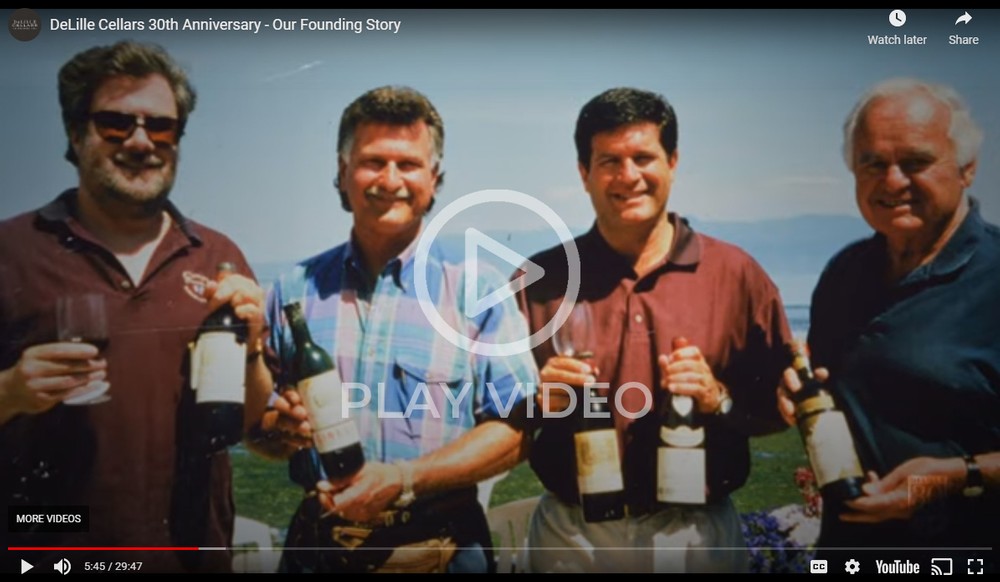 DeLille's Founders: Chris Upchurch, Jay A. Soloff, Greg Lill, and Charles Lill
DeLille Cellars, a pioneering Washington State winery, is celebrating its 30th Anniversary with the release of a short documentary capturing the story of the winery's beginning. Founded in 1992 by Jay Soloff, Chris Upchurch, and Charles and Greg Lill, DeLille was the first winery in the state to focus distinctly on both red and white Bordeaux-style blends.
The video highlights how DeLille's founders met and created the idea to start one of Washington's early wineries, now the third oldest in Woodinville. Through stories of French heritage, home winemaking, trips to Bordeaux and late-night punch-downs, the foundation for excellence and passion to unearth and showcase Washington's world-class wine region is reflected in the interviews of DeLille's founders and present-day team. DeLille Cellars invites you to pour a glass of Washington wine and watch and share the story. Visit DeLille's website to learn more about the winery's history.
DeLille's founders believed blends transcended the sum of their individual parts, and sought to showcase the powerful, concentrated, and structured fruit of Washington State through the European art of blending, whether different varietals or vineyard sites. This founding principle along with the company philosophy of "always seeking" guides the winery's commitment to exceptional wine quality and winery experiences and its dedication to constant improvement and continuous discovery in the cellar.
"Thirty years is short in the overall history of wine, but it's a significant milestone for DeLille and the Washington State wine industry," said CEO Tom Dugan. "Our founders set out to showcase the world-class wine quality of Washington State. Despite the tremendous opportunity that still exists to grow awareness nationally and abroad, we're proud to have helped establish the exceptional quality of wine that can be grown and made here and to have contributed to the remarkable growth of the Washington State wine industry. As we continue to build on the strong foundation of focusing on celebrated vineyard sites, quality in the cellar, and distinctive and memorable wine experiences, we're extremely excited about the next 30 years."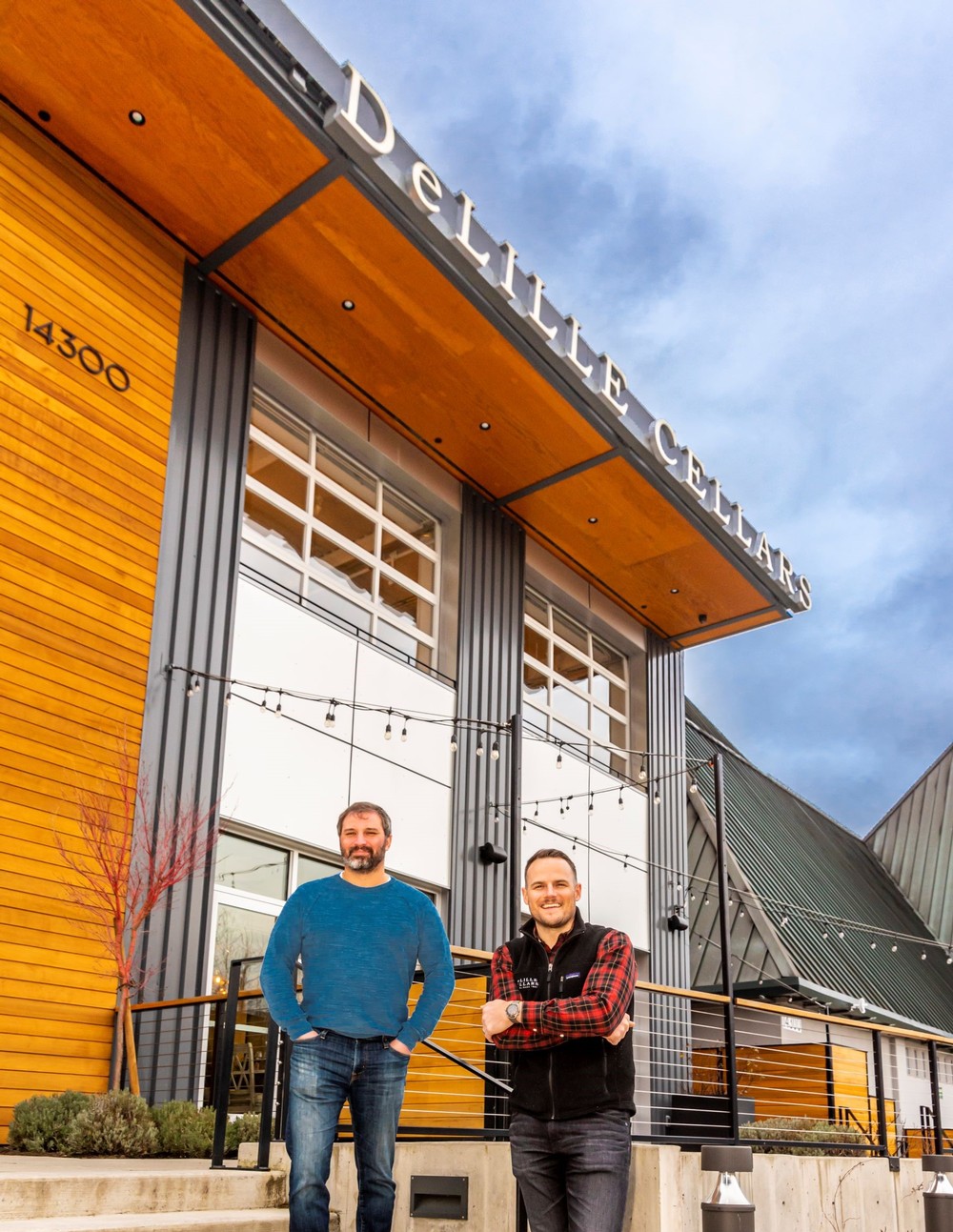 Director of Winemaking Jason Gorski and CEO Tom Dugan in front of DELille's Tasting Room at the Old Redhook Brewery (Credit: Richard Duval)
In 2019, DeLille Cellars moved all winery production and operations to the Old Redhook Brewery in Woodinville, Washington, where it built a tasting room and opened a restaurant, The Lounge at DeLille Cellars. While DeLille started with just two wines, the current portfolio includes over two dozen wines with a focus on Bordeaux and Rhone-inspired blends as well as highly limited Cabernets and single vineyard and varietal expressions. DeLille celebrated its anniversary over the weekend of April 29th at its Woodinville location with a dinner in its Grand Ciel Hall, a new event space above its restaurant, and a Taste & Tour experience throughout its three-story tasting room.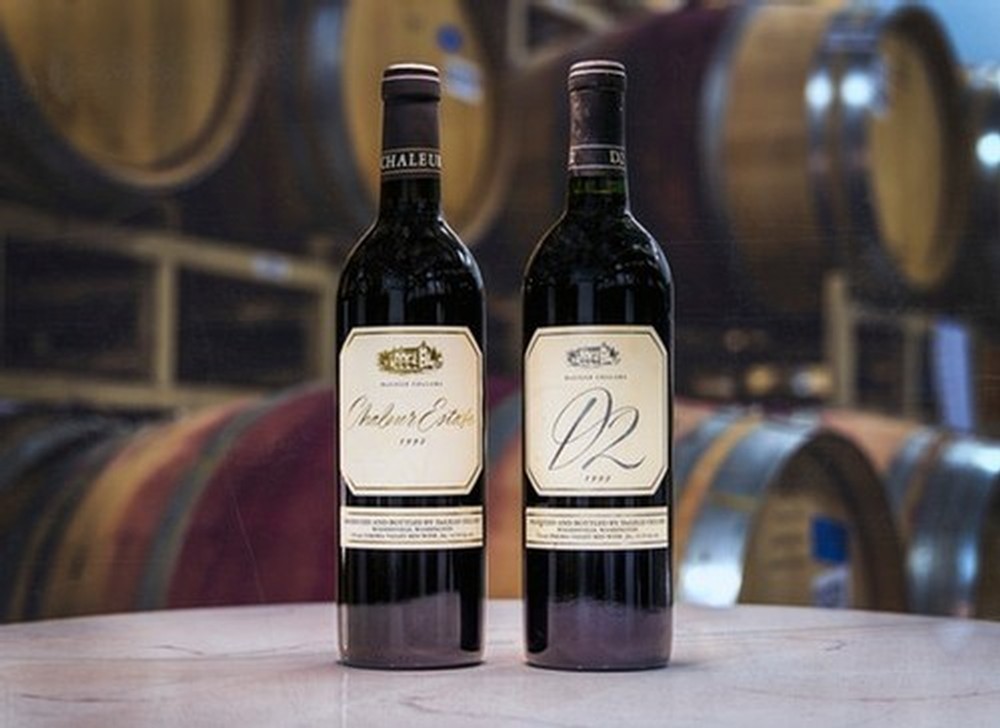 DeLille Cellars founding wines, Chaleur Estate and D2, 1992 vintage
About DeLille Cellars
Bordeaux Inspired – Distinctly Washington – Uniquely DeLille
DeLille Cellars is the third oldest operating winery in Woodinville, WA, founded in 1992. Known for pioneering Bordeaux-style blends from Washington State, the winery has maintained a tradition of quality and excellence with over 700 individual 90+ ratings from leading publications. DeLille Cellars focuses on the Red Mountain AVA and sources grapes from Washington's most acclaimed vineyards. The winery is recognized by notable wine critics and influencers as one of the top producers in the state.
Comments
Commenting has been turned off.
Sign Up For Our Newsletter
Keep up to date on the latest wine releases, events, and promotions.