Back To Top
April 16, 2022 | Awards | DeLille Cellars
DeLille Cellars Named 2022 Pacific Northwest Winery of the Year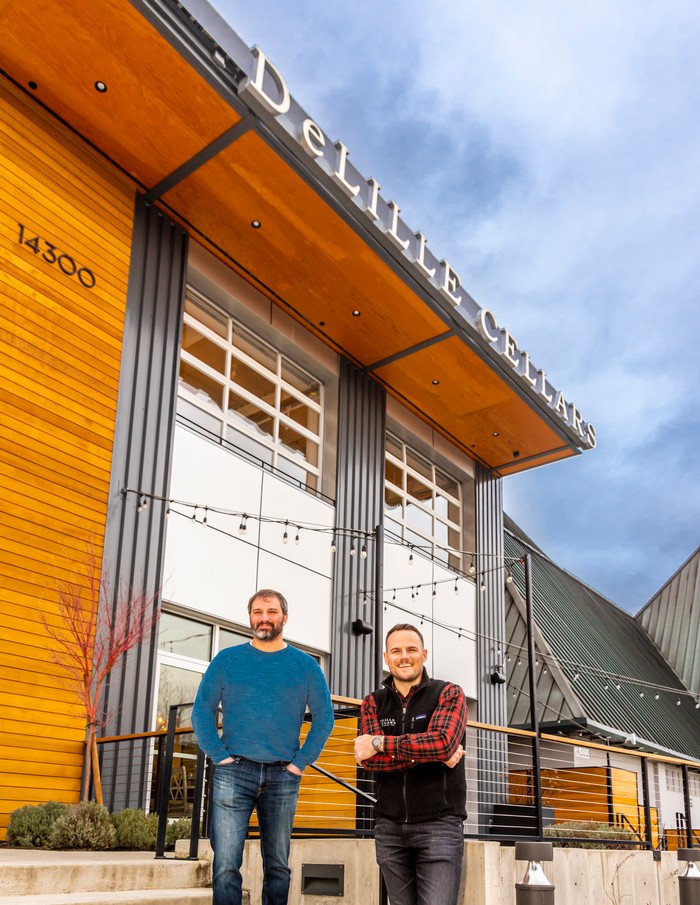 DeLille Cellars Director of Winemaking and Viticulture Jason Gorski & CEO Tom Dugan in front of the Woodinville Tasting Room (Richard Duval Images)
DeLille Cellars is honored to be named the 2022 Pacific Northwest Winery of the Year by Great Northwest Wine Magazine. Five years ago, our Woodinville winery was named 2017 Washington Winery of the Year and in 2018, DeLille Cellars Harrison Hill Cabernet Sauvignon wine was voted Best Red Wine for the Great Northwest Invitational Wine Competition. The winery has earned many other accolades over its 30-year history, including multiple platinum medals and the 2019 Chaleur Blanc voted as Seattle Times' Top Northwest Wine.
DeLille attributes its success to the solid foundation laid by its four founders: Greg Lill, Jay A. Soloff, Chris Upchurch, and the late Charles Lill. Although DeLille Cellars was officially formed in 1992, two of our founders, Chris Upchurch and Jay Soloff, began making wine together back in 1980.
A Solid Foundation in Washington Wine
In 1979, Jay Soloff was working as Wine Director for El Gaucho in Seattle and hired Chris Upchurch to act as Wine Buyer for the 13 Coins restaurant at SeaTac. Chris was hired because he stated on his application that his home winemaking skills would help him make better decisions as a buyer. It wasn't long before Chris and Jay started making wine together and acquired "The Grapeline," a wine grower contract with Sagemoor Vineyards, and began selling grapes as well.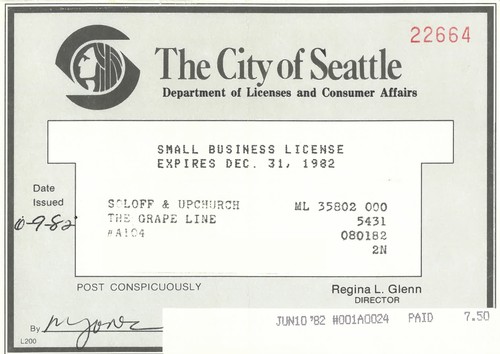 Jay A. Soloff and Chris Upchurch's business license for The Grape Line
In 1987, Jay Soloff joined the Emerald City Rotary and happened to sit next to Greg Lill, where they unearthed a mutual interest in wine. For years, the two friends would converse and enjoy wine at Cedar Ponds Farm (which would in time become the founding site of the winery) and in 1992, DeLille Cellars was founded.
The Early Years of DeLille Cellars
The founders hired David Lake, a luminary in the Washington wine industry, to consult for the winery's first decade. He guided DeLille in the early years, advising on everything from equipment and winemaking techniques to vineyards and varietals. David facilitated making introductions to key vineyard sources, including Red Mountain sites and Red Willow in Yakima Valley. David encouraged DeLille to acquire the rights to Harrison Hill vineyard and guided them in the production of Washington's first white Bordeaux-style blend, Chaleur Blanc.
David's advice and support were essential contributors to the exceptional quality and critical acclaim achieved in those early years. "Chris was an amateur winemaker, and Dad basically funded us to start with," Greg Lill said. "In 1992, there was Columbia, of course, the Château (Ste. Michelle), French Creek Cellars and I think Facelli started the same year as us. What's happened in Woodinville and what Washington has grown up to become is pretty remarkable, and a lot of industry people say that we've helped with that."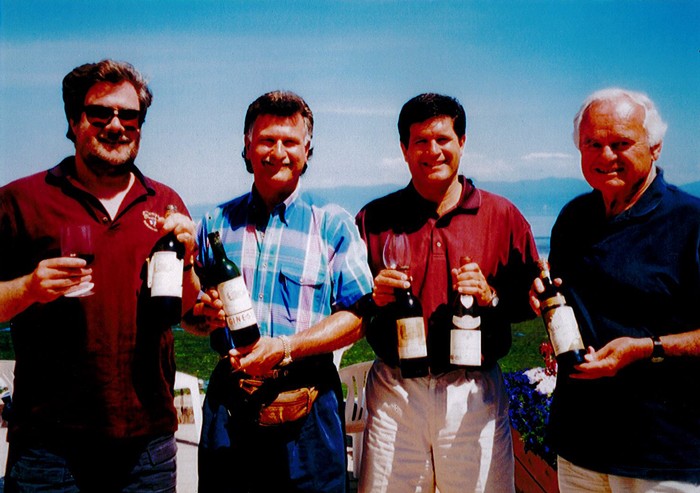 The four founders of DeLille: Chris Upchurch, Jay A. Soloff, Greg Lill, and Charles Lill
CEO Tom Dugan & Director of Winemaking Jason Gorski Guide the Future of DeLille
Today, the winery is led by CEO Tom Dugan, although the founders remain involved shareholders. "All of the founders have been very active as owners, but most recently, less so in day-to-day operations with our move to Redhook," Dugan said. "I think they've all enjoyed the growth and success, and I've always felt pretty honored that they felt comfortable to step back and hand the reins over to us."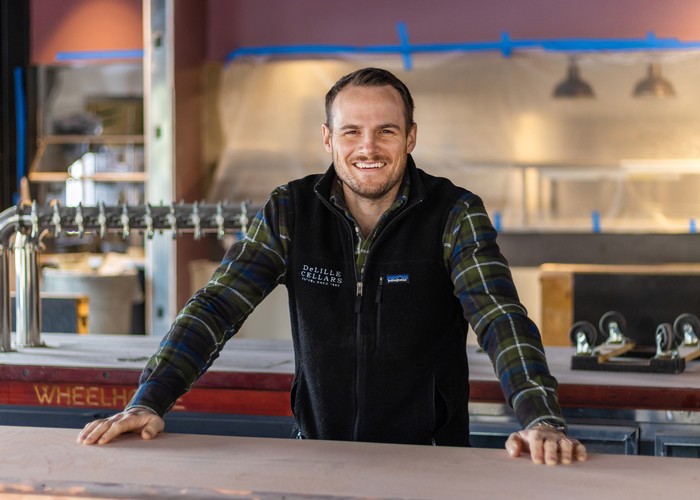 CEO Tom Dugan at the old Redhook Forecaster Pub, now The Lounge at DeLille Cellars
Back in 2014, Tom Dugan was planning to leave his career in investment banking and private equity for business school, but his plans changed when his former colleague, Sam Bronfman of Bacchus Capital Management, reached out. At the time, DeLille was also looking for a vice-president of operations. "When I spoke to Sam about business school, he along with Chris, Jay, and Greg, convinced me to move out to Seattle for a year to help them at the winery. That one year turned into what will be eight this August, and included becoming GM and COO before Greg stepped down," reflected Dugan.
While CEO Tom Dugan spearheads the operations of the winery, Director of Winemaking Jason Gorski guides the winemaking team in producing acclaimed Bordeaux-style blends.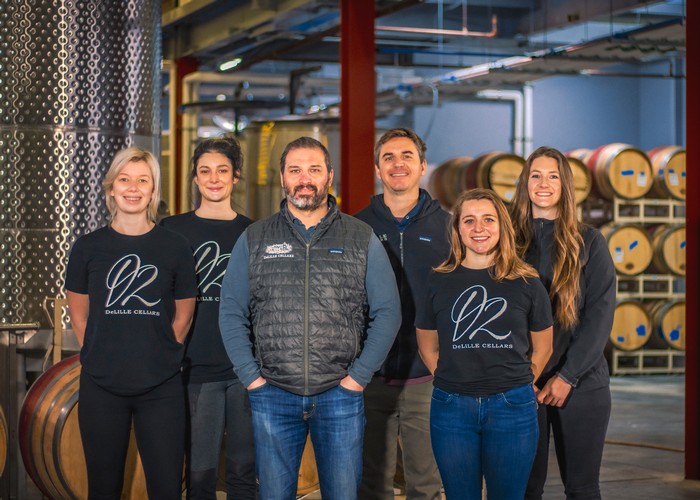 The DeLille Cellars winemaking team: Cellar Lead Page Kafonek, Cellar Lead Sarah Jackson, Director of Winemaking and Viticulture Jason Gorski, Winemaker Nick Bernstein, Cellar Hand Sophie Louaillier, Assistant Winemaker Mari Rossi
Gorski's Winemaking Journey
At the age of 19, Jason Gorski was in charge of choosing the dinner wine on the family-owned farm he worked on. "It was part of their family ritual," he said. "I started to learn as much as I could about wine and thought about it as a career because I've always enjoyed making things with my hands."
Gorski reflected, "I was fortunate to realize at a very young age that wine was my passion. During my education at Duke University, my academic advisor/mentor introduced me to a respected sommelier. That conversation became a pivotal moment when he told me to jump in headfirst. His words, "Life may get in the way, so don't wait – just leap," is what has guided me toward many professional and personal life choices. In hindsight, it was that encounter that influenced my career path and brought me to where I am today."
After graduating in 2002, Gorski applied his biology degree to a winemaking position at Four Sisters Winery in New Jersey. After a few years, he landed a position at Château Ste. Michelle. In 2011, Gorski was hired to replace Chris Peterson at DeLille, who went on to pursue his own winemaking efforts at Woodinville's Avennia Winery.
"(Upchurch) always said, 'When you join the winemaking team, you are here to contribute, not just perform work orders,' " Gorski says. "Everybody brings something to the table. I think that's the most important characteristic at DeLille — the culture of craftsmanship, working together, treating the wines as if they are your own, and honoring the legacy of people who have come through here."
Guiding the winery's daily operations, Director of Winemaking and Viticulture Jason Gorski has been key to the winery's growth and continued lineup of accolades since 2011. Gorski now leads a team of five - Winemaker Nick Bernstein, Assistant Winemaker Mari Rossi, Cellar Lead Page Kafonek, Cellar Lead Sarah Jackson, and Cellar Hand Sophie Louallier.
"When I started here, we made 8,000 cases and eight wines," Gorski reflected. "We have many more wines and many more cases now. I'm not an owner, but I think of these wines as if they are mine and our incredibly talented winemaking team."
The words of Founding Winemaker Chris Upchurch still reign true at the winery: "At DeLille, we believe that Washington State is a Grand Cru wine-growing region, created 10,000 years ago. The challenge for us has always been and remains: to create special wines from the uniquely expressive terroir that Mother Nature gave us a long time ago."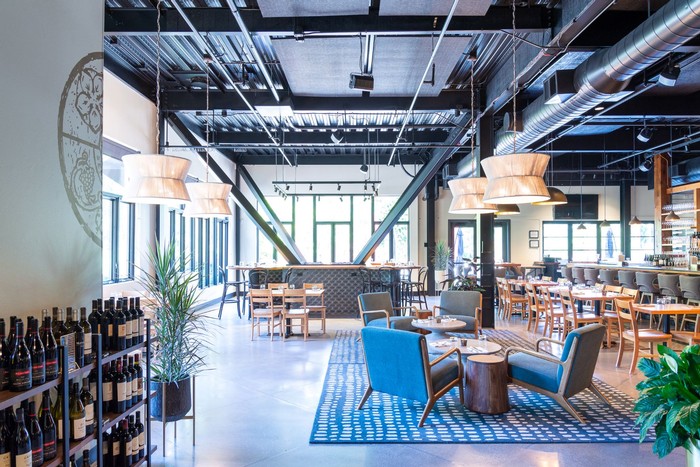 The Lounge at DeLille Cellars, a new wine-centric Woodinville restaurant
Looking Ahead
In 2021, DeLille opened its newest venture, The Lounge at DeLille Cellars, a wine-centric dining experience next door to its three-story Tasting Room at the Old Redhook Brewery. Here, guests can enjoy wine by the glass and bottle alongside hand-crafted cuisine from Executive Chef Michael C. Toni.
The founding principle of "always seeking" guides the winery's steadfast commitment to constant improvement, continuous discovery in the cellar, and the creation of exceptional wines and experiences. Always seeking to build on the strong foundation of its founders, DeLille Cellars is celebrating its 30th anniversary this spring, and we toast to what the upcoming years will bring.
Read the full article on Great Northwest Wine here
Comments
Commenting has been turned off.
Sign Up For Our Newsletter
Keep up to date on the latest wine releases, events, and promotions.