Back To Top
February 24, 2022 | Winemaking | DeLille Cellars
The Journey of a Barrel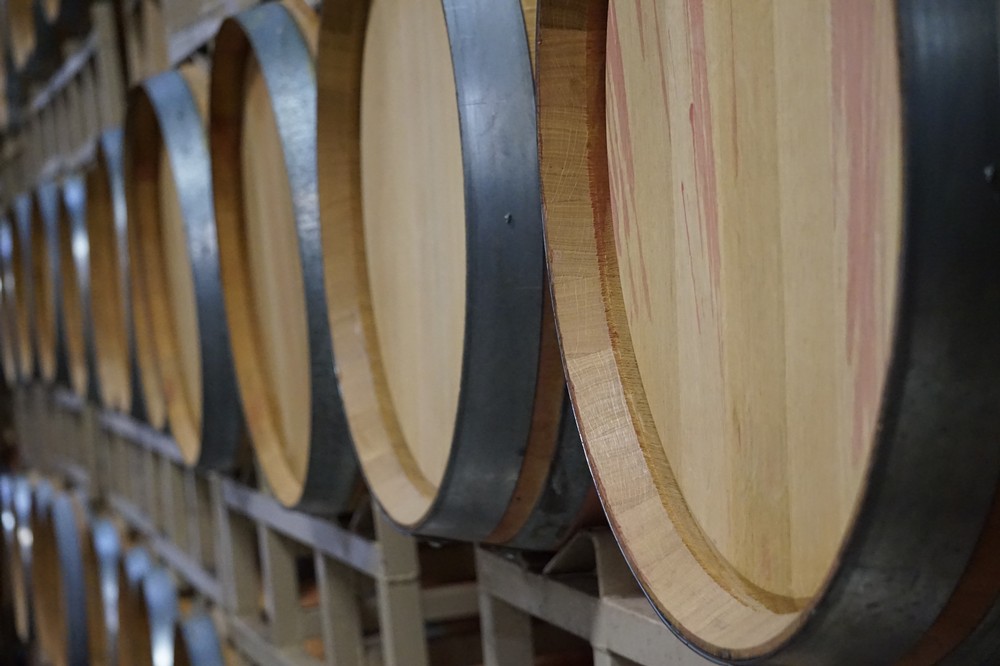 Oak barrels play an essential role in winemaking, from renowned Cabernet Sauvignon of Napa Valley to acclaimed Bordeaux-style blends of Washington State. Oak adds flavor compounds, slows oxygen intake (helping the wine taste smoother), and provides an ideal environment for malolactic fermentation (contributing "creaminess" to the wine). But what happens to barrels when they reach the end of their useful life at the winery?
For the barrels used at our Woodinville winery, DeLille Cellars is just a stop along the way. Let's explore the journey of a barrel - from soil to cooperage to local artisans in the Pacific Northwest.
From Forest to Barrel
The journey of the barrel begins in the forest. Terroir plays an important factor here, just as it does in the vineyards. The location of the tree, how slowly it grew, and age are all factors taken into consideration. Slow growth oak trees contain tighter grain, thus providing better quality oak for barrels.
The specific barrel we'll be following is sourced from Seguin Moreau, a French cooperage headquartered in Merpins, France. With nearly two centuries of experience, the cooperage has been pioneering oenological research and producing top-quality barrels since 1838.
Harvesting
Once selected, the wood is cut into staves that are slightly angled. The staves will "season" outside for 2-3 years, allowing the wood to lose verdancy and leech out raw and recognizably 'woody' flavors.
Cooperage
After the wood is harvested, the barrel maker, or cooper, gets to work. The barrel must be watertight without glue, thus requiring adroit work from skilled coopers. The staves are fit tightly together with a metal hoop as the barrel begins to take its shape.

DeLille Cellars
With over 20 Rhône and Bordeaux-style wines in our portfolio, our winemaking team utilizes different styles of barrels depending on the style and varietal. DeLille purchased these specific barrels in 2018 and filled them with Cabernet Sauvignon Clone 8 from Upchurch Vineyard located on Red Mountain.
Clone 8 originates from Château Margaux in Bordeaux, France, and was introduced to California vineyards in 1893. It is the most widely planted Cabernet Sauvignon clone in Washington State and is known for reflecting the unique terroir of the vineyard site.
Dark fruit notes dominate Grand Ciel Clone 8, while Clone 8 from Upchurch Vineyard offers flavors of red fruit with dark highlights. In 2021, the barrels had served their purpose at DeLille and the Cabernet Sauvignon was emptied for blending into Four Flags, Doyenne, and D2.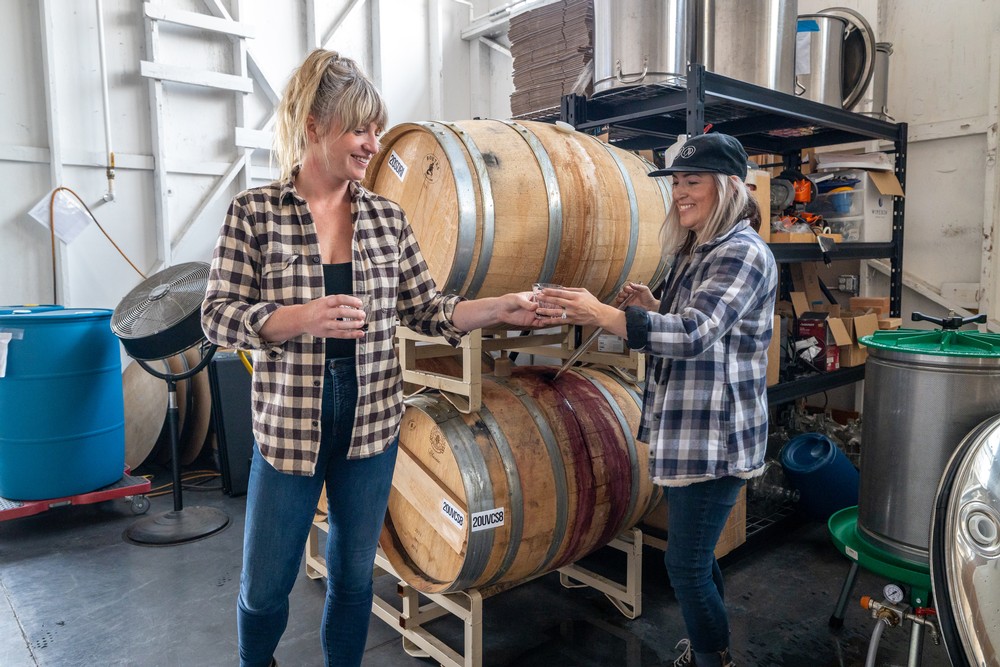 Fast Penny Spirits Founders Holly Robinson and Jamie Hunt; Photo by Kristopher Shinn
The Journey Continues: Fast Penny Spirits
The barrels were then passed onto Fast Penny Spirits, a locally woman-owned and operated amaro distillery. Blended with a combination of the highest-quality, organic, and consciously sourced botanicals, Fast Penny utilized the DeLille Cellars' barrels to rest a limited release amaro which will be available first to the Veloce Society club.
Italian for bitter, amaro is an herbal liqueur made from infusing a base spirit with herbs, roots, flowers, bark, and citrus. For Fast Penny, that spirit is grape-based, which follows Italian tradition. After macerating, the amaro rests in a combination of stainless and wood. For the limited release, Fast Penny Spirit's Amaricano was rested in DeLille Cellars' barrel for four months, allowing for the oak to impart on the amaro, highlighting notes of wood, cocoa nibs, tar, and adding depth.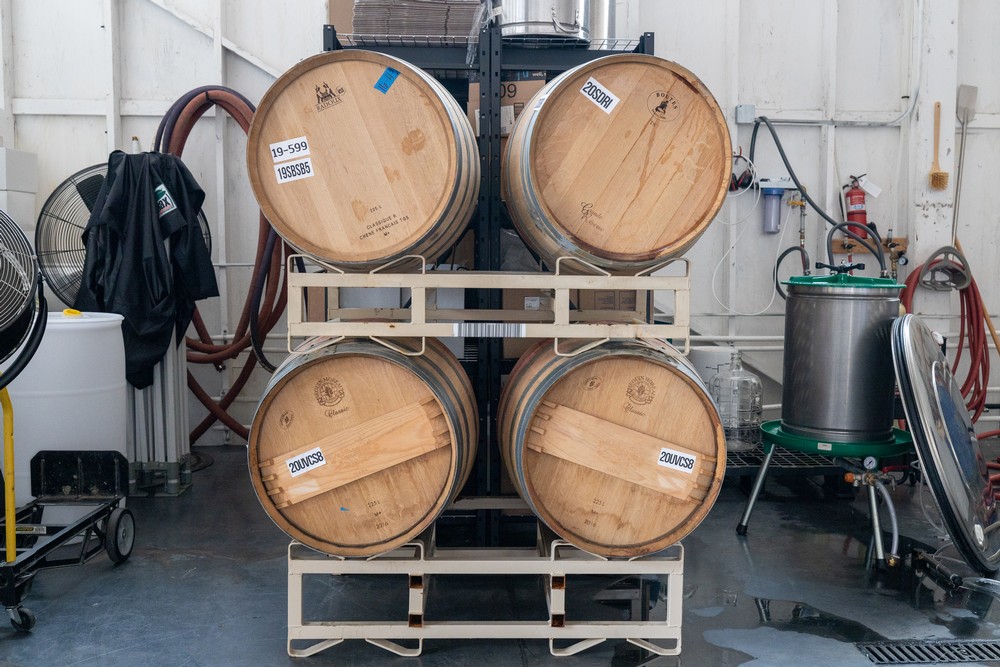 DeLille Cellars barrels at Fast Penny Spirits; Photo by Kristopher Shinn
The Final Destination: Fair Isle Brewing
Finally, the barrels are passed on to Fair Isle Brewing in Ballard. Fair Isle is a brewery rooted in intention and focuses on creating purposeful farmhouse ales that reflect the Pacific Northwest. Here, the oak barrels will contribute subtle oak flavor to Fair Isles's hand-crafted farmhouse ales.
Oak is an integral part of brewing at Fair Isle. In fact, the team views oak as an ingredient of the beer rather than just a vessel. Like yeast, oak barrels are a living environment of bacteria and microorganisms and allow the brewers to achieve levels of complexity in beer otherwise unattainable in stainless steel tanks. When selecting a barrel, the team looks for ideal characteristics of the microflora and oak that will impart specific flavors to the beer.
After acquiring the barrels of freshly emptied Amaro from Fast Penny Spirits, the team at Fair Isle filled them with beer. Since October, the beer has been maturing in the oak, soaking up herbal notes and remnants of the Amaro the barrel previously held. The team recently sampled the contents and is excited about the results thus far. A Flemish-style Saison is aging in the Amaricano barrels and a more traditional, pale Saison is aging in the Amaricano Bianca barrels. "We are excited to see these beers continue to develop as we get ready to package them next month for our bottle membership," said Matt Rowe, Brewer at Fair Isle.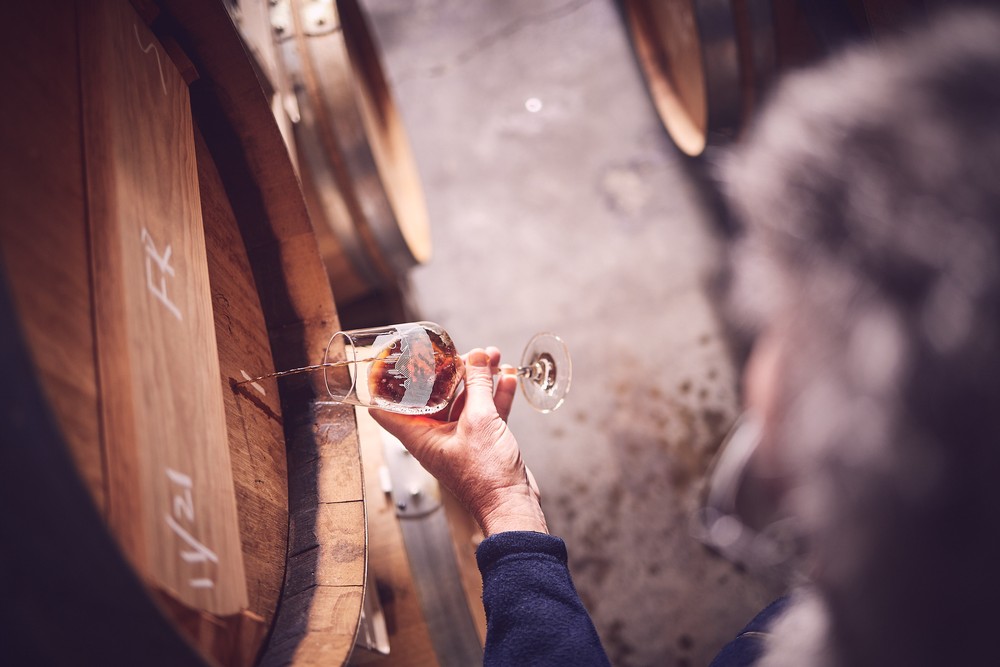 Geoffrey Barker, Co-Founder at Fair Isle Brewing "pulling a nail" on the barrel that had previously housed DeLille Cabernet Clone 8 and Fast Penny Amaricano
About DeLille Cellars
DeLille Cellars is the third oldest operating winery in Woodinville, WA, founded in 1992. Known for pioneering Bordeaux-style blends from Washington State, the winery has maintained a tradition of quality and excellence with over 700 individual 90+ ratings from leading publications. DeLille Cellars focuses on the Red Mountain AVA and sources grapes from Washington's most acclaimed vineyards. The winery is recognized by notable wine critics and influencers, including Robert Parker, as one of the top producers in the state.
About Fast Penny Spirits
Fast Penny Spirits is a woman-owned and operated award-winning amaro distillery. Based in Seattle and inspired by the founder's Italian heritage, the company is committed to stirring up change. Blended with a combination of the highest-quality, wild-crafted, organic, and consciously sourced botanicals, Fast Penny's spirits are rich, herbaceous, and captivating. Luxurious and refined, their Italian-style amari - Amaricano and Amaricano Bianca - are beautifully complex to sip on their own or swirl into a cocktail. With a constant eye on environmental impact and a 3% Pretty Penny give-back program, Fast Penny Spirits is dedicated to supporting and empowering women, local communities, and the hospitality industry.
About Fair Isle Brewing
Fair Isle is a brewery in the Ballard Neighborhood of Seattle creating farmhouse beers rooted in the Pacific Northwest. Today, farmhouse beer doesn't have to be brewed on a farm; its more about a mindset and respect for its origins. It's about embracing variation rather than avoiding it. We like to think of ourselves as shepherds rather than controllers - giving our fermentation cultures the time they need to make great beer.
Comments
Commenting has been turned off.
Sign Up For Our Newsletter
Keep up to date on the latest wine releases, events, and promotions.