Back To Top
June 23, 2021 | The Lounge | DeLille Cellars
DeLille Cellars Opens New Restaurant at Old Redhook Brewery Site: The Lounge at DeLille Cellars
DeLille Cellars, Woodinville's third oldest winery, has opened a new wine-centric dining experience at the Old Redhook Brewery in Woodinville. Located adjacent to DeLille's winery and tasting room, The Lounge at DeLille Cellars is a full-service restaurant and offers glass pours, comparative tastings, and a unique food menu crafted by Executive Chef Michael C. Toni.
In addition to DeLille wines, guests at The Lounge can experience wines that have inspired or are an alternative take on the winery's own craft, as well as a host of local beers and other beverages curated by the DeLille Cellars winemaking team. The house-crafted menu ranges from light bites for sharing to salads, sandwiches and entrées such as steak frites and fresh pasta made daily. The Deck at DeLille Cellars is a seasonal outdoor experience on the back patio, perfect for al fresco dining.
The Restaurant Menu
The menu is directed by Executive Chef Michael C. Toni, who has worked with DeLille for nearly two decades catering private events and wine release dinners through his catering company A Platinum Event, as well as curating food and wine pairings at DeLille's tasting room. Most recently, Chef Toni has led the Woodinville winery's "Date Night" meals, a weekly takeout dinner and wine experience that was a huge success since the first COVID-related closures in March of 2020.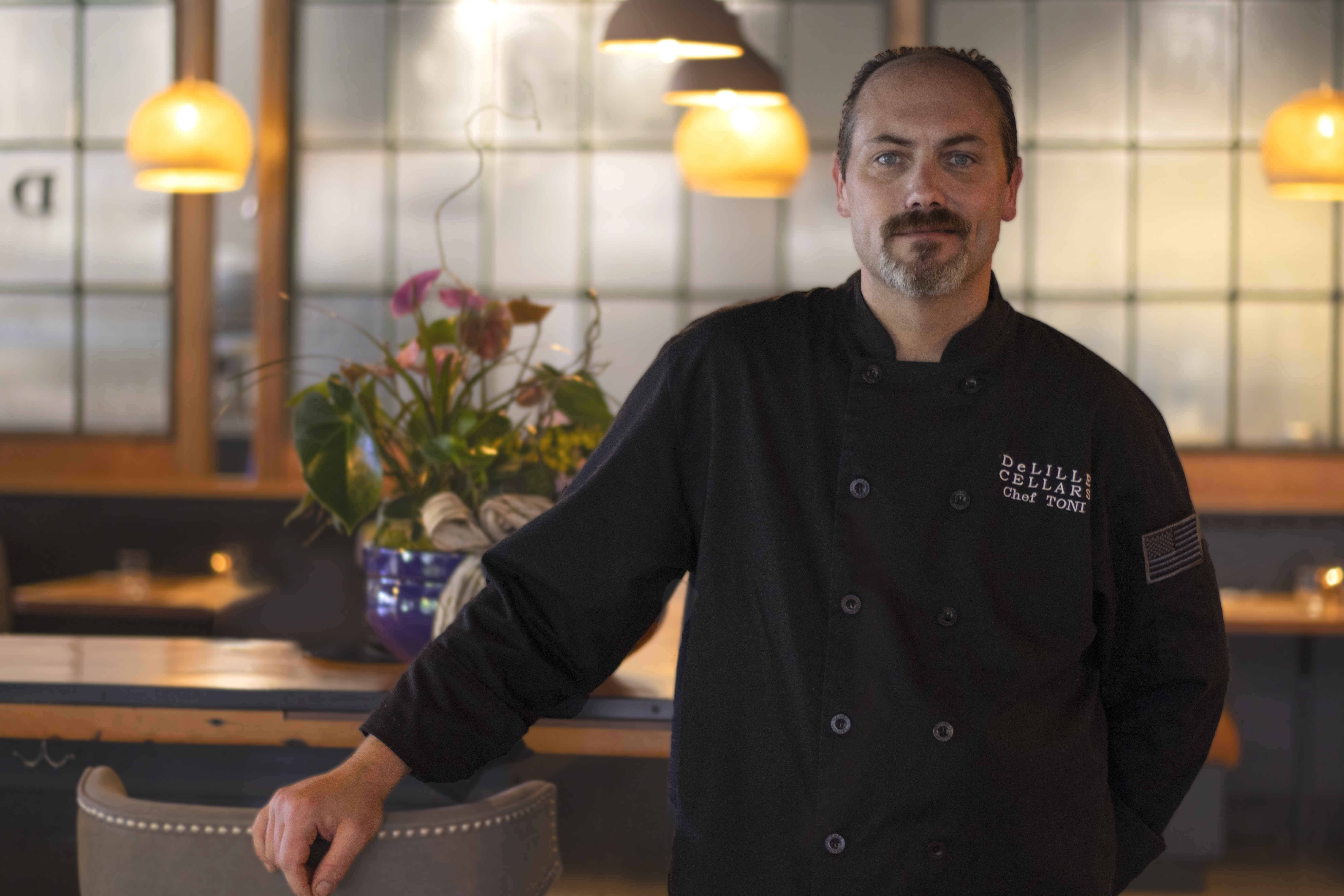 "Over 25 years ago, I started my career in California restaurants at a time that 'New American Cuisine' was thriving," said Executive Chef Toni. "I am excited to come full circle after building relationships and friendships in this amazing community through A Platinum Event Catering. I look forward to continuing the legacy of this space with DeLille Cellars, who has been by my side from day one, by providing the same style of food that I began my career with, but also incorporating all that working in Woodinville Wine Country has taught me."
"Great wine belongs with great food, and we're excited to partner with our long-time friend and chef, Michael Toni. After nearly 20 years working together perfecting pairings for wine dinners and release events, we're thrilled to open a restaurant to offer our customers some magical food and wine experiences and create a hub at the Old Redhook Brewery," said CEO Tom Dugan.

With the move of its winery and remodel of the former brewery, DeLille established its headquarters at the Woodinville Old Redhook Brewery in 2019. The expansion into the restaurant comes a year and a half after DeLille opened its new three-story tasting room at the site, and marks nearly three decades since the winery's founding in 1992 (DeLille will celebrate its 30th harvest this fall). Beyond indoor dining and a seasonal patio experience, The Lounge at DeLille Cellars also offers two rooms for smaller private dining experiences. DeLille is also currently renovating the upstairs event space that can hold up to 200 guests for receptions.
The former Forecaster's Public House has a long history in Woodinville as a gathering spot since 1994 when the Redhook facility first opened. DeLille Cellars looks forward to continuing the legacy of the Old Redhook Brewery as a hub of great food, libations, and memories for the community.
The Lounge is currently open Wednesdays through Sundays, starting at 3 PM weekdays and 2 PM weekends. DeLille will be looking to extend the hours through the summer. Reservations are available and walk-ins are also accepted with availability.
About DeLille Cellars
DeLille Cellars is the third oldest operating winery in Woodinville, WA, founded in 1992. Known for pioneering Bordeaux-style blends from Washington State, the winery has maintained a tradition of quality and excellence with over 700 individual 90+ ratings from leading publications. DeLille Cellars focuses on the Red Mountain AVA and sources grapes from Washington's most acclaimed vineyards. The winery is recognized by notable wine critics and influencers, including Robert Parker, as one of the top producers in the state.
Comments
Commenting has been turned off.
Sign Up For Our Newsletter
Keep up to date on the latest wine releases, events, and promotions.