Back To Top
June 10, 2022 | Our Wine, Scores | DeLille Cellars
Rosé Vertical Tasting | Owen Bargreen
In May, Wine Critic Owen Bargreen sat down with DeLille's Director of Winemaking Jason Gorski for a vertical tasting of rosé.
True to DeLille's old-world approach, Rosé is crafted in the traditional Bandol style of Southern France. The fruit is specifically selected to be a part of this blend long before harvest, & our methods are intentional - making it what we call an "honest" Rosé. This is a balanced style of Rosé that retains crisp acidity & begs to be served al fresco. DeLille Cellars Rosé is known for standing 'the test of time' with its long aging potential.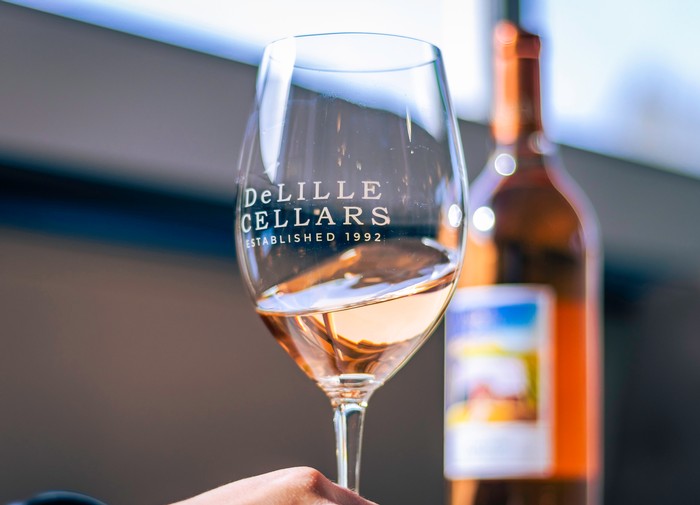 Tasting Notes
2015 Rosé
"A blend of 53% Grenache with 34% Mouvedre and the remainder Cinsault, this shows off wild mushroom and bergamot with melon fruits and strawberry on the nose. The palate is soft and inviting with surprisingly good acidity and wonderfully earthy tones. This is mature Washington Rose that is shockingly good considering the heat of the vintage. Drink 2022-2025- 91"
2017 Rosé
"Presenting with slightly less damp earth, and wonderfully bright, the 2017 DeLille Cellars Rose is a sensational wine by Jason Gorski. The palate is ultra-bright with vibrant minerality. Guava puree, white grapefruit and shades of cremini mushroom all come together magically on the palate, with stony minerals. The combination of weight and finesse deftly walks the tightrope here. Drink 2022-2028- 93"
2019 Rosé
"A blend of 47% Grenache, 45% Mouvedre and just a touch of Cinsault. This vintage was the first to have included Red Heaven Vineyard Mourvedre and no Mourvedre from Stone Tree Vineyard. The wine is considerably more bright than the 2017 or 2015. The texture is outstanding here and bright with very pretty red cherry, red raspberry and shades of thyme. Complex and utterly delicious, warm this up a bit for more mouthfeel and serious length. Drink 2022-2028- 93"
2020 Rosé
"The 2020 DeLille Cellars Rose is really hitting its stride now one year in the bottle. This blends 52% Mourvedre with 43% Grenache and a touch of Cinsault. This is already beautifully evolved, with serious weight and rocking earthy tones. Wild mushroom and forest floor flavor combine with ripe Yakima cherry and honeydew melon flavors. The weight is outstanding here as this beautifully evolved wine is best consumed over the next few years. Drink 2022-2026- 92"
2021 Rosé
"Showing off a more orange hue, the 2021 DeLille Cellars is a silky blend of 49% Grenache with 46% Mourvedre and the remainder Cinsault. Aromatically very vibrant this reveals salmonberry and ripe melon tones that combine with shades of nectarine skin. The palate displays dazzling finesse with a soft mouthfeel. The pretty red fruits from the Grenache is really shining through here. Dazzling at this juncture, this has a long way to go in the cellar. Drink 2022-2030- 93"
Read Owen Bargreen's full blog post here.
Shop DeLille Cellars Rosé
DeLille Cellars is regarded as a top producer of Washington wine, showcasing a tradition of quality and excellence over its 30-year history. DeLille remains a principal influence in establishing Washington State as a premier viticultural region, with a focus on the Red Mountain AVA and other prestigious vineyard sites throughout the Columbia Valley. Shop the newest vintage of Rosé wine here.
Comments
Commenting has been turned off.
Sign Up For Our Newsletter
Keep up to date on the latest wine releases, events, and promotions.