Back To Top
April 26, 2022 | Our Wine | DeLille Cellars
DeLille Cellars Métier Renamed Le Dessein
Métier to Become a New Label and Brand in the DeLille Cellars Portfolio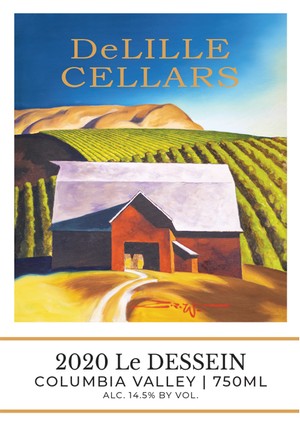 With the 2020 vintage, DeLille Cellars will rename its Métier wine, a Columbia Valley blend of Grenache, Mourvèdre, Syrah, and Cinsaut. The cuvée will be renamed Le Dessein, meaning "the purpose", a fitting tribute for a wine that has been made with great intention since its first vintage in 2005.
Le Dessein is mirrored after traditional Southern Rhône-style blends and combines old-world characteristics with the ripe terroir of Washington's Columbia Valley.
Listen to the pronunciation here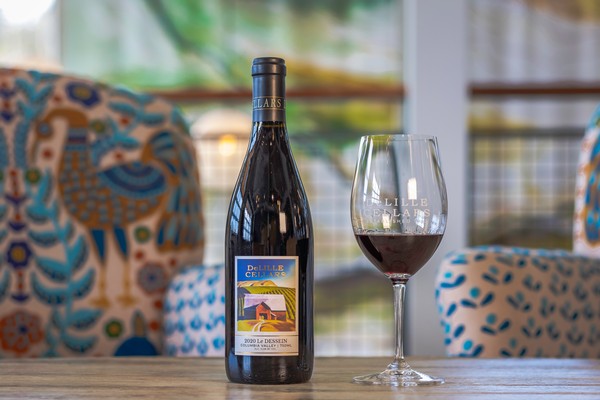 2020 Le Dessein
In its youth, 2020 Le Dessein (formerly Métier) is showing dark, brambly fruits that are offered up by the Mourvèdre (44%) and Syrah (20%), with Grenache (36%) adding Bing Cherry and strawberry leaf. There is a serious meaty, bacon fat component to this wine that is accentuated by notes of black pepper, violets and cranberry. The silky structure is lifted by wonderful acidity, bringing a sense of freshness to the palate. This wine always drinks well on release and can be cellared for 12+ years.
Whether appreciating a glass on its own or pairing it with food, Le Dessein is delicious no matter how you choose to enjoy it.
Recommended Pairings
Red meats and game, especially with mushroom and pepper sauces, pair particularly well with Le Dessein. Wild boar and pork chops are also great for lighter selections. Roasted, spice-driven dishes like Moroccan chicken or smoked cauliflower steaks bring out nuances of secondary flavors within the wine. We recommend avoiding seafood pairings, however, tuna and even salmon with rich, flavorful sauces complement the blend nicely.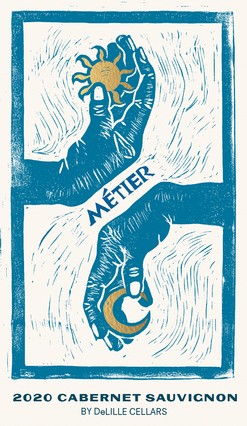 2020 Métier Cabernet Sauvignon
With the renaming of our Columbia Valley Southern Rhône-style blend to Le Dessein, we are excited to announce the launch of a new Métier brand and Cabernet Sauvignon. Métier means craft, trade, or forte, and embodies the many hands involved throughout the winemaking process: from planting and pruning, to harvest, crush, fermentation, and bottling. We acknowledge the expertise required to create a Cabernet Sauvignon that honors Columbia Valley as a unique growing region.
The concept of Métier is also evident in the label, designed by local Seattle artist Becca Fuhrman. Two hands hold the sun and moon, representing the hot days and cool nights that make Washington's sun-soaked Columbia Valley an ideal growing region for Cabernet Sauvignon. This natural phenomenon, known as diurnal shift, offers cool nights that conserve acidity, and intense sunny days that infuse bold, ripe fruit flavors. It is from this foundation of distinctive fruit that we meticulously craft our Métier, acknowledging the very best of the hands that diligently work the vineyards and the cellar.
Métier Cabernet Sauvignon is an inviting, smooth wine, with black cherry and plum aromas pouring from the glass. Flavors of bold dark fruits and charming notes of baking spice combine, with a juicy midpalate and pleasantly firm, dry finish. Best paired in the company of family and friends, Métier offers a balance of structure and approachability that can accompany a wide variety of foods.
More details will be available soon regarding the release of the new Métier Cabernet Sauvignon.
About DeLille Cellars
DeLille Cellars is the third oldest operating winery in Woodinville, WA, founded in 1992. Known for pioneering Bordeaux-style blends from Washington State, the winery has maintained a tradition of quality and excellence with over 700 individual 90+ ratings from leading publications. DeLille Cellars focuses on the Red Mountain AVA and sources grapes from Washington's most acclaimed vineyards. The winery is recognized by notable wine critics and influencers, including Robert Parker, as one of the top producers in the state. To learn more about DeLille Cellars and shop Washington wine, visit www.delillecellars.com.
Comments
Commenting has been turned off.
Sign Up For Our Newsletter
Keep up to date on the latest wine releases, events, and promotions.