Back To Top
January 23, 2019 | Winemaking | DeLille Cellars
DeLille Cellars Announces New Director of Winemaking
NOTABLE WASHINGTON WINERY DELILLE CELLARS ANNOUNCES NEW DIRECTOR OF WINEMAKING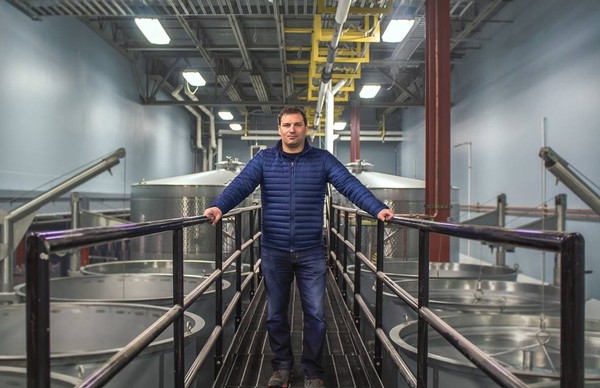 Caption: DeLille Cellars' new director of winemaking and viticulture, Jason Gorski, standing in the winery's brand-new production facility at the old Redhook space (credit: DeLille Cellars)
WOODINVILLE, Wash. (January 22, 2019) – DeLille Cellars, one of Woodinville's founding wineries and a prominent player in developing Washington State as a premier wine region, today announced that Jason Gorski has been promoted to director of winemaking and viticulture. Gorski previously served as winemaker and assistant winemaker, under the tutelage of founding winemaker Chris Upchurch.
Gorski has been instrumental in DeLille Cellars' success since joining its winemaking team in 2011. He has helped expand production from just over 10,000 cases to nearly 30,000 and has improved its quality, having been involved with 239 of the 90+ scores DeLille has received.
"Jason has built a great winemaking team and possesses a unique ability as a very talented winemaker with unrivaled technical skill," said Tom Dugan, DeLille's CEO. "Along with [co-presidents] Chris [Upchurch] and Jay [Soloff] and the rest of our owners, we're incredibly excited for the next chapter of DeLille, with Jason at the helm of winemaking."
Every wine DeLille has produced since 2011 has received at least one 90+ score from the top four international critics, leading the winery to over 500 individual 90+ ratings since its founding. DeLille received a coveted position on the Wine Spectator Top 100 list in 2018 with its 2015 Signature Syrah (Gorski's third such honor), as well as two consecutive Wine & Spirits "Top 100 Wineries of the World" awards (in both 2017 and 2018), along with numerous national and local accolades under Gorski's leadership. These include the Seattle Times #2 wine of the year in 2017 and #1 wine of the year in 2018, plus the Wine Press Northwest Washington Winery of the Year in 2017.
"Established with a focus on wine quality, DeLille Cellars is an integral part of the history of Washington wine and its increasing reputation throughout the world," said Gorski. "I look forward to continuing to build upon that foundation, working to continuously improve our wines and promote the excellence of Washington vineyards."
Gorski found his passion for wine while studying biology at Duke University. He was introduced to a respected sommelier by his academic advisor and eventually moved to Washington State in 2004, where he worked at the state's founding winery, Chateau Ste. Michelle, in Woodinville. He was then offered the role of assistant winemaker at Spring Valley Vineyard in Walla Walla, Washington, before beginning at DeLille in 2011.
Gorski's promotion aligns with DeLille's recently announced acquisition of the former Redhook Brewery space. The winery plans to have all production moved to and operational in its new home by the end of January. Gorski has managed the process of refurbishing the original brewery tank room into a world-class production facility. The next phase will include construction of a new three-story tasting room and retail tower, to be completed in late summer of this year.
With Gorski's promotion, Upchurch will take on a modifiedrole but remain as co-president, partner and founding winemaker. He will continue to be actively involved, supporting Gorski and the winemaking team with harvest and blending, as well as helping to guide the company's goals from an ownership perspective. He plans on focusing his efforts on supporting the national sales program and continuing to be present at retail events.
"I have been at the forefront of DeLille's winemaking for the last 27 years, and am extremely proud of what we have created. Our acquisition of a world-class facility at Redhook provides the perfect opportunity for me to scale down as the winery looks to the future," said Upchurch. "Jason's well-deserved promotion to director of winemaking recognizes his incredible contributions to DeLille and his passion for continuing our great legacy."
# # #
About DeLille Cellars
Founded in 1992 by Jay Soloff, Chris Upchurch and Charles and Greg Lill, DeLille Cellars is a boutique artisan winery located in Woodinville, Washington. Known for pioneering Bordeaux-style blends from Washington State, the winery has maintained a tradition of quality and excellence, with over 500 individual 90+ ratings from leading publications. DeLille Cellars focuses on the Red Mountain AVA and sources grapes from Washington's most acclaimed vineyards, including Ciel du Cheval, Grand Ciel, Upchurch, Red Willow, Sagemoor, Klipsun, Boushey and Harrison Hill. The winery is recognized by notable wine critics and influencers, including Robert Parker, as one of the top producers in the state. To learn more about DeLille Cellars, visit www.delillecellars.com.
MEDIA CONTACT
Tracy Rabsky
Public Relations, GreenRubino for DeLille Cellars
P: 206-452-8185
E: tracyr@greenrubino.com
Comments
Commenting has been turned off.
Sign Up For Our Newsletter
Keep up to date on the latest wine releases, events, and promotions.