Back To Top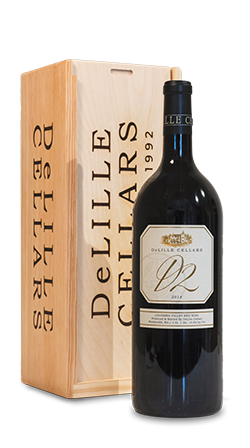 2019 D2 1.5L in Wood Box
Go big this holiday season with our 2019 D2 Magnum in a wood collector's box
2019 D2

The 2019 D2 aromas dance effortlessly between savory and dried fruit characteristics. Cranberries, roasted coffee beans, cassis and burnt orange are highlighted by deep, rich barrel tones of nutmeg, vanilla bean, dark chocolate and clove. As the wine develops in the glass, the fruit profile shifts between red and dark fruits, a trademark of D2 that we love. An inviting freshness and pronounced herbal quality on the palate leads to a structure that is refined despite the wine's youth. Be confident that this blend of 13 iconic vineyards throughout the Columbia Valley will cellar for 15+ years.
Wood Collector's Box
Our locally-made wood box with the DeLille Cellars logo is the perfect presentation and keepsake item for the collector.