Back To Top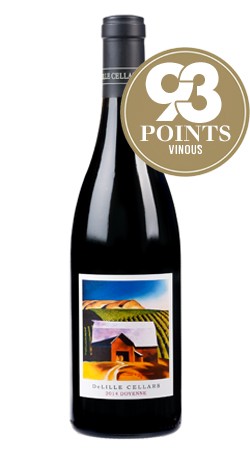 2014 Doyenne
AIX is now Doyenne
Cabernet Sauvignon (50%), Syrah (50%)
The 2014 Doyenne, a blend of Cabernet Sauvignon and Syrah, exhibits deep purple and violet hues. There is great up-front hedonism in this year's blend, which is dominated by blackberry, cassis, black cherry, lavender and sous bois (forest floor) notes. Right now the Syrah is dominating the flavors with black fruits, black pepper, bacon, tapenade, grenadine, malted chocolate and worn leather. This vintage produced a remarkable and seamless blend of these two noble grapes.

October 2017, Review by Stephen Tanzer for Vinous
"(Nearly three-quarters of this fruit came from Red Mountain): Bright, dark medium ruby. Captivating lavender and underbrush complexity to the aroma of blackberry. A ripe, sweet bomb of raspberry and blackberry fruit, lifted by a peppery quality and complicated by a note of olive tapenade. Plush, broad, utterly seamless blend with terrific concentration and persistence."

June 2017, Review by Jeb Dunnuck, RobertParker.com #231
"Previously labeled as the Doyenne Aix, the name has been changed to simply Doyenne in 2014. The 2014 Doyenne is the classic blend of equal parts Syrah and Cabernet Sauvignon that's brought up in barrel. It has a great nose of toasted spice, black raspberries, currants, lavender and cedar. This gives way to a rounded, sexy, voluptuous and hedonistic red that has moderate acidity, medium to full-bodied richness and a great texture. Drink this sexy red anytime over the coming 7-8 years."

From AIX to Doyenne:
Known as "the wedding wine," AIX was first crafted by our Executive Winemaker Chris Upchurch for his wedding day. Taking a page from Provence, we named our blend of Cabernet and Syrah AIX after the town of Aix-en-Provence, where the blend originated. AIX was part of our original Doyenne brand, which celebrated our Rhône-style varietals.
The Doyenne story started when Ciel du Cheval, a prestigious Red Mountain vineyard, planted Syrah in 1993. This first vintage of our Syrah was exceptional, and we started to explore other Rhône varietals. While traveling in France, the term "Doyenne" caught Chris' attention when the oldest woman in the world passed away at the age of 122. She was considered the "Doyenne" (dean or senior) of her hometown of Arles, and even deemed the "Doyenne of Humanity." As the Syrah grape is the oldest varietal in France, the title of Doyenne was a well-suited brand name. The Doyenne brand name grew beyond Syrah with the addition of our Roussanne, Métier, Rosé, and of course, AIX.

This year we retired the Doyenne brand name, placing our Rhône varietals under the DeLille Cellars brand (which you will notice on the labels of our 2014 and 2015 vintages). In the heartfelt effort to preserve the Doyenne legacy, we have changed the name of AIX to Doyenne. Doyenne (formerly called AIX) will remain the same blend of Syrah and Cabernet Sauvignon, made in the same spirit in which it was first crafted.
Wine Specs
Varietal
Rhone Style Blend