Back To Top

Butternut Squash Risotto with Black Truffles
Pork Belly Tacos with Tomatillos Puree
Pan-Seared Scallops with Deconstructed Guacamole
Black Duck & Long Carrots - with Black Trumpet Mushroom Soil
Butternut Squash Soup - From the Kitchen of the Barking Frog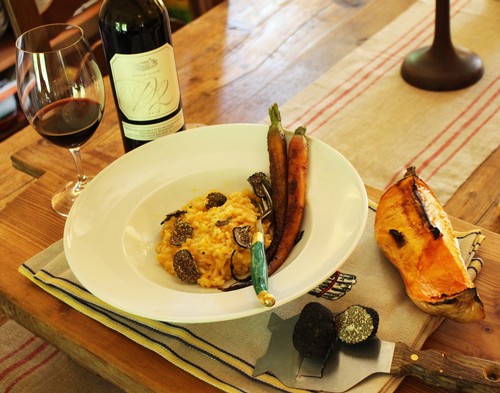 By Founding Winemaker Chris Upchurch
Wine Pairing:
DeLille Cellars D2
This is a very cool dish because it is vegetarian, yet the cheese and truffles bump it up to a red wine pairing. It is perfect with the DeLille Cellars Merlot-dominant D2. For the carnivorous, add a short rib on top. Vegetarian or not, everyone is happy. Do not fear the truffle. As with many things, they are available on the internet for most of year. I like to shave them at the table to add to the experience.
Ingredients
½ cup extra-virgin olive oil
1 cup finely chopped onion
1 tbsp. chopped garlic
2 cups Arborio rice
1 cup dry white wine
Approx. 6 cups of hot vegetable stock
1 butternut squash, halved and baked in the oven with butter, then mashed like mashed potatoes
½ cup grated parmesan
4 tbsp. unsalted butter, cut into small pieces
Medium to large black truffle
Instructions
In a heavy saucepan, or wok, heat the olive oil over medium-high heat. Add the onion and garlic, and sauté, stirring continuously until just softened for 3 to 4 minutes. Add rice and continue to stir, using a wooden spoon, to coat the rice with the oil.
Add white wine and continue cooking, stirring often until it has been absorbed by the rice. Pour in enough vegetable stock to cover the rice completely (approx. 3 cups), and continue to cook, stirring often until all the liquid has been absorbed.
Pour in 1 cup of additional vegetable stock, and stir/cook until it has been absorbed. Repeat 2 more times. With the last cup, stir until the rice is al dente, tender but still a little chewy (and most of the liquid has been absorbed).
Stir in the mashed squash, and reduce the heat to very low so that the risotto stops simmering. Stir in the parmesan and butter to give the risotto a nice, creamy finish.
Spoon it immediately into heated shallow serving bowls. Sprinkle a little more Parmesan over it and shave the truffle on top.

Pork Belly Tacos with Tomatillos Puree
By Founding Winemaker Chris Upchurch
WINE PAIRING:
DELILLE CELLARS Doyenne
I rarely pass up pork belly on any menu, so when I discovered you could make pork belly tacos, I flipped. This is my version, and the rich, spicy, generous flavors of the DeLille Cellars Doyenne goes perfectly with this dish.
INGREDIENTS
Pork Belly Marinade:
½ cup of one's favorite BBQ sauce
12 oz bottle of beer
1 tablespoon chili powder
¼ teaspoon garlic powder
¼ teaspoon onion powder
¼ teaspoon red pepper
¼ teaspoon oregano
½ teaspoon paprika
½ teaspoon cumin
1 teaspoon salt
1 teaspoon pepper
Tomatillos Puree:
8 tomatillos, roasted or grilled until marked, soft, and juicy
½ bunch fresh cilantro
Salt to taste
Condiments:
2 roasted, peeled, and seeded Anaheim peppers, cut into thin strips
4 thinly sliced radishes
Cilantro/red onion mixture
Cup of chopped cabbage
Hot sauce (optional)
12 (8-inch) fresh flour or corn tortillas
INSTRUCTIONS
Prepare the pork belly. The belly needs to be in boneless, skinless strips that are about 1.5 inches wide and 6 inches long. If you buy a slab, then you should cut it into strips. You can easily remove the skin by making a slit at one end, then running your knife along the skin and holding the belly secure as you move the knife away from your hand.

Mix the beer with the BBQ sauce and seasoning. Line up your pork belly strips in a baking dish, and pour the sauce over them. Place this dish in an oven at 325°F for about 3½ hours until the meat is very tender.

Allow the belly to cool for about 15 to 20 minutes. Remove from the pan and cut into cubes.

While the pork belly is cooking, roast the tomatillos and Anaheim peppers. Slice the Anaheim peppers into strips and set aside.

Blend the roasted tomatillos and cilantro in a blender or food processor. Salt to taste. Set aside.

Thinly slice the radishes. Chop ½ large red onion and ½ bunch of cilantro and mix. Set aside.

Heat the tortillas in a dry hot frying pan or griddle for about 15 seconds per side.

To Serve: assemble your tacos by filling a tortilla with a few pork cubes and a few strips of roasted Anaheim peppers. Add a teaspoon of the onion cilantro mixture and about a table spoon of chopped cabbage. Add a couple of the radish slices and about a tablespoon of the tomatillo puree.

By Founding Winemaker Chris Upchurch
WINE PAIRING:
DELILLE CELLARS Chaleur Blanc

Ingredients
8 tomatillos, roasted or grilled
½ bunch cilantro
16 large fresh scallops, patted dry
Mild chili powder
2 tablespoons vegetable oil
2 tablespoons unsalted butter
1 avocado finely chopped
1 tomato, seeded and finely chopped
1 onion, minced
½ bunch fresh cilantro, chopped
1 Anaheim pepper chopped
4 ounces sundried tomatoes, finely chopped
Hot sauce (optional)
Salt and pepper
I love this dish because it is colorful, easy, and very versatile. Anyone who has made guacamole before has already made deconstructed guacamole; you just sprinkle instead of blend.

The dish is versatile in three ways. First, if you like your guacamole in a different style, you can adapt this recipe to your liking. I have always liked sundried tomatoes, but you may like serrano peppers instead. Second, you don't have to do this recipe on scallops. You can use it on anything that goes well with guacamole; try hamburgers for example. Third, if you do use scallops, you can create an amuse bouche (1 scallop), appetizer (2 scallops), or entree (4 scallops or more). This dish is best paired with a glass of DeLille Cellars Chaleur Estate Blanc .
INSTRUCTIONS

To make the Tomatillos Puree: roast the tomatillos until marked, soft, and juicy; then cool. Put tomatillos and the cilantro into a blender. Puree and add salt to taste. Set aside.

To make the Deconstructed Guacamole: finely chop avocado, tomato, onion, cilantro, Anaheim pepper and sundried tomatoes, keep separate and ready to sprinkle on the scallops.

To make the Pan Seared Scallops: keep plates warm in a low temp oven. This is important so that the scallops stay warm when the dish is assembled.

Make sure the scallops are dry so they will sear properly. Season with salt, pepper, and chili powder on one side. Pan sear the scallops in the butter and oil mixture on high heat, no more than 1 minute per side. Plate chili powder side up.

To serve: I like to dot the plate around the scallops with the tomatillos puree. Then, starting with the avocado, sprinkle all the chopped ingredients on top of the scallops. Add salt, pepper, and a few dashes of hot sauce to taste.

---
By Founding Winemaker Chris Upchurch
WINE PAIRING:
DELILLE CELLARS Four Flags Cabernet Sauvignon
Ingredients
Black Garlic Puree:
1 garlic clove (black, peeled)
1 teaspoon lemongrass (tender white bulb only, crushed and minced)
1 teaspoon fresh ginger (minced)
1 teaspoon sesame oil
1 tablespoon grape seed oil
2 to 3 tablespoons coconut milk
1 tablespoon lemon juice
2 tablespoons water
Black Trumpet Mushroom Soil:
1 package of dried black trumpet mushrooms
1 teaspoon coffee flour
1 teaspoon sugar
1 tablespoon water
Duck Breasts:
2 duck breasts
4 twigs of thyme
Salt and pepper
Blackened Long Carrots:
8 long carrots
2 tablespoons vegetable oil
2 tablespoons butter
3 tablespoons honey
1 tablespoon cumin seed
Salt and pepper
Instructions
This dish is so delicious that Jason Wilson's Crush Restaurant featured it on their menu for a month paired with our Four Flags Cabernet Sauvignon. The idea is for the mushroom soil to soak up the duck juices along with the black garlic puree to produce a whole array of savory flavors. I have felt for some time now that of all the meats and poultry, duck breasts are best Sous Vide. However, if this is unavailable to you, you can certainly pan sear the duck with the same seasoning on medium high heat.

To make the Black Garlic Puree: add all ingredients into a food processor or blender and puree. Set aside.

To make the Black Trumpet Mushroom Soil: put dried mushrooms, coffee flour, and sugar into a food processor or coffee grinder and grind. Transfer to a small bowl and add water. Stir until it has the appearance of dirt.

To make the Duck Breasts: pat the duck breasts dry and season with salt and pepper. Place a twig of fresh thyme on each breast and place in a vacuum sealed bag. Seal and Sous Vide at 135°F for roughly an hour. Remove breasts and mark and sear them at 500°F on a grill or a very hot pan (about 30 seconds per side). Cut each breast in half, length-wise, and then slice each for 4 portions.

To make the Blackened Long Carrots: while the duck is cooking, in a large pan at medium-high heat, sauté the carrots in the oil for about 10 minutes (or when they start to soften and turn color). Add the butter, cumin and honey. The carrots should start to caramelize and darken. Add salt and Pepper to taste.

To Serve: simply sprinkle the mushroom soil on 4 plates. Place each duck breast half over the soil and zig-zag the black garlic puree on top. Complement with the carrots on the side.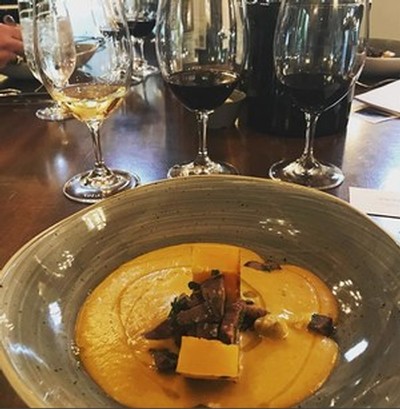 By Bobby Moore, Executive Chef, Barking Frog
WINE PAIRING:
DELILLE CELLARS D2
Ingredients
▪ ½ sheet pan of peeled, split and seeded butternut squash
▪ 1 cup sherry wine
▪ 1 vanilla bean
▪ 3 carrots
▪ 3 celery stalks
▪ 1 onion, chopped
▪ 1/8 cup poached garlic
▪ ½ T. chili flakes
▪ ½ jalapeño, stemmed and split
▪ ½ bunch thyme
▪ 1 T. black peppercorn, crushed
▪ 2 bay leaves
▪ crème fraiche
INSTRUCTIONS
Roast squash with parchment paper and ¼ cup of butter until edges have a medium dark caramelization. Deglaze squash with ½ cup sherry and roast until au sec.
In a large stainless steel plan, caramelize carrots, deglaze with water, add celery and onion and lightly caramelize. Deglaze with ½ cup of sherry and bring to a full boil.
Add sachet (chili flakes, jalapeño, thyme, peppercorn and bay leaves), roasted squash, vanilla bean
(split and scraped) and 4 cups of water to pan. Simmer until squash is tender enough to blend.
Remove sachet and vanilla pods. Blend soup in large blender until smooth and pass through a china cap into a large bowl. Add crème fraiche to taste and season with salt and white pepper. Serves 10
Pictured with seared duck as garnish (optional).

Sign Up For Our Newsletter
Keep up to date on the latest wine releases, events, and promotions.