Back To Top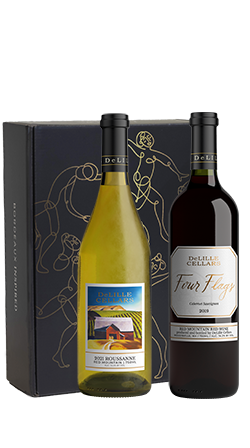 Red Mountain Box Gift Set
2021 Roussanne & 2019 Four Flags
Give the gift of Red Mountain wine this year with DeLille Cellars Roussanne & Four Flags, wines showcasing the powerful, structured fruit of Red Mountain.
Red Mountain is a premier growing region in Washington State and is known for growing dense, tannic fruit that rewards careful winemaking with powerful, yet balanced wines that can age for decades. The unique position of Red Mountain within the Columbia Valley offers one of the state's best areas to grow wine grapes.
2019 Four Flags Cabernet Sauvignon
Four Flags is 100% Cabernet Sauvignon blended from four prestigious Red Mountain vineyards. Originally made for our Wine Club as a blending trial of specific plots, this wine showcases the nuances of each vineyard in a seamless blend. Four Flags is a harmonious & complex representation of the incomparable terroir of Red Mountain & a tribute to the winery's steadfast commitment to this respected viticultural area. Since the first vintage in 2010, this wine has remained one of our favorites.
2019 Four Flags is loaded with its hallmark red and dark fruit aromas. Along with vibrant fruit, this vintage offers a uniquely savory quality. Olive tapenade, star anise, and juniper play with aromas of wild huckleberry, red licorice and Bing cherry. The mouthfeel is delicately textured, with fine, dusty Red Mountain tannins. 80% new French oak gently supports the complex matrix of fruit, spice, herbs, and umami flavors. Drink confidently now or cellar as long as possible to experience the promising future this beauty possesses.
2021 Roussanne
Roussanne is one of the few noble white grapes that can retain natural acidity & crisp structure nurtured under our beloved Red Mountain sun. As a single vineyard wine from the famed Ciel du Cheval vineyard in the Red Mountain AVA, the distinctive mineral complexity is the foundation of every vintage.
The 2021 vintage offered plenty of sun and warmth for the Roussanne at Ciel du Cheval to reach its full potential. Lemongrass, Granny Smith apple and chamomile intertwine seamlessly. Crushed stone and a creamy, honey-like texture is enjoyed on the palate. There is serious concentration and noticeable weight compared to recent vintages. The slightly structured finish balances perfectly with the juicy acid and savory undertones. Pair with your favorite mild Asian dish now or cellar for up to 10+ years.