Back To Top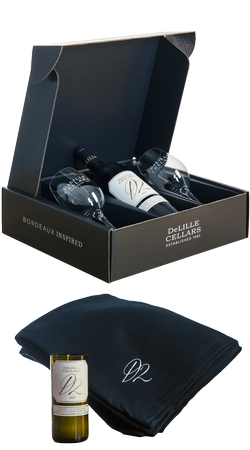 One Cozy Night Gift Set
D2 & GLASSES + BLANKET & CANDLE
Get cozy with this gift set featuring a bottle of 2019 D2 and two DeLille Cellars glasses in gift box, a scented D2 candle, and a D2 logo blanket. Pairs perfectly with a relaxing night in.
The 2019 D2 aromas dance effortlessly between savory and dried fruit characteristics. Cranberries, roasted coffee beans, cassis and burnt orange are highlighted by deep, rich barrel tones of nutmeg, vanilla bean, dark chocolate and clove. As the wine develops in the glass, the fruit profile shifts between red and dark fruits, a trademark of D2 that we love. ​An inviting freshness and pronounced herbal quality on the palate leads to a structure that is refined despite the wine's youth. Be confident that this blend of 13 iconic vineyards throughout the Columbia Valley will cellar for 15+ years.
Two DeLille Cellars Glasses
Enjoy your wine in these DeLille Cellars wine glasses.
D2 Candle
Relax with this D2 soy candle. Locally produced with 100% organic soy wax and natural oils.
D2 Blanket
This cozy fleece blanket is just like your favorite sweatshirt, but bigger! We won't judge if you want to wear it around like a poncho all day long. Luxurious high definition embroidery in the corner highlights a favorite - D2! Perfect for lounging and cozy date nights for #justD2ofus. 50% cotton, 50% polyester.
Gift Box

Our locally-made gift box is adorned with a scene from our "alchemy" wall artistic print located in our Woodinville Tasting Room, depicting joy, community, and celebration.